Colva Beach
Everything You Need to Know About Colva Beach
Table of contents
Colva is the closest beach from Margao, the first major beach south of Vasco da Gama. It is part of a long stretch of sand from Betalbatim in the north to Benaulim and Varca in the south. The Colva beach is popular mostly with Indian tourists. There are many foreigners too, but they prefer to stay away from the Colva Beach Circle, and relax at the shacks in the north or south. There is water sport. There are many shops, restaurants, bike/car rentals, massage centers, and tattoo parlors on the approach road and close to the Circle. Fishermen can be seen drying their catch on the beach.
It's a long beach, and one of the oldest in Goa. The stretch is lined with coconut trees, making it one of the most beautiful places in the south. At the center there is the Colva Beach Circle, where most of the hotels, resorts, shops, and water sports activities are located. There is always a crowd in late afternoon and the evening. If you prefer solitude, all you have to do is just move a few meters to the south or north. There will be very few people here.
The Colva beach is 9.1 kms from Margao railway station if you take the Colva Beach Road, and 20.5 kms from the Dabolim airport if you take the NH566 and then the Dabolim-Cavelossim Road.
Colva Map
It goes back a long time in history. During the summer, when it was very hot in Margao, the Portuguese and Goa's elite society would come down to the beach for their "mundanca" or change of air.
It was a barren beach with the scenic Arabian Sea at the time. The Mughals preferred the hilly North so they could erect their forts. Colva at that time was owned by the Portuguese Roiz family. Diogo Rodrigues was called the "Lord of Colvá" as he owned the entire beach, which went by the name of "Praia da Colvá". Diogo constructed a house here in 1551. That was the first residential building here.
Of course, a lot has changed since then. Colva is now one of the best beaches in South Goa, and a thriving tourist destination.
Colva Gallery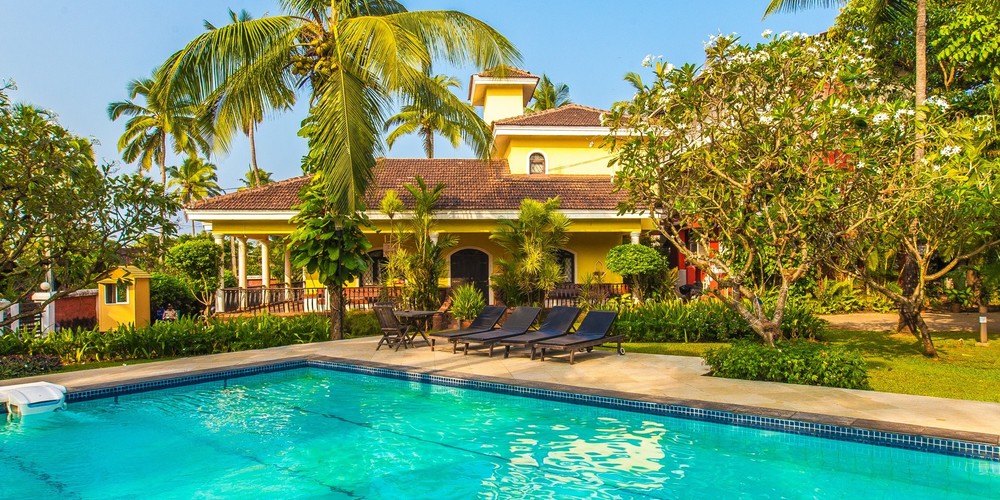 Luxury villa with direct access to the beach. 5* star service. Prime location of North Goa.
Villa for rent from 19 000 Rs. per night
Enquire / Get best deal!
Quick Facts About Colva
It is a top beach in South Goa. It is between Betalbatim in the north and Sernabatim beach in the south.
Colva is more serene and quiet than the beaches of North Goa. It is a great choice if you want to live close to Margao and Vasco da Gama. Its central location means you can visit both the north and south from here.
Closest airport – Dabolim – 20.5 kms.
Closest railway station – Margao – 9.1 kms.
Developed infrastructure. There are many shops, supermarkets, restaurants, cafes, banks, ATMs, tattoo parlors, and massage centers.
Many shacks and restaurants on the beach like the Boomerang Bar & Restaurant, Pinacolada, Shaloms Beach Restaurant, Big Boss, Rendezvous Shack, SandPat, Papillon Bar, and others.

There is a lot to see in Margao, which is the cultural and commercial capital of Goa like the Goa Chitra Museum, Holy Spirit Church, Pandava Caves, Margao Municipal Park, Rachol Seminary, Sri Chandranath Temple, and the Grace Church.
Our Lady of Mercy Church – Between Colva and Margao, this church was commissioned in 1581 and finally came up in 1630. It is also known as the Nossa Senhora de Merces. See the statue of the infant Jesus.
Burnzam Ghor – Constructed in 1790, which makes it a 200-year old Portuguese mansion. It is also known as the house of seven gables.
Plenty of water sports activities to choose from – parasailing, speed boat, bumper boats, water scooter, jet skiing.
Goa Chitra Museum – You can see more than 4000 artifacts, consisting of ancient farming tools, local pottery, old carts, musical instruments, palanquins, and more here. The museum has been described as one of the "most charming" attractions of Goa.
Best Time to Visit Colva Beach
Tourists come here throughout the year. It is so close to Margao that every weekend, the locals would drive down to the beach and spend time here. Many come to the beach even on weekdays. But most tourists from outside Goa come to Colva in the winter, between November and February, when the temperature is lower, and it is more pleasant. The summer months are hot. It will be wet during the monsoon, with a lot of downpours on some days. Many shacks and restaurants, and also the water sports may not be working in the monsoon, and even the summer.
Weather
The weather in Colva can get very hot in the summer months with the daytime temperature reaching anything between 32°and 36°C. The evenings are much pleasant, though, as the cool wind blows in from the sea. The monsoon months are wet and humid. There can be a sudden thundershower, and sometimes, it may rain for almost the entire day. The sea can be choppy with high waves in the monsoon. It is best to avoid swimming during the rains.
Climate in Colva
Month
Jan
Feb
Mar
Apr
May
Jun
Jul
Aug
Sep
Oct
Nov
Dec
Year
Average high, °C
31,6
31,5
32,0
33,0
33,0
30,3
28,9
28,8
29,5
31,6
32,8
32,4
31,3
Average low, °C
19,6
20,5
23,2
25,6
26,3
24,7
24,1
24,0
23,8
23,8
22,3
20,6
23,2
Average precipitation mm
0,2
0,1
1,2
11,8
112,7
868,2
994,8
512,7
251,9
124,8
30,9
16,7
2926
The winter is pleasant but never too cool. You won't need warm clothes even during the night. There is very little rain, so you can plan to spend an entire day on the beach, relaxing, and getting a sun bath. Or you can plant to hire a car or bike and visit some of the nearby attractions of Goa.
How to Reach Colva
By Air — The Dabolim airport is 20.5 kms from Colva. There are many airlines that operate flights here like Air India, Indigo, Etihad, Air Arabia, Air Asia, Qatar Airways, and Jet Airways.
By Rail — The Margao railway station is 9.1 kms from Colva.
By Road — The Margao city center is 8.9 kms away.
When you approach Colva from the railhead at Margao or the airport, you will pass through small Goa villages, and towns, if you are coming from Vasco da Gama. You will see some beautiful homes, old colonial structures, which will remind you of the Portuguese days. There will be a lot of greenery. There will be paddy fields, palm trees, and ponds. You will see small and beautiful churches.
There will be more houses and shops close to Colva. The Dabolim-Cavelossim Road takes a right turn, 5 minutes from the Beach Circle. Head straight from the Circle and you are at the beach.
Top 6 Activities at Colva Beach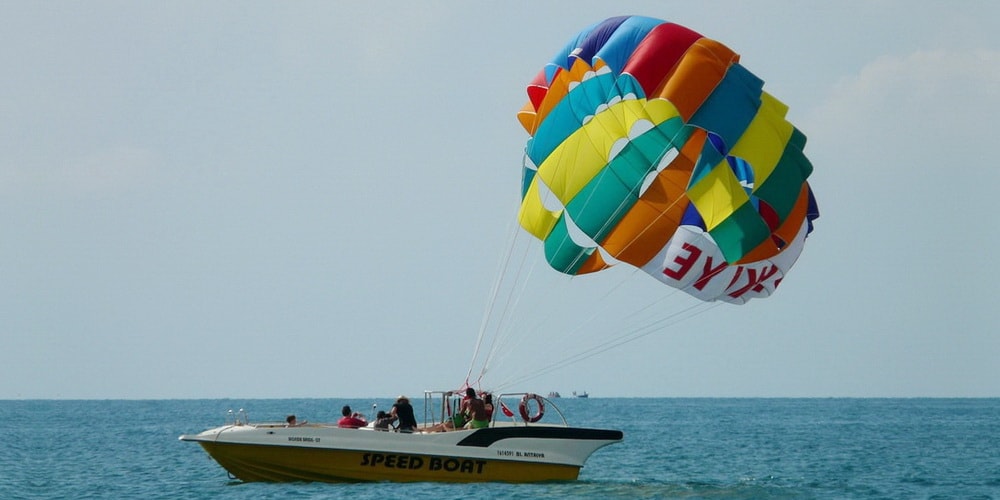 Colva Parasailing
Enjoy just like you want. Relax at the beach or enjoy the water sports. Lay down in your sun deck with a drink and doze off. Enjoy the food. Visit one of the night clubs. Do a little bit of sightseeing in Colva.
The beach. The area around the Colva Circle is crowded. If you like fewer people, then just go a bit north or south. Choose a sun deck, sit back, and relax. Order your drink and food. Get a maalish (massage).
Water sports and swimming – You can select from speed boats, banana and bumper boats, jet skiing, parasailing, and more. There is no water sport in the monsoon.
There are many shacks here — Boomerang, Pinacolada, Shaloms Beach Restaurant, Big Boss, Rendezvous Shack, SandPat, Papillon Bar, and more.
Visit the shops and supermarkets. There are clothing stores, tattoo parlors, massage centers, souvenir shops, and book stores. Many big and small street side stalls.
Visit the beaches of south Goa – Betalbatim, Sernabatim, Majorda, Utorda, Benaulim, and Varca or further South.
A day-trip to Margao to see the many attractions there.
The Colva Beach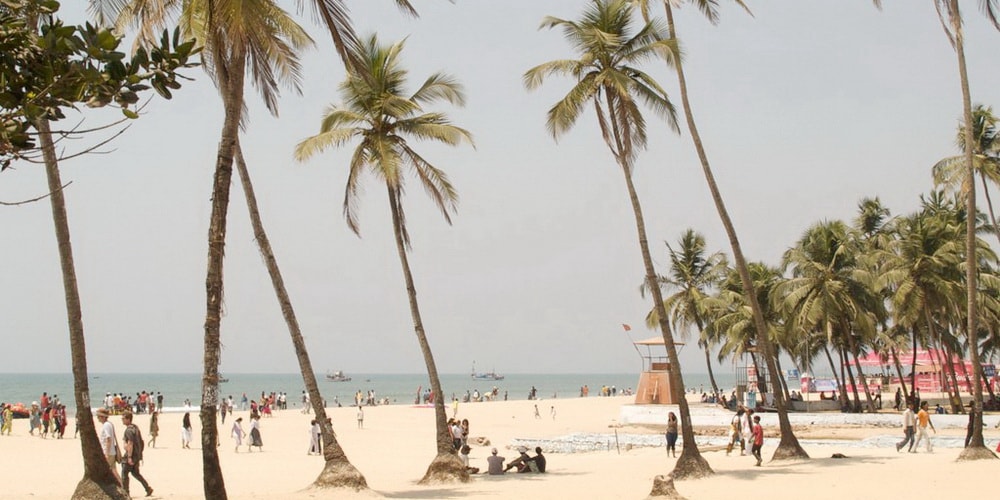 Main enterance to Colva Beach
Colva has a white, sandy beach that is lined with swaying palm trees. So there is a lot of greenery all around. It's a long sandy shore that stretches all the way from close to Betalbatim beach in the north to Sernabatim beach in the south. You will find shacks throughout the beach, but they are mostly in clusters, with large empty sandy stretch in between. You will see most tourists around the Colva Circle. The foreigners stay away from this part, preferring the shacks on the north and south. There are however fewer international tourists, compared to the other South Goa beaches, Palolem and Cavelossim.
There is a small creek at the beach circle, but it does not go all the way to the sea. You have to cross a small bridge over this creek to reach the beach. There are other approaches too. Most water sports activities are concentrated just left of the Circle area. You can choose from speed boat and banana boat rides, water scooter, and paragliding. There is no snorkeling or scuba diving.
Colva is clean as there are fewer tourists here than many other beaches in Goa.
Shopping
Colva is a lot smaller than Candolim or Baga. There is no big shopping mall or super store here like Newton or Delfinos. But you will still find plenty of stores selling all kinds of things. You can buy most of your daily requirements. If you want to visit a supermarket, you have to go to Margao city center, which is 8.9 kms away.
While at Colva, you can buy souvenirs of your visit, get a massage or tattoo, buy books and various other things at the many shops here. There are both small and big shops and street side stalls.
Goa Animal Welfare Trust Shop – A charity shop that sells souvenirs and secondhand books. Also referred to as GAWT, money from sales goes towards the welfare of Goa's four-legged friends.
National Cottage Impex – Handicrafts, tea, shawls, and more.
Mitt Kashmir Jewels and Designs – Jewelry store.
Top 5 Best Restaurants
Colva is a foodie's delight. You will find all types of foods on offer, including Goanese, continental, Chinese, North and South Indian, Maharashtrian, and even Bengali. Most restaurants are located either on the beach or on both sides of the Beach Road.
From fine dining to beach shacks, restaurants, cafes and street-side food, you will get it all here.
Garden Restaurant – In the La Ben Resort. A popular restaurant for breakfast and dinner. Plenty of menu choices. Good cocktail list.
Sagar Kinara – On the other side of the Colva Beach Road, just opposite to the Garden Restaurant. Pure-vegetarian upstairs. Non-veg downstairs. Affordable South and North Indian food.
The Papillion – On the southern end of the Colva beach. There are many foreigners. Try the prawn curry, sweet chicken, and paneer pakodas.
Pinacolada Beach Shack – Goanese and international menu.
Mickey's Restaurant – At the northern end of the beach. Try the cheese naan, garlic squids and pork ribs in barbecue sauce, crispy chicken and calamari chili garlic.
Leda Lounge & Restaurant – Close to the GAWT shop. The menu includes Goanese, continental and Indian cuisines.
Nightclubs
Colva is not a hot party destination like north Goa. There are no big festivals or public events. Most parties here are private or in the few nightclubs.
Popular bars, pubs, and nightclubs in Colva:
Club Margarita – The first public nightclub in south Goa, it is located in the Colva Beach Resort. European and Goa DJs play here. There is house, hip-hop, R&B and retro music. Parties are usually on Fridays and Saturdays.
Leda Lounge – Sports, cocktail, and music bar. You can listen to live music between Thursday and Sunday. The lounge offers fancy drinks and good food.
Club Sunshine — At the far north end of the Colva beach. There is live music, DJ and dancing right on the beach.
Boomerang Beach Bar – Very close to the Circle, but still away from the crowds. Dance floor. DJ. Live music. Mostly private parties.
49ers Restaurant and Bar – International food, live music and karaoke. Very good DJ music.
Water Sports
There are a lot of water sports activities on offer. There is Xavier's Para Sailing Unit right on the Colva beach. There are other operators too. Choose from speed boats, banana boats, water scooters, and jet skiing.
| Service | Tariff | Description |
| --- | --- | --- |
| Banana Boats | 200 rupees for 15 minutes | A fun and entertaining boat ride with an optional dip in the sea. |
| Water Scooter, Jet Skiing | 1000 rupees for 10 minutes | Take the ride of your life on a Jet Ski or water scooter on the sea. There will be a trainer with you to keep you safe. |
| Speed Boats | 300 rupees for 30 minutes | A fast ride on the sea for a memorable experience. There will be others with you on the speed boat. |
| Parasailing | 500 rupees for 15-20 minutes. Double for couples. | This is a good choice for those who are more adventurous. Soar high on the sky to get a panoramic view of the sea and beach. |
* You can get discounts by trying different activities from the same provider. You have to negotiate to arrive at a special price.
Hotels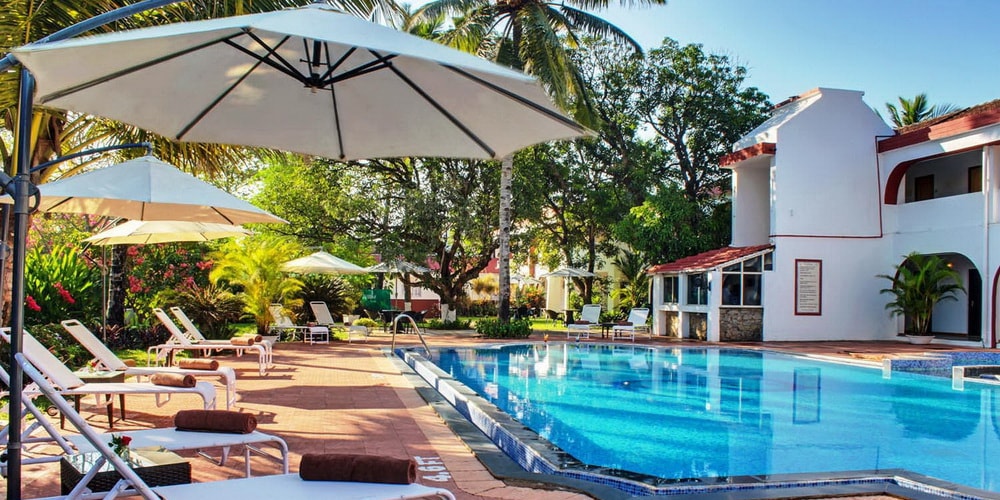 Longuinhos Beach Resort
There is no 5-star luxury property in Colva unlike some of the other beaches in Goa. At the most you will find 3-star hotels. Longuinhos Beach Resort, The Golden Crown Hotel & Spa, Colmar Beach Resort, Soul Vacation Resort and Spa, and Skylark Resort are some of the hotels in Colva.
Villas
Rent a villa in Colva. These are some of the best and the most comfortable places to stay. These are private villas, so there will be no other guests during the tenure of your stay. Our premium properties offer modern amenities and luxuries comparable to the best 5-star hotels. You will have more per person space in a villa, so you can spread out and live more comfortably. It will be cheaper too than a hotel room if you are a large group.
There are many luxury villas to choose from here. You can choose from Villa Lyon Age, Villa Orchard Garden, Pool view apartment, Villa Fasenda de Forte, and Villa Kamila, and others. You can rent for the short-term or long-term. Many of the hotels, resorts, villas and apartments are close to the sea, while others are along the Colva Beach, and the Dabolim-Cavelossim Road. Many properties, shops, restaurants, and cafes are concentrated around the Colva Circle.
Properties with sea views cost more. The cost also depends on the amenities, season, and the duration of your stay.
Ultra-luxury 3-bedroom villa with private pool. Complete privacy. Maximum comfort.

From 20 000 Rs. per night

Comfortable 3-bedroom villa in gated residential complex. Shared Pool. South Goa.

From 10 000 Rs. per night

Large 6-bedroom villa in quite area of South Goa. Private pool. Complete privacy.

From 25 000 Rs. per night
There are many other amazing villas and apartments on rent in Colva. They offer many modern amenities. You can check our other villas here.
---
Related articles:
---
Rate this article:
Rated

4

/ 5 based on

10

reviews.