Table of contents
Cavelossim beach is in South Goa, 19.2 kilometers from Margao via the Orlim Road. The beautiful Sal River meanders through at the other side to meet the Arabian Sea near Betul Fort. This is a long stretch of white sand with a few black lava rocky outcrops. Cavelossim is a great place to see sunsets. It is nice and relaxing here as there are fewer tourists, even in peak season. There are a few beach shacks and restaurants that serve seafood, local delicacies, and continental preparations.
A long stretch of sandy white beach with few people around, black lava rocks adding color, palm and casuarina trees, clean and placid water safe for swimming, with the winding Sal River on the other side… life couldn't be better when you are at Cavelossim. Just sit back in a shack under the umbrella and relax with a drink in your hand. You will have almost complete privacy. Your kids can play in the sand, perhaps build a castle. The big empty beach is perfect for families for kids.
There are dolphin viewing trips, bird-watching and river cruising. No chaos of North Goa. In fact, many tourists have said Cavelossim is the cleanest and the most serene beach in all of Goa. There are many foreigners – Europeans and Russians. Most visitors here are upper or upper middle-class people, honeymooners, and families who appreciate the relaxing and peaceful calm of the place and want to spend time in nature.
Rarely will you find a more pretty and peaceful beach anywhere in India. The town itself has lush tropical vegetation.
Cavelossim Map
There are quite a few shacks, restaurants, bars, cafes, and clubs. Some of them are on the beach, while others are on the river front, or in upscale neighborhoods. There are sun decks on the beach where you will find Indians relaxing and foreigners tanning themselves. Many 5-star and 4-star hotels like Holiday Inn Resort, The Leela, Radison Blu, Karma Royal, Dona Sylvia, and the Mayfair Hideaway Spa Resort.
There are many amazing apartments and luxury villas in Cavelossim as well.
Cavelossim Gallery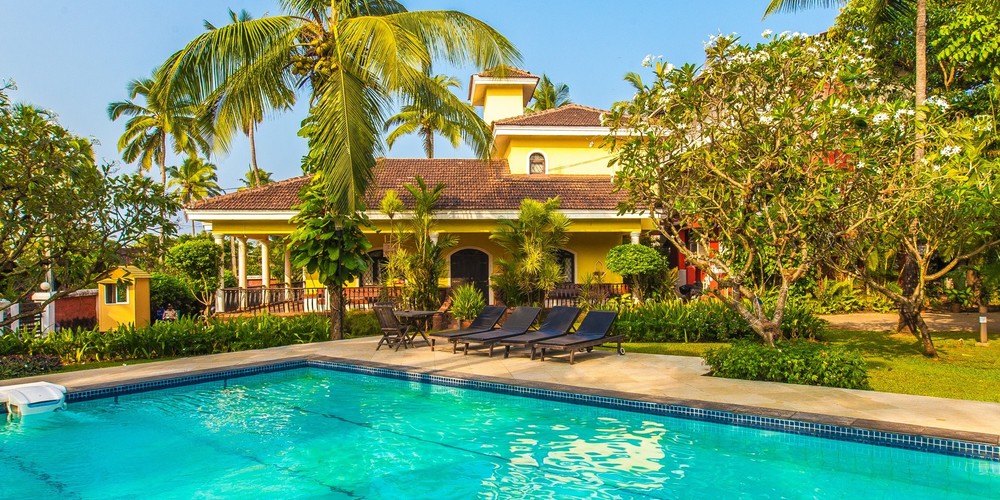 Luxury villa with direct access to the beach. 5* star service. Prime location of North Goa.
Villa for rent from 19 000 Rs. per night
Enquire / Get best deal!
Quick Facts About Cavelossim
Cavelossim is one of the most beautiful beaches in South Goa. Clean, wide beach. Safe for swimming. Serene. Calm and quiet. Relaxing place. Palm and casuarina trees. Black lava rocks. Winding Sal River on the other side.
The Cavelossim beach is 19.2 kilometers from Margao, and 33.3 kilometers from Vasco da Gama.
Closest airport – Dabolim – 34.0 kms.
Closest railway station – Margao – 14.8 kms.
Cruises on the Sal River. Dolphin sighting, bird-watching. Fishing trips. Many spas, massage parlors, and ayurvedic healing centers.
The historic Cabo de Rama Fort, which has been held by the Portuguese, Hindu kings, and Muslim monarchs at various times. Cliff drops steeply to the sea. Good sea views from the top.
Beautiful Portuguese mansions like Palacio do Deao and the Menezes Braganza House, which are both close.

The 17th century Betul Fort where the Sal River meets the sea. It was built by an associate of Shivaji. Betul lighthouse close to the fort.
NUSI Maritime Academy – The best maritime institute in Goa.
Many shacks on the beach and on the Sal River like Gaffinos, Cafe Beach Hut, Bettys Place, Gigi's, Grasshopper Bistro & Bar, Cassa Blanca Seafood, The Fishermans Wharf, Betty's Place, Jazz Inn, Mike's Place, and others.
Lots of water sports activities like parasailing, speed boat, bumper boats, water scooter, Jet Ski.
Sun decks with umbrellas on the beach. Restaurants and cafes.
Upscale neighborhood. Developed infrastructure. Many high-end 5-star and 4-star hotels. Very good villas and luxury apartments.
Best Time of the Year to Visit Cavelossim Beach
Cavelossim is one of the most beautiful beaches in South Goa, so there are tourists almost throughout the year. But it never gets as crowded as some of the popular beaches in the North, even in the peak season. Most tourists, though, visit in the winter as the weather is the mildest then. It is more pleasant. The summer, in contrast, is hot, and it can rain heavily during the monsoon. Water sports and many of the shacks are likely to be closed. Water sport is not always safe at this time. Most shack and restaurant workers go back to their villages, doing other jobs. This is also the time for plantation.
The winter months between November and February are definitely the best time of the year to visit Cavelossim.
Weather
Like other places in Goa, Cavelossim is also hot in the summer, with the daytime temperature reaching 36°C and even more on some days. But it cools down considerably in the evening. The temperature is still high during the monsoon. Add to that the high humidity, and it can become unpleasant on many days. Chance of thundershowers on some days! There can be water logging too. The waves are also likely to be higher this time of the year.
Climate in Cavelossim
Month
Jan
Feb
Mar
Apr
May
Jun
Jul
Aug
Sep
Oct
Nov
Dec
Year
Average high, °C
31,6
31,5
32,0
33,0
33,0
30,3
28,9
28,8
29,5
31,6
32,8
32,4
31,3
Average low, °C
19,6
20,5
23,2
25,6
26,3
24,7
24,1
24,0
23,8
23,8
22,3
20,6
23,2
Average precipitation mm
0,2
0,1
1,2
11,8
112,7
868,2
994,8
512,7
251,9
124,8
30,9
16,7
2926
Winter, between November and February, is pleasant. The temperature ranges between 20°C and 22°C, so it is very comfortable. There is almost no rain, and very little humidity. The sun is mild so you can spend an entire day on the beach, cruising the Sal River, or seeing some of the sightseeing spots of Goa.
How to Reach Cavelossim
By Air — The Dabolim airport is 34.0 kms from Cavelossim. The airport is connected by many major Indian and international airlines like Air India, Indigo, Etihad, Air Arabia, Air Asia, Qatar Airways, and Jet Airways. You can take a flight from Mumbai, Bengaluru, Chennai, Kolkata, Pune, and some international cities.
By Rail — The Margao railway station is 14.8 kms from Cavelossim.
By Road — The Margao city center is 18.3 kms from Cavelossim.
Top 10 Things To See And Do At Cavelossim
Cavelossim offers many options. Few people, no fuss, and high-end hotels, resorts, and shacks let you relax and enjoy the good life. You can be active too by doing the cruise on the Sal River, and dolphin watching. There is water sport too.
Cruise on the Sal River.
Dolphin trips.
Fishing expeditions.
Water sports including speed boats, banana, Jet Ski, and parasailing.
Forts – There are two forts close to Cavelossim… the Betul fort and its lighthouse, and the Cabo de Rama fort. They both offer good sea views from the top.
Old colonial Portuguese mansions – The Palacio do Deao and the Menezes Braganza House. See the lovely gardens, furniture, and beautiful verandah at the 18th century Palacio do Deao. The Menezes Braganza House offers stunning artifacts and furniture.

Biking – Beach biking is thrilling and fun. Rent a bike or a cycle and ride it right on the beach up to the Mobor beach, which is just south of Cavelossim. Ride near the edge of the water and see the gentle waves hitting. You can even ride to the Cabo de Rama Fort, or visit the Mobor village.

Ayurvedic Massage – There are massage parlors and health centers in Cavelossim where you can get an authentic ayurvedic massage with essential oils. This ancient healing remedy will remove your body pain and stress. You will feel recharged and relaxed.

Shanta Durga Temple.

Do nothing. Just sit back and relax on the beach. Swim in the clean water. Head to one of the many nightclubs once the sun has gone down.
Cruising the Sal River
Goa's third largest river, Sal starts near Margao and empties itself into the Arabian Sea in front of the Betul Fort. Flowing for 35 kilometers, it is one of the 9 rivers in Goa, with a catchment area that is one third the size of the Zuari River.
The Sal flows on the other side of the Arabian Sea at Cavelossim, adding to the beauty of the beach. At its narrowest, there is just one small stretch of land that stands between the river and the sea. There are many beautiful beaches in Goa, but you will rarely find this feature, making Cavelossim very interesting.
Sal is a beautiful river. There is a lot of greenery on both sides. Cruising the Sal will surely be a memorable experience. You can go on a dolphin and bird watching tour for about an hour, a little more, or for a longer duration. There are also bats to see. Plus, you can watch village life as well. You will be served drinks and lunch on board. There is music too. On a Sal cruise, you can visit the NUSI Maritime Academy, and the wooded Estevam Island.
Shree Shanta Durga Temple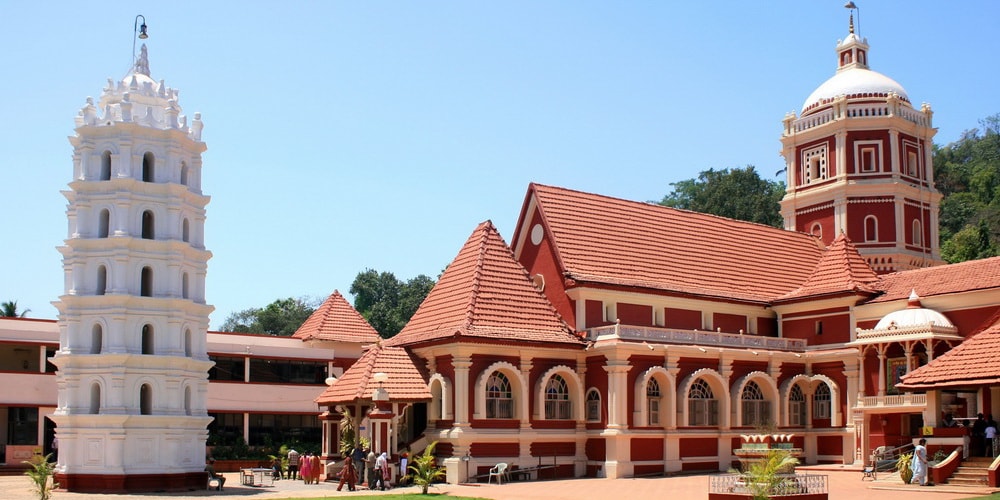 It doesn't look like a traditional Hindu temple. You will be surprised when you see it. Dedicated to the Goddess Shanta Durga, the Portuguese destroyed the original temple. The present structure was constructed later by Chhatrapati Shahu. It's a must visit for those who are spiritual and for the history buffs.
Shopping at Cavelossim
Cavelossim is peaceful, but there are good shopping opportunities here. Most of the shops are along the main street.
Buy a souvenir, clothes, books, groceries, and more when you are in Cavelossim. There are many jewelers and leather shops too. Big shops and small street-side stalls.
The Saga Store – One of the biggest shopping centers in South Goa. You will find branded clothes from Lacoste, Levis, and shoes from Adidas. Both Indian designers and international fashion brands. Many household and gift items.
D'mello SuperCenter – Choose from wine, groceries, pharmacy and everything else under one roof.
Dharamdas and Sons, Leather Gallery – All kinds of leather goods.
Aradhya Jewellery, House of Diamonds, Exotic Gems – Find jewelry made from precious and semi-precious stones.
Aqua Fun – Water ski shop.
At the gift shops, you will find things made of stone, leather, wood, and sometimes decorated with beads. You can also buy cashmere, silk and wool carpets. There are opticians and pharmacies too.
Top 5 Best Restaurants
There will be plenty of opportunities to enjoy good food at Cavelossim. There are beach shacks, cabin-like cafes, and restaurants, all serving a wide variety of North and South Indian, Chinese, Konkanai, Maharashtrian, and continental cuisines. Don't miss out the local Goan foods while you are here.
There are lots of eateries at Cavelossim, on the beachside, river front, or the small lanes of this town.
The Fishermans Wharf – Exotic cuisines and drinks. Great location. Right on the riverside. Try their seafood.
Jazz Inn – Good ambience. Good food. Live music with laid back vibe. Varied menu from Indian to pizza. Chris will do anything to please you. Try their Tortillas with garlic and cheese.
Mike's Place – Good food at fair prices. On offer, Indian, Chinese and continental. Try the grilled red snapper and shark steak. There is live music too.
Octima Bar and Restaurant – International cuisine and fantastic cocktails. Good vegetarian food also. Prices are reasonable.
Betty's Place – Mostly Indian food. Try the garlic shrimp and sea bass. They offer boating trips and fishing expeditions as well. Will cook and serve your catch.
Nightlife in Cavelossim
Cavelossim is serene and quiet. But the beach and town comes alive after dark. Popular bars, pubs, and nightclubs in Cavelossim:
Mike's Place – Close to the Sal River. A must visit. There is music every night and a dance floor. Everything included from Indian dancing to UB40.
Club Tito's – Located at the upscale Radisson Blu Resort. High profile and celebrity DJ's. Bollywood, progressive, and electro music. Big dance floor. Do not mistake this with the Club Tito's at Baga beach in North Goa. The two places are different.
Jazz Inn – In-house DJ nights. International and domestic acts. Reggae is the favorite here.
Water Sports in Cavelossim
There are plenty of water sports activities to choose from at Cavelossim –
| Service | Tariff | Description |
| --- | --- | --- |
| Sal River Cruises | 850 rupees for 5 hours. Lunch and drinks included. | The Sal River meanders along the eastern edge of the town. Much like the backwaters of Kerala. Wind through little fish farms, paddy fields, with palm trees and mangroves lining your way. See kingfishers, egrets, and fruit bats. Plenty of photo opportunities. |
| Dolphin and bird-watching trips | 400 rupees for 1 hour. 350 rupees extra for bird-watching trips. Total – 3 hours. | One trip or two combined for a fabulous activity. If you are doing them together, then the cruise will take you both to the Sal River and the Arabian Sea. |
| Fishing expeditions | 700 rupees for 4 hours. Minimum 3 people required. | Up to 4 hours. Bait and tackle provided. You can hook up gold fish, snappers, salmons, barramandi, and others. Many trip operators will cook and serve your catch. |
| Parasailing | 500 rupees for 15-20 minutes. Double for couples. | Get a different perspective from up above. |
| Speed Boats | 300 rupees for 30 minutes | Speed-off into the sea. Experience the sea and the wind on your face. |
| Water Scooter, Jet Skiing | 1000 rupees for 10 minutes | Adventure sport. All by yourself with a trainer to keep you safe. |
* You can get discounts by trying different activities from the same provider. You have to negotiate to arrive at a special price.
Hotels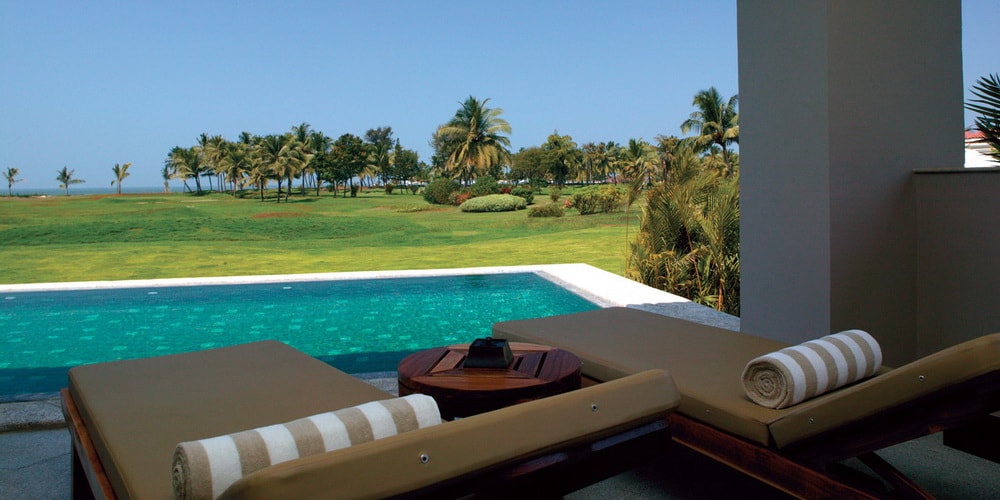 Leela Goa
There are many good hotels and resorts in Cavelossim including 5-star and 4-star properties. A few of them are international brands as well. You can expect intenational standard living here. The most popular hotels in Cavelossim are:
Radisson Blu Resort 5*
The Leela 5*
Holiday Inn 5*
Dona Sylvia Beach Resort 5*
Karma Royal Haathi Mahal 4*
Mayfair Hideaway Spa Resort 4*
Veeniola Holiday Home 2*
Gaffino's Beach Resort 2*
The Byke Old Anchor Beach Resort 2*
Villas
Choose from the finest luxury villas in Goa at Cavelossim. In many ways, the villas and luxury apartments are better than hotels and resorts. You will have more privacy. The luxuries and amenities are comparable with 5-star hotels. You will have more space per person, so you can spread out and relax. The rooms are larger and come with attached balconies or terraces with sea or river view.
Facilities and amenities include – a private swimming pool, large garden, barbecue, free Wi-Fi, plasma television, modular kitchens, maid and chef services, and more.
Villa rental in Cavelossim will save you money per person as compared to hotels. Properties with sea views cost more. The cost also depends on the amenities, season, and the duration of your stay.
You can choose from Villa Vanessa, Villa Grand Boutique, The Pinnacle Montana Villa, Villa Pinewood, Mila Calista Heritage, Clarion Village, Villa Theresa, and more.
Here are some of the top villas to rent in Cavelossim:
Beachfront seaview 3-bedroom villa. Complete privacy. Best location for family.

From 12 000 Rs. per night

European style 3-bedroom villa in gated residential complex. Shared Pool. South Goa.

From 17 000 Rs. per night

Small 1-bedroom villa in gated residential complex. Prime location of South Goa.

From 10 000 Rs. per night
You will other top villas and apartments available on short and long-term rent in Cavelossim as well. You can check our other villas here.
---
Related articles:
---
Rate this article:
Rated

4.14

/ 5 based on

14

reviews.