When is the best time to visit Goa?
Your definitive guide on the best time to visit Goa and its key highlights
Table of contents
The best time to visit Goa is between the middle of November to the middle of February. You will get mild weather and low humidity. The sea won't be choppy, perfect for swimming and water sports. The daytime temperature will range between 20° and 32°C. Sometime, for 1-2 days every year in December, the daytime temperature goes down to around 20-22 degrees. The winter season is also the best time in Goa for parties, nightlife, and watersports.
Baga, Anjuna, and Vagator will be buzzing. This is also the time of the year when you will find the most water sports activities, and the beach shacks are all open again. You can go on a sea or river cruise, snorkel, or do scuba diving. November to February is also the best time to enjoy the many festivals held at Goa. The festival and events calendar is packed every month.
The Seasons in Goa
There are three main seasons in Goa, like everywhere else in India. They are,
The summer,
Monsoon or the rainy season,
The winter.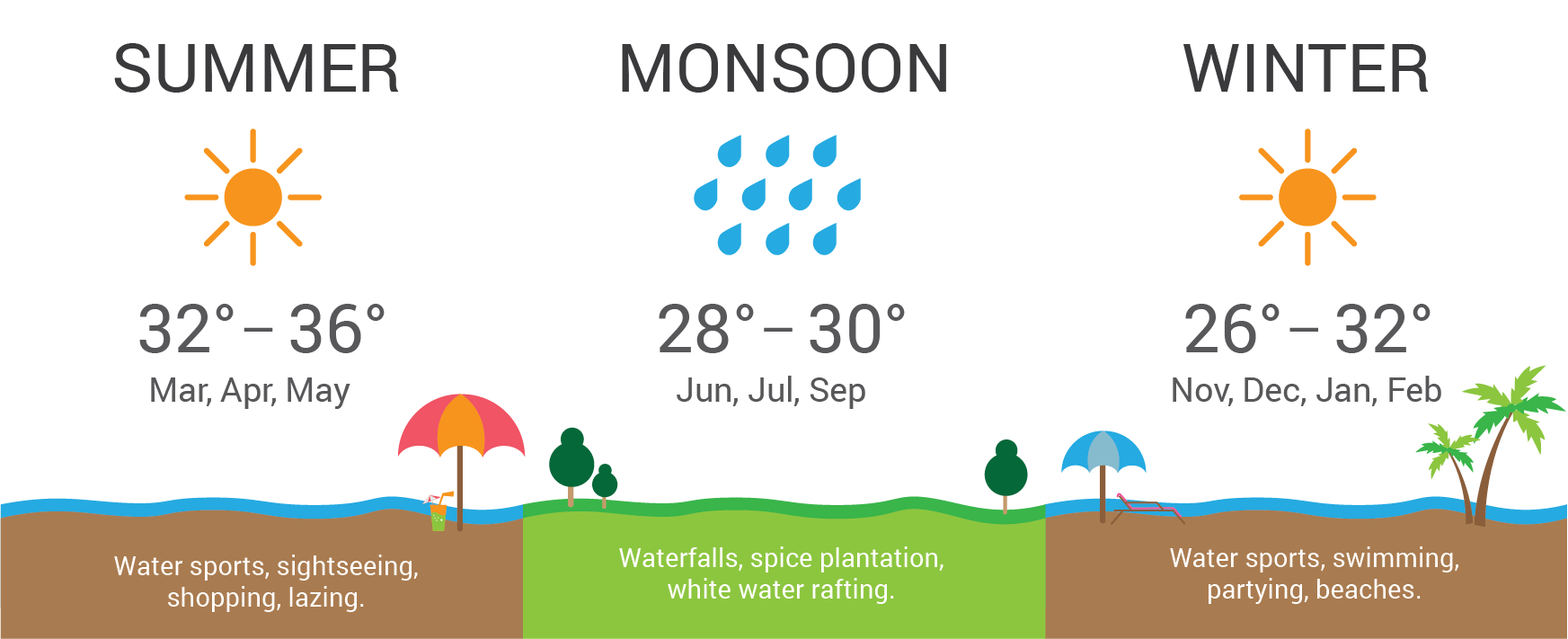 Weather overview
The summer is hot and humid, the monsoon is wet, and the winter season in Goa is cool and very pleasant. It never gets too cold in Goa, even during the winter night, so you won't need woolens. A nice breeze blows in from the sea. The sun never beats down harsh, so you feel comfortable spending long hours on the beach. But during the monsoon months, the villages, towns and beaches receive a lot of rain because of the presence of the Arabian Sea on one side and the hills of the Western Ghats on the other. There are thunderstorms on some days with heavy rain.
Climate in Goa
Month
Jan
Feb
Mar
Apr
May
Jun
Jul
Aug
Sep
Oct
Nov
Dec
Year
Average high, °C
31,6
31,5
32,0
33,0
33,0
30,3
28,9
28,8
29,5
31,6
32,8
32,4
31,3
Average low, °C
19,6
20,5
23,2
25,6
26,3
24,7
24,1
24,0
23,8
23,8
22,3
20,6
23,2
Average precipitation mm
0,2
0,1
1,2
11,8
112,7
868,2
994,8
512,7
251,9
124,8
30,9
16,7
2926
View weather for
The water is choppy and waves are higher in the monsoon, so water sport is too risky. Actually, you will hardly find any water sport operators in the monsoon. They come back in October when it is more pleasant and there is little rain. You cannot go to the Grande Island and other such places in the monsoon because the sea is rough. Many of the national parks are also closed. However, the Dudhsagar Falls will be at its best because of the increased water.
There is little rain in the summer as well, but the heat may prevent you from spending long hours on the beach. It's best to get under shade after 11 in the morning. The mornings and late evenings will be pleasant, though. The humidity will however be higher than the winter.
Peak Season in Goa – November to February
Shoulder Season – March to October
Low Season – April to September
Best Thing To Do
During the summer and monsoon months, the shacks are almost all closed, and so are the water sports activities, as it is too risky. But during November and February, you can ride banana boats, speed boats, do parasailing, kayaking, wakeboarding, white water rafting, go on cruises, and even enjoy snorkeling, and scuba diving.
Most of the Goa events and festivals are held at this time as well. Also, since the weather is milder with little chance of rain, it will be easier to see some of the tourist attractions like the Basilica de Bom Jesus, Our Lady of the Immaculate Conception Church, Se Cathedral, Church of St Cajetan, and the St. Francis of Assisi Church.
| | November | December | January | February |
| --- | --- | --- | --- | --- |
| Weather | Mild. Occasional rain. Humidity between 35% and 84%. | The best weather. 10 hours of sunshine daily. No rain. | Coldest month of the year. Just 0.2mm rainfall. 11 hours of sunshine. | 0.1mm rainfall. Slightly warmer than January. Humidity between 34% and 85% |
| Temperature | 22.3° - 32.8°C | 20.6° - 32.4°C | 23.2° - 31.3°C | 19.6° - 31.6°C |
| Beach | Few people as it is still not the peak season. | Many more people. South Goa will be quieter. | More families. Lots of people. Many more activities. | Fewer people than January. Activities still available. |
| Sea | Generally mild, but sometimes choppy. | Great for swimming. Mild and warm water. | Great for swimming. Mild and warm water. | Generally mild. A few days can be choppy. |
| Parties | Start of the party season in Goa. | The parties are in full swing, mostly in North Goa. | Nightclubs and beach shacks are full of revelers. | Fewer parties. |
| Water sports | Starts from the middle of November | Full range of water sports available. | Full range of water sports available. | Full range of water sports available. |
| Shacks | Opening up again. Most of them are closed during the monsoon. | The shacks are all open. | The shacks are all open. | Many are beginning to close down as the peak season is almost over. |
| Festivals | Goa International Jazz festival, International Film Festival, Diwali. | Sunburn, Mando Festival, Feast of St. Francis Xavier, Christmas and New Year celebrations. | Zatrotsav of Shantadurga, Flower Chariot, Procession of the Deity on Ambari, Feast of Three Kings, Tattoo Festival, and the Kite Festival. | Goa Carnival, Linc Tower Run, Monte Music Festival, and the Wine Festival. |
| Prices | Low. Better chances of finding a deal. | Peak season. Prices are higher. | Peak season. Prices are higher. | Prices beginning to come down. |
Goa in the Summer
The summer in Goa is between March and early June. The temperature is usually between 24° and 36°, but some days can be even hotter. The sun shines for about 12-13 hours in a day. On some days, though, there is rain in the late afternoon and evenings.
Summer is a lean season in Goa, so expect cheaper prices – accommodation, flight tickets, bike/car rentals, and water sports. But remember, the sea can be choppy on some days. Many of the beach shacks will be closed, as there are few tourists.
Goa in the summer is a good idea if you are looking for cheap deals and want to avoid the crowds.
Summer activities/attractions –
Fewer tourists, no crowds
Low prices
The temporary beach shacks are closed
Scuba diving at Grande Island and Malvan
Mandovi River cruise
Day trip to Old Goa
National parks, wildlife sanctuaries
Spice plantations
Water sports, swimming
Dolphin watching
Goa in the Monsoon
Rains, choppy sea, and bigger waves! The monsoon season is between June and early September. It will rain almost every day from the middle of June to early August, after which it won't rain as often, but there is still rain in the air. The sky will be overcast. Chance of thunder storms on some days! There will be bright, sunny breaks in between. It is lush with trees, flowers, fruits, and paddy fields.
Goa in the monsoon is very romantic. Enjoy long walks on the beach if you don't mind the rain. Fewer tourists, so the beaches will be more serene and the roads will be cleaner. Greenery everywhere! However, South Goa will be virtually deserted, with very little infrastructure for the tourists. The beach shacks will be closed. No water sports. Many budget stays and guest houses will also be closed.
Monsoon activities/attractions –
Lush greenery everywhere
Cheap deals
Fewer tourists
Dudhsagar Falls
Kayaking, white water rafting
Casino gaming
Drive up the ghats
Hiking trips
Visit the museums
Goa in the Winter
November to February is the best time to visit Goa for most people. It is the peak tourist season. Very nice weather and almost no rain! Perfect for a day on the beach or visiting some of the sightseeing spots of Goa! The sea is calm. So you can enjoy water sports without a worry. You can also try snorkeling, scuba diving, cruising, or fishing.
The beach shacks are all open. The nightclubs are all busy with party revelers. Goa in the winter means there are many festivals to celebrate as well – Christmas, New Year, Sunburn, Supersonic Festival, Winter Carnival, and more. But everything will be costlier in the winter, especially in December and January.
Winter activities/attractions –
Top tourist season in Goa
Can be crowded
The flea markets are all open
All beach shacks are open, even the temporary shacks
Nightlife, parties
Long queues at restaurants, bars
Water sports
Visit the forts
Old Goa, Latin Quarter
Many events
Best Time for
Best Time for Sightseeing – November to February because of mild weather. Humidity will be low. There will be very little rain so you can plan to spend a day on the beach or visit Old Goa to see the churches, the forts, and spend a day exploring the lanes of the Latin Quarter.
Best Time for Weather – November to February once again. You can cruise on the rivers and visit the Grande Island without a worry. The sea won't be choppy. You can enjoy watersports, swimming, and snorkeling. The summer can be very hot. It can rain a lot during the monsoon, sometimes, every day. Many national parks will be closed in the monsoon.
Best Time for Honeymoon – The monsoon season. It will be green everywhere. There will be fewer tourists, so the two of you will have more privacy. Go for long walks on the empty beaches. Watch the rain. Enjoy Goa's famous seafood.
Best Time for Nightlife – The winter, November to January. Club Titos, Mambo's, LPK, Curlie's, Cubana, and all the other nightclubs are throbbing. There are beach parties too in many places. Many restaurants and bars will also play live music with dancing.
Best Time to Save Money – June to September. This is the low season. All hotels and villas will offer a discount. You will save money also at the restaurants and many shops.
Best Villas
The most popular Goa luxury villas are hot items, especially for those planning longer stays for their holiday in Goa. Villas are the best option for families and large groups, or simply for gatherings and small pool parties. With tailor made possibilities, from barbecues to romantic candlelit dinners, villas provide the definite answer. Here's our list of the best villas in Goa for your holiday vacation.
Beachfront 4-bedroom villa with its own private pool. Prime location of North Goa.

From 20 000 Rs. per night

Riverside 3-bedroom luxury villa 10 mins drive from Candolim. Complete privacy. North Goa.

From 25 000 Rs. per night

Luxury villa with direct access to the beach. 5* star service. Prime location of North Goa.

From 19 000 Rs. per night
* Price depends on arrival dates and duration of stay.
---
Related articles:
---
Rate this article:
Rated

4.4

/ 5 based on

15

reviews.