Goa in December
The Guide for Visiting Goa in December
Table of contents
Should I visit Goa in December? Absolutely yes! According to statistics with the Goa Department of Tourism, a total of 6,330,744 tourists visited the state in 2016, which is a more than 50% increase from 2006 – 2,479,068. Of course, Indians from all corners of the country come to Goa, but there are many foreign tourists too, most of them from the UK, Russia, Germany, Finland, and France. January and December together are the most popular months for both domestic and international travelers.
The prices are likely to be higher in December than the summer or the monsoon months. But then, you will get the best of everything. You will get the complete range of water sports activities on offer, the weather will be nice and cool, the restaurants and bars will be operating at full capacity and offering their best, the shops including the street side stalls will be all open, the flea and night markets are going to be open, and you will find a lot of bikes and cars to rent.
December is the time for those unending parties in Goa. Baga beach, Anjuna, Vagator, and a few other beaches are brimming after dark with party goers. The nightclubs are blasting their songs and are full of revelers.
December Gallery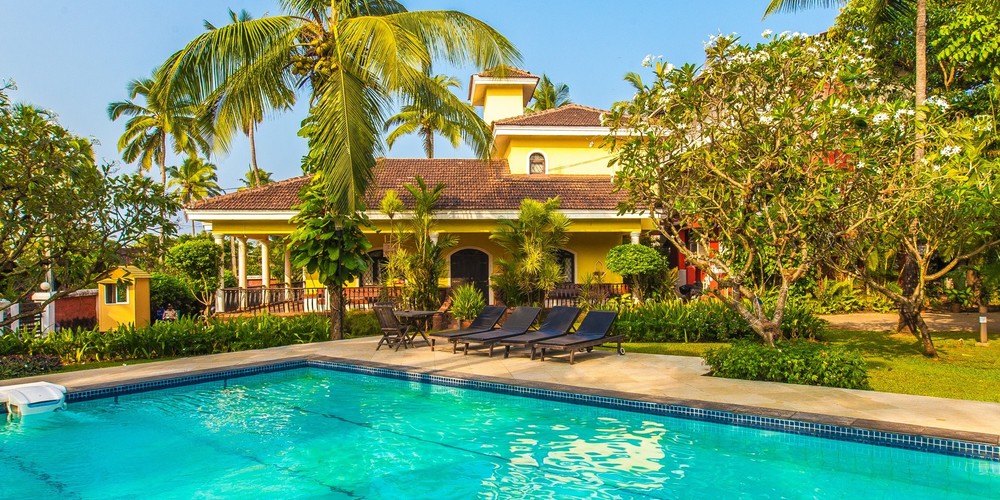 Luxury villa with direct access to the beach. 5* star service. Prime location of North Goa.
Villa for rent from 19 000 Rs. per night
Enquire / Get best deal!
Quick Overview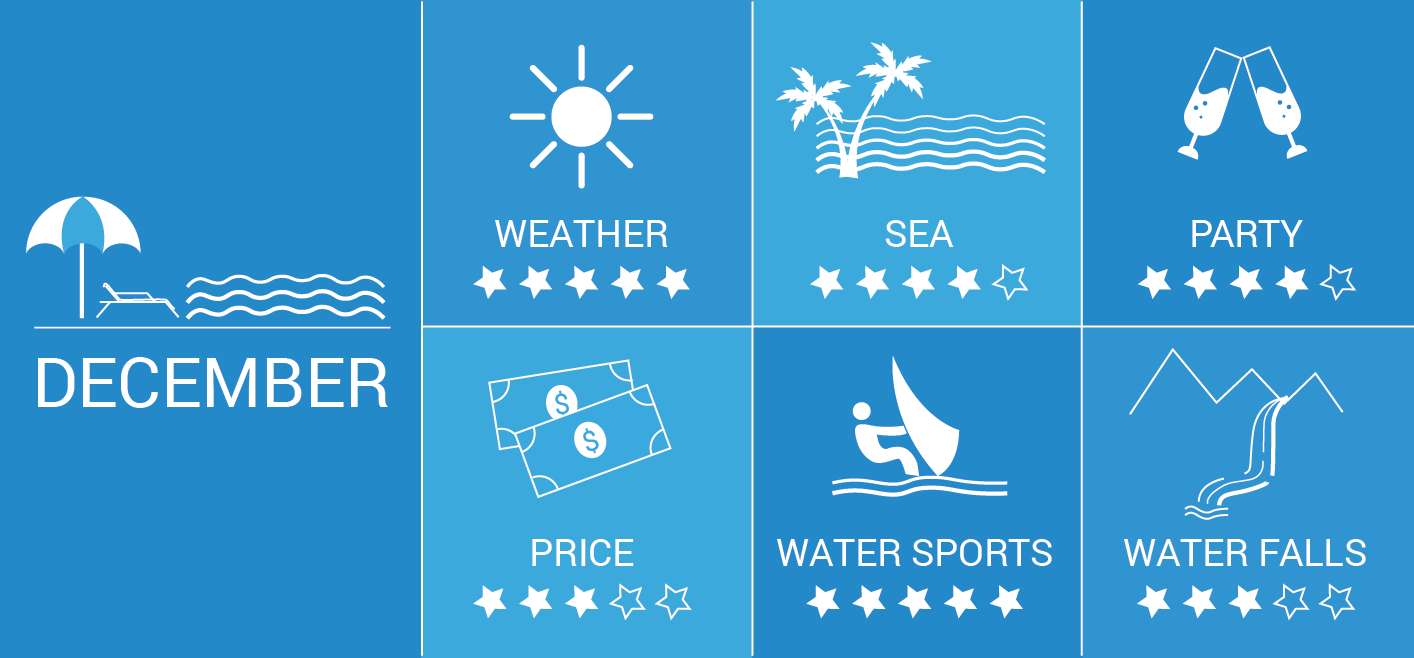 View weather for
| | |
| --- | --- |
| Weather | Cooler than November and more pleasant. It rains for just 1 day this month in an average year. Beautiful sunny weather as Goa receives 10 hours of sunlight every day. The average temperature is 32°C, about the same as November. A pleasant wind blows in from the sea. Best time of the year at Goa. |
| Beach | December is peak season in Goa, so there are far more people on the beaches. The top beaches in North Goa – Baga, Candolim, Calangute and Anjuna can get quite crowded, especially during the weekends, the Christmas and New Year time. The South is relatively quiet, but there are more tourists here too. |
| Sea | The average sea temperature is 28°C, 1°C cooler than November. The sea is calm thanks to good weather, no rain, and mild wind. Safe for swimming. But do check with the lifeguards. |
| Parties | A hot party month in Goa. There are parties everywhere, the nightclubs, beach shacks, and even right on the beaches. There are trance and rave parties, silent nights, and private parties that you can attend only by invitation. The south is relatively quieter, but after sundown, the south too comes alive with parties. |
| Water sports | The entire range of water sports available in December. All the water sports operators are offering everything this month – speed boat and banana boat rides, water scooters, paragliding, kayaking, wind surfing, scuba diving, and snorkeling. River cruising, and fishing too. Water sports available right on the beach or you can book at the city offices as well. |
| Shacks | All beach shacks in the North and South are fully operational. You can take a free sun bed and umbrella, and order your food and drinks. Food includes south Indian, north Indian, Marathi, Konkani, Punjabi, Chinese, and Continental. You can get a massage at the beach shacks as well. After dark, many shacks host parties that go on till late in the night. |
| Festivals | Sunburn, Supersonic Festival, Mando Festival, St. Francis Xavier's Feast, Mary Immaculate Conception Church Feast, Datta Jayanti, Christmas. |
| Prices | December and January are when Goa receives the most tourists, so naturally, the prices will be higher. Almost everything will cost more – accommodation, flights, car/bike rentals, food and drinks, massage, tattoo. The cost can be even higher around the Christmas/New Year time. But you can save money if you book your flight ticket and room early. |
Weather in December
Both the average highs and lows continue to come down in December, making the weather in December very pleasant and enjoyable. The average high during the daytime is 32.4°C and the average low after dark is 20.6°C. It is usually warmest during the first week of the month.
GOA
32°
Avg weather in December
There is about 17mm of rainfall on just 1 day in the month in an average year, which is less than the 3 days of rain in November. The probability of rain goes down as the month progresses. In the first week, it is around 3.6%, but by the end of December, the probability has come down to just 1.4%. Even when it rains, it is usually a light drizzle. On almost all days, the sky is clear with bright sunlight. There are hardly any dark or threatening clouds anymore. The probability of the sky being partly cloudy is just 9%. There is a 4% chance of it being overcast.
Climate in Goa
Month
Jan
Feb
Mar
Apr
May
Jun
Jul
Aug
Sep
Oct
Nov
Dec
Year
Average high, °C
31,6
31,5
32,0
33,0
33,0
30,3
28,9
28,8
29,5
31,6
32,8
32,4
31,3
Average low, °C
19,6
20,5
23,2
25,6
26,3
24,7
24,1
24,0
23,8
23,8
22,3
20,6
23,2
Average precipitation mm
0,2
0,1
1,2
11,8
112,7
868,2
994,8
512,7
251,9
124,8
30,9
16,7
2926
There is 10 hours of sunshine every day, which is 1 hour more than November. The average sea temperature is 28°C, which is 1°C cooler than the previous month. This makes the sea very pleasant. With more hours of sunshine and pleasant weather, you can spend a lot of time on the water or the beach. Have fun or relax. But try to stay away from direct sunlight between 11 in the morning and 3 in the afternoon, as the sun is its most powerful this time of the day.
The relative humidity ranges between 33%, which is comfortable, and 85%, which is humid. It rarely goes down below 24% or reaches 100%. The humidity is highest around December 27th when it goes above 76%.
Pros and Cons of Visiting Goa in December
| Pros | Cons |
| --- | --- |
| The Weather – The weather is nice and cool. There is almost no rain, and the humidity is comfortable too. You can plan a day out without the risk of it getting washed out because of rain. You can spend long hours on the beach or the sea. The water temperature is also very pleasant. | Prices – December and January are the busiest months in Goa. Almost everything costs more, including the accommodation, food, drinks, shops, and even your bike or car rentals. Try to make it in the first half of the month, if you are planning to visit Goa in December. It will cost even more during Christmas and the New Year. |
| Christmas and New Year – Goa is mostly Christian, so there is festivity all around. The churches are decorated beautifully. Visit Basilica of Bom Jesus, Se Cathedral, Church of Our Lady of Immaculate Conception, and the Church of St. Francis of Assisi. There are special events around Christmas & the New Year. | Crowded – There are a lot more Indian and foreign tourists in Goa in December. The beaches and streets will be crowded, particularly the North. The South is likely to be more serene, but here too, there are many more tourists than the summer months or the monsoon. |
| Events and Festivals – There is Sunburn, India's #1 electronic music festival. There is also the Mando Festival, and the Feast of St. Francis Xavier. Plus, there are trance and rave parties in many beaches, shacks, bars, and nightclubs. | Traffic – Getting into the major beaches can be a problem because of long traffic jams. You might get stuck in traffic for up to 30 minutes at the major North Goa beaches. Be ready to wait. |
| Water Sports – You will get the full range of water sports… speed boats, banana boats, parasailing, kayaking, wakeboarding, white water rafting, cruises, snorkeling, scuba diving, and more. | Long Waiting Time – There is likely to be long queues at the popular restaurants, bars and tourist destinations, particularly during the weekends. |
| Beach Shacks – The shacks are all open. Enjoy the drinks and food. Relax on the loungers. Get a massage. There are parties in many of these shacks after sun down. | Cleanliness – With so many people around, the beaches and the streets are likely to be unclean. You will have less privacy too, particularly in North Goa. |
Top 7 Things To Do In Goa In December
Party Till Morning – This is the big party season in Goa. Often, they start around 10 in the night and go on till the early hours of the morning. Loud music, dizzy lights, electrifying beats, dancing, drinking, barbecue, bonfire and delicious food creates the right ambience. Special New Year eve parties are even wilder with a lot of merriment. The discos, beach shacks and pubs in Baga, Calangute, Vagator, and Arpora get the busiest.
Casinos – Goa is India's Las Vegas. There are many casinos on ships and boats docked in the Mandovi River. Earn a little extra and have loads of fun. Many casinos offer unlimited food and drinks as long as you keep playing. You can play poker, roulette, baccarat, blackjack, money wheel, pontoon, flush, slots machines, and other games.
Christmas Celebrations – Goa is dazzling during Christmas. The beaches and streets are decorated with stars, lights, ribbons and ornamented Christmas trees. There are 400 churches, all of which have midnight masses. There is also the Christmas dinner with roasted turkey, grilled seafood, pork, and more.
Salim Ali Bird Sanctuary – The sanctuary on Charao Island should be in your list for December because this time of the year, you will find the maximum domestic and migratory birds here. The sanctuary is a favorite for nature lovers, ornithologists, trekkers, and those looking for a little respite from the parties.
Turtle Nesting – Witness a spectacle of nature, the nesting of rare turtles. Olive Ridley Turtles arrive at Morjim, Galgibag and Agonda beaches once a year to lay their eggs. They lay hundreds of eggs. After hatching they go back to the sea. You will find sporadic nesting also at Arambol, Ashvem, Anjuna, Colva, Benaulim, Betul and Palolem beaches.
The Markets – Don't miss Arpora's Saturday Night Market, the flea market at Anjuna, and Mackie's Night Bazaar in Baga. You can buy a lot of souvenirs in these places. There are also live bands, fire eaters, jugglers, street DJs, and plenty of seafood kiosks selling authentic Goanese preparations.
Cruise or Deep Sea Fishing – Cruise the backwaters of Goa. You will see a lot of birds and even bats in many of these trips. There are dolphin spotting trips too. There are full-day and half-day trips with lunch served on the boat. Alternatively, you can go deep sea fishing as well. This can be a lot of fun. There are restaurants that will even cook your catch.

Goa December Checklist – Carry light and airy clothing for December. You don't need an umbrella or water proof clothing as there is almost no rain. Make sure to have your sunglass and sunscreen lotion for those long hours on the beach or water. You will need them also on the cruise or fishing trip.
Goa Festivals in December
Sunburn Festival – Asia's largest 3-day electronic music festival used to be held at Goa in December. The main festival has now shifted to Pune. But can it leave Goa entirely? Many of the worlds best DJs and electronic music bands still come to Goa in December. There is music, dancing, entertainment and food.
Supersonic Festival – This festival started by VJ Nikhil Chinapa has also become very popular. There are many local and international artists showing their talents. It is held at the Candolim beach.
Mando Festival – Stunning song and dance performances on the theme of love. You will love the slow, deliberate and graceful dance moves. Young women and men dance gracefully to the tune of mud percussion instruments and violin. Men wear European suits, jacket, vest, and trouser. Women wear waist-cloth like a sarong, and a shawl.
St. Francis Xavier's Feast – Held to honor the memory of St. Francis Xavier. Church services start at 4 in the morning just outside the Basilica of Bom Jesus. Goans from all over the state attend this event on December 3 rd.
Mary Immaculate Conception Church Feast – Held over 3 days in December at the Our Lady of Immaculate Conception Church in Panaji and the Holy Spirit Church in Margao. Masses are held several times during the day. There is an annual fellowship dinner as well. There is a fair too with food, music, and fireworks.
Datta Jayanti – A Hindu festival to honor Lord Dattajayanti, who is an incarnation of Lord Vishnu.
Christmas – Goa in mostly Christian, so the Christmas is a big event. Throughout the state, people celebrate Christmas with a lot of enthusiasm. The celebration lasts till the New Year.
See Olive Ridley Turtles in December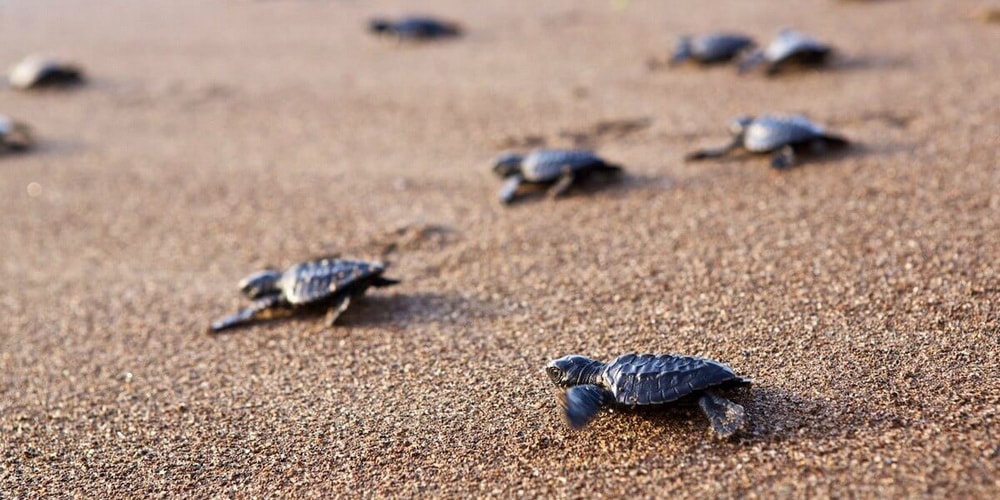 The Olive Ridley turtle is a rare and endangered species, which you can see closely at very few places in the world. In Goa, in the month of December, these turtles come in large number to lay their eggs, and for the babies to be born and join the adults in the sea. You can see the adults and baby turtles at Galgibaga and Agonda. There is some nesting also at Arambol, Ashvem, Anjuna, Colva, Benaulim, Betul and Palolem.
December Parties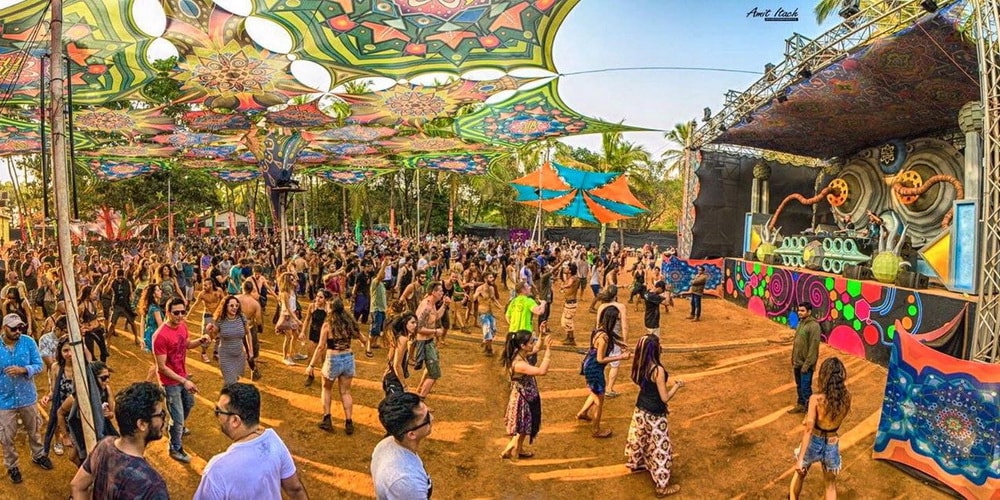 December is a hot party month in Goa. There are trance, rave parties, and EDM festivals, mostly in the North. "Timeout 72 hours Goa" is a 3-day music fiesta that is attended by many international performers as well. Almost all nightclubs will organize their own events. The beach shacks too become party venues after dark. You can of course visit a nightclub any day, but the parties are usually more interesting during the weekend. Around the Christmas time, there are Christmas Ballroom dance events as well throughout Goa.
Hotels in Goa in December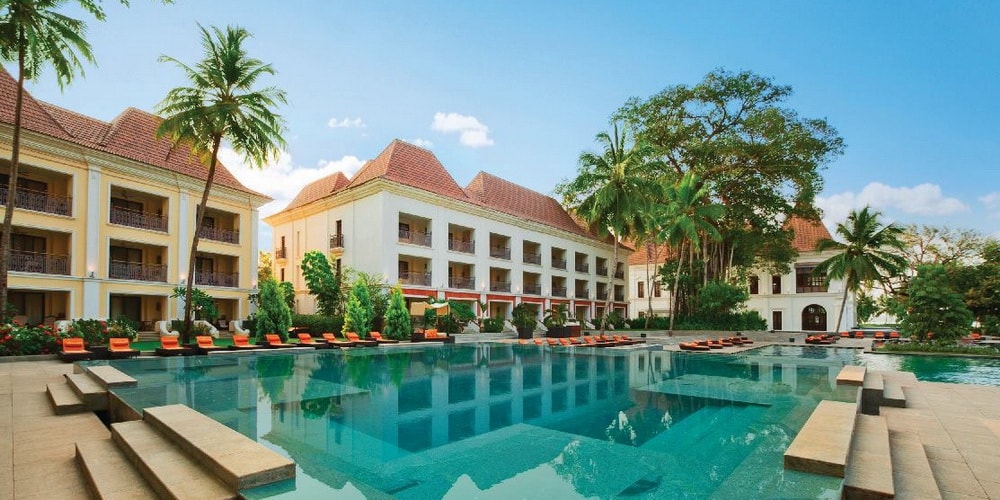 December along with January are the peak tourist seasons in Goa, so all hotels, resorts, guest houses, and home stays are going to cost more. Even the budget properties will charge more. There is a huge demand for rooms, so you must definitely book before arrival. Often, the best rooms are sold off months in advance. You may not find anything available if you are too late. The prices are likely to be even higher during the weekends and between Christmas and the New Year.
Rent a Villa in Goa
The villas and luxury apartments in Goa will also cost more in December, and during Christmas and New Year, they will come at a premium. Always book early for this month! Waterfront and beachfront villas typically charge more. But the exact price will depend on the location and duration of your stay.
We have villas all over Goa – closer to the party hotspots of the North, in the more serene and quiet South, and in the inlands within green Goa villages. Many of them are right on the beach, while others are just a few minutes' walk away. There are Goa villas and luxury apartments in nice and cozy laid-back communities.
Look at the pictures of each villa and apartment on our website, read the property details and make your enquiry. These are luxury properties that offer an unmatched private vacation experience to you in the best time of the year to visit Goa.
Villas for rent in December:
Luxury 3-bedroom villa with its own private pool. Great river view and centrally located!

From 18 000 Rs. per night.

Beachfront 7-bedroom villa private pool villa. Prime location. 5* service.

From 30 000 Rs. per night

Luxury villa with direct access to the beach. 5* star service. Prime location of North Goa.

From 19 000 Rs. per night
* Price depends on arrival dates and duration of stay.
---
Related articles:
---
Rate this article:
Rated

4.43

/ 5 based on

14

reviews.