Table of contents
November is a great time to visit Goa. The weather is turning colder. Mostly dry, with a few spells of rain. It rains just 31 mm this month, considerably less than the 125 mm of October. The average temperature is 33°C. The humidity is also less, making November a very nice and pleasant month to visit Goa. With little rain, the high waves of the monsoon months are not there anymore. The sea is also not choppy, so you can swim without worries. The water temperature is 29ºC. With nice, pleasant weather, you can spend an entire day on the beach, or visit the many tourist attractions without worrying about rain or sweating too much.
Water sport is also back – you will find plenty of water sports activities in many beaches. Choose from speed boat and banana boat rides, paragliding, waterskiing, water scooters, boogie boarding, dinghy sailing, wind surfing, kayaking, scuba diving, snorkeling, and more. There is cruising, and fishing too. Almost all the beach shacks are open again, serving their food and drinks. Sun beds and umbrellas are free. Just select a shack, your beachfront location, take your sun bed, order food, drinks, and you are ready to relax and have fun. Get a massage if you like or play beach volleyball. The beachfront stalls, street side vendors, cafes, restaurants, and bars are also open.
November is the beginning of the tourist season, especially after the 15th, but the prices are still less than December and January, so you can save some money, and still have the best of Goa. There are fewer tourists than December-January, so you can still find a cozy corner at the beach where you can have your privacy.
November is also the beginning of the party season in Goa. There is a lot of excitement all around. Head to Tito's, Capetown Cafe, Sinq, LPK or pick from the many other nightclubs. There are parties at the beach shacks too after dark. There are a few rave, trance and beach parties, though the party season is not as hot as December and January. Most of the parties are in North Goa.
November Gallery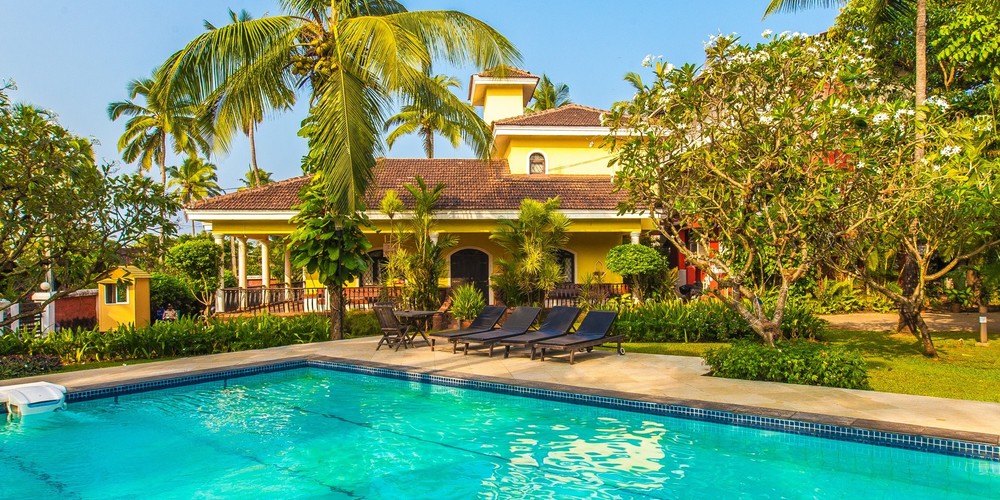 Luxury villa with direct access to the beach. 5* star service. Prime location of North Goa.
Villa for rent from 19 000 Rs. per night
Enquire / Get best deal!
Quick Overview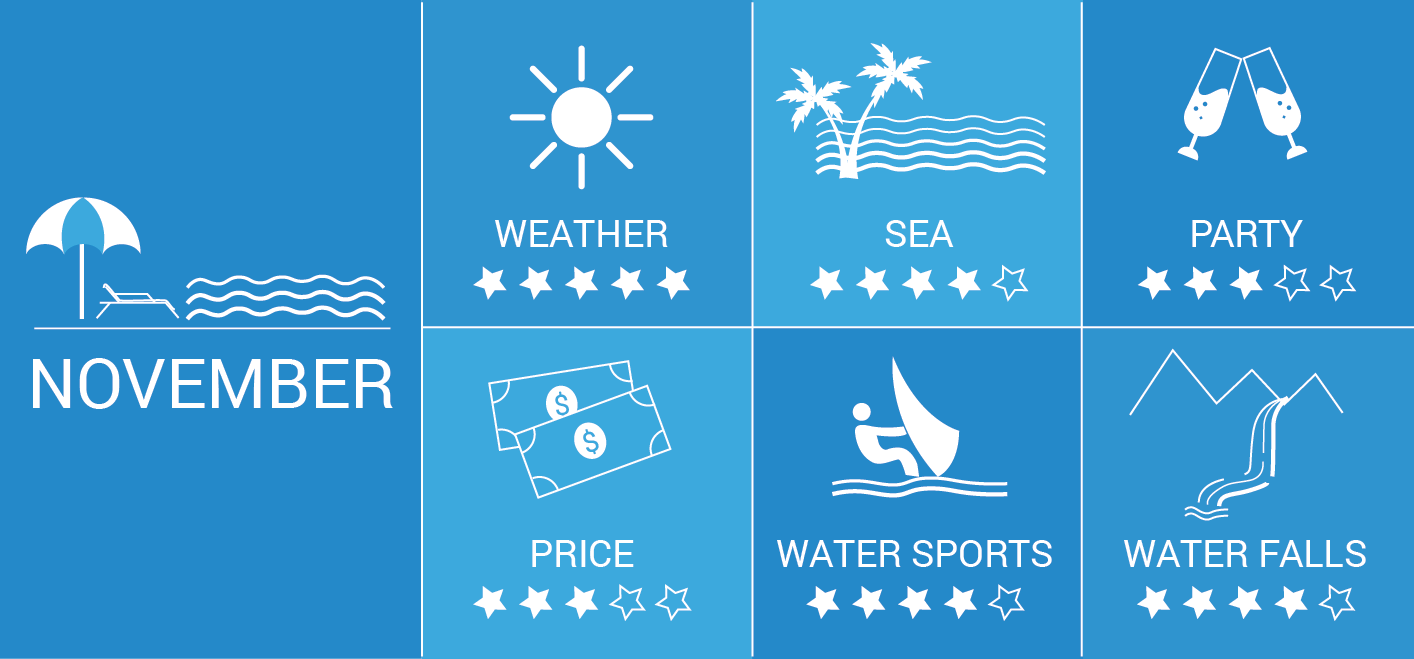 View weather for
Quick Overview
| | |
| --- | --- |
| Weather | Very nice weather in November. Cooler and drier. Goa receives 9 hours of sunshine daily and considerably less rain than October. The average temperature is 33°C. Low humidity. Little rain and heat makes November a pleasant month. |
| Beach | You can enjoy plenty of sun time on the beach. Tourists are beginning to come back, but there are still fewer people on the beaches compared to December-January. Local governments have cleaned the beaches after the monsoon, so there is no trash anywhere. Clean and empty beaches are a pleasure. |
| Sea | There is still a chance of choppy sea and high waves, but it's much less than October. The water temperature is 29ºC, which is very comfortable. Generally, it is safe to swim in November. |
| Parties | Beginning of the party season, especially after November 15th. Most parties are in North Goa and at the bigger, more popular nightclubs. There are parties in some beach shacks as well. |
| Water sports | Plenty of water sports activities almost everywhere in Goa. Most of them start around the middle of the month. Choose from speed boat and banana boat rides, water scooters, paragliding, kayaking, wind surfing, scuba diving, and snorkeling. You can cruise the rivers and go on a fishing trip too. |
| Shacks | All beach shacks are open around the middle of November. You will find them both in north and south Goa. They are fully staffed and fully operational after the summer and monsoon break. |
| Festivals | Diwali, International Film Festival, International Jazz Festival, The Story of Space, Conscious Fashion Festival, India Bike Week. |
| Prices | Prices are higher than the summer and monsoon as the peak season is just around the corner. But Goa will still be cheaper than December-January. The prices typically go up as the month progresses, with end-November being the costliest. |
Weather in November
The temperature begins to cool down in November, but the month is still hotter than January or February. Both the average high and low falls this month. The average temperature is around 29°C at the start of November, with highs of 34°C in the daytime. The lows are around 24°C after dark. However, the month is generally slightly hotter than October on an average year.
GOA
33°
Avg weather in November
There is about 31mm rainfall this month, spread out over 3 days on an average, which is considerably less than the previous month's rain of 125mm. In October, it rains for around 6 days. The chance of rain goes down by a great deal at the later part of the month. It is 13% in early November, but just 3% at the end of the month. So the last week is the best time if you want to avoid the rain. But the prices are likely to higher then. In the 3 days of the month, there is a 42% chance of a thunderstorm, 22% of light rain, 20% of drizzle, and a 15% chance that there could be moderate rain.
Climate in Goa
Month
Jan
Feb
Mar
Apr
May
Jun
Jul
Aug
Sep
Oct
Nov
Dec
Year
Average high, °C
31,6
31,5
32,0
33,0
33,0
30,3
28,9
28,8
29,5
31,6
32,8
32,4
31,3
Average low, °C
19,6
20,5
23,2
25,6
26,3
24,7
24,1
24,0
23,8
23,8
22,3
20,6
23,2
Average precipitation mm
0,2
0,1
1,2
11,8
112,7
868,2
994,8
512,7
251,9
124,8
30,9
16,7
2926
Expect sunny weather in November. On an average there is 9 hours of sunshine everyday in November, which is the same as October. The average sea temperature is around 29°C, making it 1°C cooler than October. The water is very pleasant and good for swimming. Spend time at the beach and the water, but make sure to avoid direct sunlight, particularly between 11 in the morning and 3 in the afternoon, when the sun is the strongest.
The cloud coverage drops as the month progresses. It is 24% at the start of the month, but goes down to just 11% by the end of November. The last week will generally have the clearest sky on most years unless there is a sudden depression.
The humidity in November is between 35%, which is comfortable and 84%, which is humid. It rarely goes down below 25% (dry), or reaches 100%, which is very humid. The air is usually driest in the last month when the humidity is below 40% on most days. Historically, the most humid day of the month has been around November 6th, when it is higher than 76%.
Pros and Cons of Visiting Goa in November
| Pros | Cons |
| --- | --- |
| Beach Shacks – Almost all the beach shacks are up and running once again. They are open in both North and South Goa. So you have plenty of options to choose from. The restaurants and bars in Goa are open as well. South Goa is not that empty anymore. | Prices – The holiday season begins in the middle of November. Prices of almost everything have gone up compared to the monsoon months. Having said this, restaurants, bars and even the villas will still cost less than December and January, which is the peak season. |
| Water Sports – Water sports takes a break in the monsoon and starts again in October, but only in a small scale. It is only in November that you will get everything on offer – speed boats, banana boats, wakeboarding, water skiing, bumper rides, parasailing, and more. | Many More Tourists – The beaches and streets are beginning to get packed. So you are likely to see a lot more people. Head to the South if you prefer fewer people or want more privacy, or visit Goa during the monsoon or summer when the number of tourists are less. |
| Sightseeing/Activities – November is a good month for snorkeling, scuba diving, deep sea fishing, yachting and cruising. Thanks to the mild weather and little rain, you can also spend the entire day seeing the many sightseeing spots. | Beaches – With many more people around, both Indians and foreigners, the beaches are likely to be less clean than the summer or the monsoon months. |
| Events & Festivals – The most popular markets, the flea market at Anjuna and night market in Arpora are open. There is also the Goa International Jazz festival and the International Film Festival this month. Besides, there are many trance parties. | Long Waiting Time – You will probably have to stand in queue at the most popular restaurants and tourist destinations, more so during the weekends as there are many more tourists visiting them. |
Top 5 Things To Do In Goa In November
Water Sports – There is a lot of water sports activity this month to choose from. You can ride a speed boat, banana boat or do wakeboarding. Those who are more adventurous should try parasailing, and white water rafting. There is kayaking, cruising, snorkeling, scuba diving, and deep sea fishing too.
Biking – Hire a bike or scooter to visit the many beaches. In fact, this is the best way to travel in Goa. You can also visit the interiors, the villages, and the wildlife sanctuaries, and even go on a trip to Hampi.
The Parties – There are a lot of parties in November. The discos, bars, pubs, nightclubs, and even the many beach shacks get busy after dark. There are dance floors, international and Indian DJs and special nights.
The Beaches – The weather is nice, so it's a good time of the year to travel. Hire a bike or car and visit many beaches. Spend a day in the North, and a second day in the South. In North Goa, you can visit the beaches of Candolim, Calangute, Baga, Anjuna, and Vagator. In the South, go to Colva, Benaulim, Cavelossim, and Palolem. Of course, there are many other great beaches as well.
Old Quarter, Sightseeing – Visit the old Latin quarter and the most popular sightseeing spots… the UNESCO World Heritage Site Basilica de Bom Jesus, Our Lady of the Immaculate Conception Church, Se Cathedral, Church of St Cajetan, and the St. Francis of Assisi Church.
Goa Festivals in November
Diwali – The festival of lights is held this month. But the dates are different each year. People celebrate Diwali all over India with firecrackers.
IFFI International Film Festival - India's equivalent of the Canne Film Festival. Actors and film makers from around the world are in Goa for this event. It is held at Panaji between 20th and 28th November.
Goa International Jazz Festival – This international jazz festival is held at the Stone Water Eco Resort in Santarem Beach, close to Vasco da Gama. Many bands from more than 10 countries participate in this 3-day event that is held between November 27th and 29th. It's a fun and party event that promised a lot.
The Story of Space – A festival for learning about physics, philosophy, perception and space. Scientists, educators, philosophers and artists share their learning, experience through talks and workshops. Anyone can attend the event. The festival is held at Panjim.
Conscious Fashion Festival – A fashion festival to reach closer to the masses and promote sustainable fashion. Designers, textile makers, journalists, fashion historians all participate in the event. There are shows on ethical fashion for promoting fairer and cleaner fashion. This is a 2-day event.
India Bike Week – One of the largest congregations of bikers in Asia. Passionate bikers of all ages from India and other countries meet at Vagator in North Goa. There are bike designers, manufacturers, and accessory makers too. There are barbecues, music, entertainment shows, and track racing.
Hotels in Goa in November
All hotels, resorts, home stays and guest houses of all sizes are fully staffed and functional this month. The prices are higher than last month, but it is still cheaper than the peak tourist season of December and January. Early November is usually the cheapest. The price tends to go up as the month progresses. In fact, everything is likely to cost more this month, including car/bike rentals, restaurants, and flight tickets. Always book your room early for November because there is much greater demand compared to the summer and monsoon months.
Rent a Villa in Goa
There are plenty of villas with swimming pools, private houses, and luxury apartments to choose from in Goa in November. They have all been getting ready for the peak season for months, so the service, luxuries and amenities you will receive will be of the top quality. The Goa villas this month are some of the best in the world.
You can choose from some fantastic properties in North and South Goa. Some are modern structures, while others are old heritage buildings that have been wonderfully refurbished. Typically, they will cost more than October, but you can still get a discount at some villas and luxury apartments if you book in the first week of the month. The price goes up as the month progresses, but the exact price will depend on the location and duration of your stay. Beachfront and waterfront properties usually cost more.
Villas for rent in November:
Luxury 3-bedroom villa with its own private pool. Great river view and centrally located!

From 18 000 Rs. per night

Beachfront 7-bedroom villa private pool villa. Prime location. 5* service.

From 30 000 Rs. per night

Luxury villa with direct access to the beach. 5* star service. Prime location of North Goa.

From 19 000 Rs. per night
* Price depends on arrival dates and duration of stay.
---
Related articles:
---
Rate this article:
Rated

4

/ 5 based on

15

reviews.