Table of contents
Goa in October is sure to thrill you. In fact, October is one of the best months to visit Goa. The long Indian summer and the wet rainy season is gone. It is not hot, not too humid or wet – just the right kind of weather for a fantastic vacation. The peak winter season is still a while away, so there are few tourists. The average temperature ranges between 31.6°C and 23.8°C, making it pleasant. The last week is the best time to visit Goa. There will be 9 hours of sunshine in a day. There is just 5 inches of rainfall, considerably less than September.
The beach shacks are beginning to open again after the long hiatus. Most of them close down as the peak summer sets is. There is little rain this time of the year. Only a 3% chance of heavy rain! The Anjuna Flea Market is also open and booming. The water sports activity has picked up too.
Visiting Goa in October is like going back to the old days, to the time when the first tourists began to arrive. So in October, you can see and feel the real Goa, like what it used to be. There were no charter flights back then, no train full of passengers, and no road packed with buses and cars taking people to the beaches. With so few people around, Goa was clean, green, the beaches were empty, and you had nature all around.
The high season won't start before the middle of November. You can still get very good bargain prices because there are just a handful of tourists. October is also the mackerel season in Goa, so if you love seafood, come to Goa this time of the year. You will love it.
October Gallery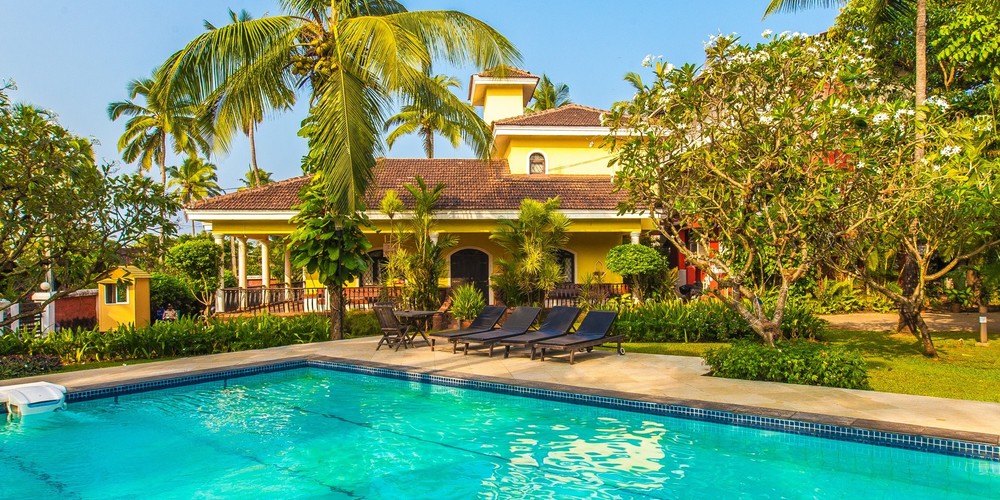 Luxury villa with direct access to the beach. 5* star service. Prime location of North Goa.
Villa for rent from 19 000 Rs. per night
Enquire / Get best deal!
Quick Overview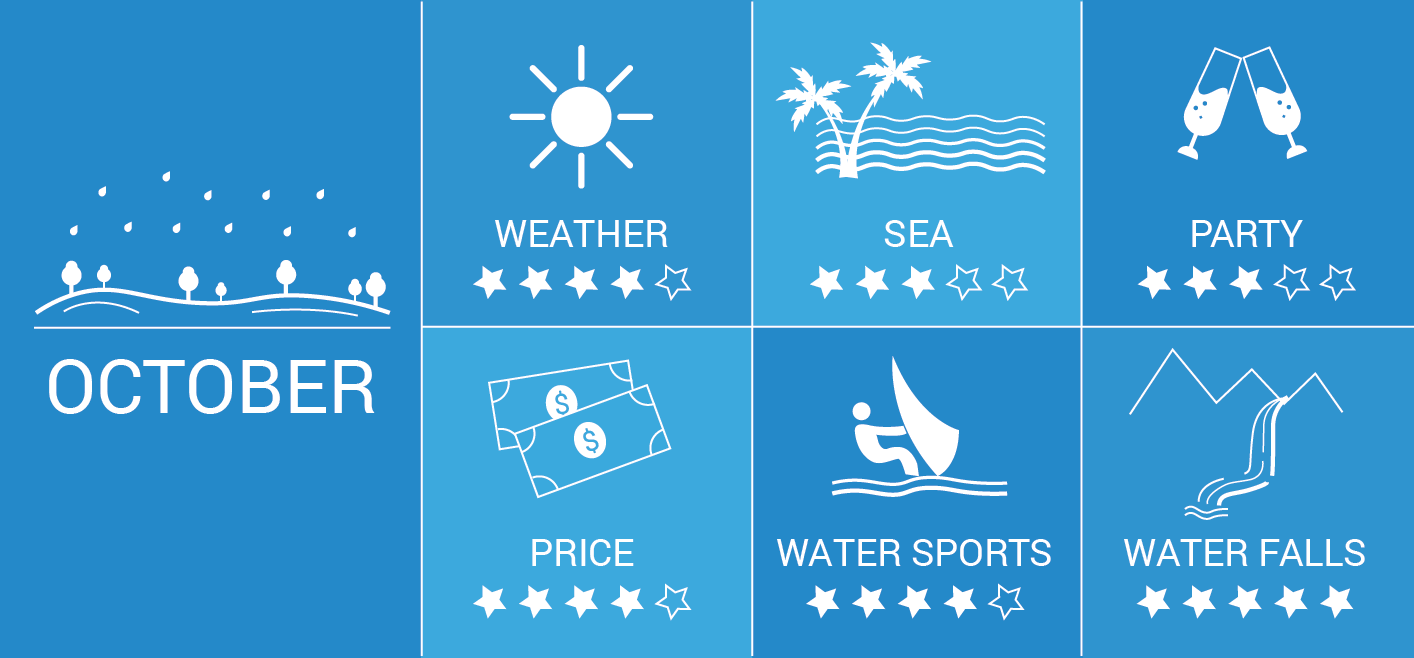 View weather for
| | |
| --- | --- |
| Weather | Nice and pleasant weather. Goa is not too hot or humid in October. There is little rain in the air – just a passing shower that goes away quickly. Goa receives only 5 inches of rainfall in October in an average year, which is about half of September. The wind speed is moderate too. |
| Beach | You can spend long hours at the beach once again, without having to worry about the heat or a sudden shower. Greenery everywhere after the rains. The rivers that empty close to the beaches are all full, and fun to look at. Fewer tourists compared to the peak season, so the beaches are clean. |
| Sea | Safe to go for a swim. Warm and comfortable water. You can do snorkeling and scuba diving too at Grande Island on clear days. But rains are very rare in October. |
| Parties | Certainly more parties than the summer and monsoon months. The tourists are just beginning to come back, as it is the holiday season in some parts of the country. Head to the nightclubs of North Goa for the parties. |
| Water sports | Most water sports operators start again around the middle of October, offering speed boat rides, parasailing, jet skiing, banana boat rides, and much more. There are fishing expeditions too. Head back to the beach and have your catch cooked. Cruising on Goa rivers is fun this month. You will see a lot of greenery and birds in October. |
| Shacks | The beach shacks are starting to open again as well, both in North and South Goa. There is no jostling for a sunbed as the peak season doesn't start till the middle of November. Order your food, take a drink, and relax. The sunbeds and umbrellas are free. Don't forget to get a good massage at the shack. |
| Festivals | Narkasur Parades, Diwali Festival, Museum Week, Poderachem Fest, Vintage Bike And Car Festival, Gandhi Jayanti, Oktoberfest. |
| Prices | More tourists than September, but the prices are still down, as the peak season is a month away. Ask for the best deals. Your flight ticket is going to cost less too. |
Weather in October
The average temperature in October ranges between 28.5°C and 32°C in the day, and after dark it is between 25°C and 29°C. In October, Goa receives 9 hours of sunshine every day on average, which is 2 hours more than September. The average sea temperature is around 30°C – nice and warm.
GOA
31°
Avg weather in October
There is still a little bit of rain this month, though the monsoon is officially over. But the rain is never as intense as before. There can be a few quick, sharp bursts, but it will be over quickly, and you will once again have a bright sunny day. On an average year, it will rain for 6 days in October, and usually it is no more than 125mm. In September by contrast, Goa receives 252mm rain in an average year, so the weather in October is much drier. The probability of rainfall goes down significantly as you go deeper into the month. It is 44% at the start of the month, but by the end, it is just 14%.
Climate in Goa
Month
Jan
Feb
Mar
Apr
May
Jun
Jul
Aug
Sep
Oct
Nov
Dec
Year
Average high, °C
31,6
31,5
32,0
33,0
33,0
30,3
28,9
28,8
29,5
31,6
32,8
32,4
31,3
Average low, °C
19,6
20,5
23,2
25,6
26,3
24,7
24,1
24,0
23,8
23,8
22,3
20,6
23,2
Average precipitation mm
0,2
0,1
1,2
11,8
112,7
868,2
994,8
512,7
251,9
124,8
30,9
16,7
2926
The median cloud coverage also drops significantly as the month progresses. It is 55% at the beginning, but by the last week, the cloud coverage is down to 24%. October 31st is the clearest day of the month.
The humidity ranges between 38%, which is comfortable, and 93%, which is humid. It never becomes too humid in October and rarely falls below 25%, which is dry. The air is usually driest in the last week of the month.
Pros and Cons of Visiting Goa in October
| Pros | Cons |
| --- | --- |
| Beach Shacks Are Opening – Most beach shacks in Goa close down sometime in the summer and stay closed during the monsoon months. Only the permanent structures stay open throughout. The shacks are opening once again in October, expecting the tourist numbers to pick up. | Rain In The Air – There is still a little bit of rain, though it is less than September. In an average year, it rains 6 days in October. Often, it comes down in sudden and sharp spells. You can get caught up in the rain unless you are prepared. |
| Water Sports – Water sports is off too in the monsoon months. But in October, they too start to open. So you can once again enjoy the speed boat rides, banana boats, parasailing, water skiing and the others. | Not Fully Operational – Not everything is up and running yet. The South is still virtually empty. So you have to check first before planning the activity. There is likely to be very few loungers in the shacks. |
| Low Prices – You will get great prices in Goa in October. The high season starts only after the middle of November, and so there are fewer people this time of the year. Rooms, restaurants, bars, shacks, water sports, shops… everything will be cheaper. Avail the bargain prices. | The Markets – Mackie's Night Bazaar in Baga opens only in the middle of November. So that is out. The Anjuna Flea Market is open though. Most of the supermarkets are also open. Many street side stalls could however still be closed. |
| Fewer People – The beaches are mostly empty as most tourists visit Goa between November and February. Enjoy long walks and privacy. Enjoy the serenity and nature all around. | Swimming – October is generally safer for swimming in the beaches. But, many of the beaches only have lifeguards between November-February. First check at your villa before going to the sea. |
| Seafood – There is a good supply of mackerel in this month. You can also have red snapper, pomfret, shark and others. Seafood lovers will love Goa in October. | Temperature – The average high and low in October is higher than September. So Goa will be slightly hotter this month. |
Top 6 Things To Do In Goa In October
October is a busy month in Goa. Things are hotting up. There is a lot to do here.
Water Sports Fun – Most water sports activities are up and running again after the monsoon break. You can ride on a banana boat or speed boat. Feeling adventurous? Try parasailing or white water rafting. Or go on a kayaking trip on the Mhadei River if you prefer something less active. There is water skiing, wakeboarding, and even snorkeling and scuba diving too at Grande Island. You may also try deep sea fishing in Goa if you want.
Overnight Houseboat Cruise – Yes, Goa is not Kerala, but here too, you can go on amazing overnight houseboat cruises for a fantastic experience. Cruise on the Chapora River with authentic Goan dinner on board. On the backwaters you will see plenty of birds and lush greenery. Try line fishing. See an amazing sunset.
Cycling Expedition – The streets and country roads are not wet anymore, so you can go on a cycling expedition. You may visit the hotspots of Goa or go to the interior to see the villages and learn about authentic Goan lifestyles.
Try the Seafood – Enjoy seafood in Goa in October. Choose from mackerel, red snapper, pomfret, shark, kalamari, and more. You will find seafood at the many restaurants and beach shacks cooked in Goan, continental, Konkani, and other Indian styles.
The Western Ghats – Trekking is much safer now as there is little rain. Trek through the forests, hills and valleys of the Western Ghats. Visit the Dudhsagar falls, Tambdi Surla waterfall, and the Bhagwan Mahavir Wildlife Sanctuary. Enjoy overnight camping with songs and barbecue.
The Beaches – The beaches are cleaner as there are fewer people. Hold the hand of your partner and go on long walks. You will have even more privacy in the South. After the rains, there is lush greenery everywhere.
Goa Festivals in October
Gandhi Jayanti – Birthday of Mahatma Gandhi, Father of the Nation, on October 2 nd. Programs held throughout Goa marking his birthday and India's freedom movement.
Vintage Bike and Car festival – Held on October 1st at the INOX Courtyard. More than 50 vintage vehicles, both cars and bikes are driven. Two and four wheelers from Austin, Morris, Chevrolet, Mercedes, Cadillac, Ford, Volkswagen, BMW, Norton and BSA from 1933 to 1970 are on display. The event is organized by Goa Tourism.
Oktoberfest – The 3-day event is held at the Baga Grounds between October 26th and 28th. There is music, dancing, international DJs, parties, food, and drinking. It is a lot of fun. Let go and enjoy the show.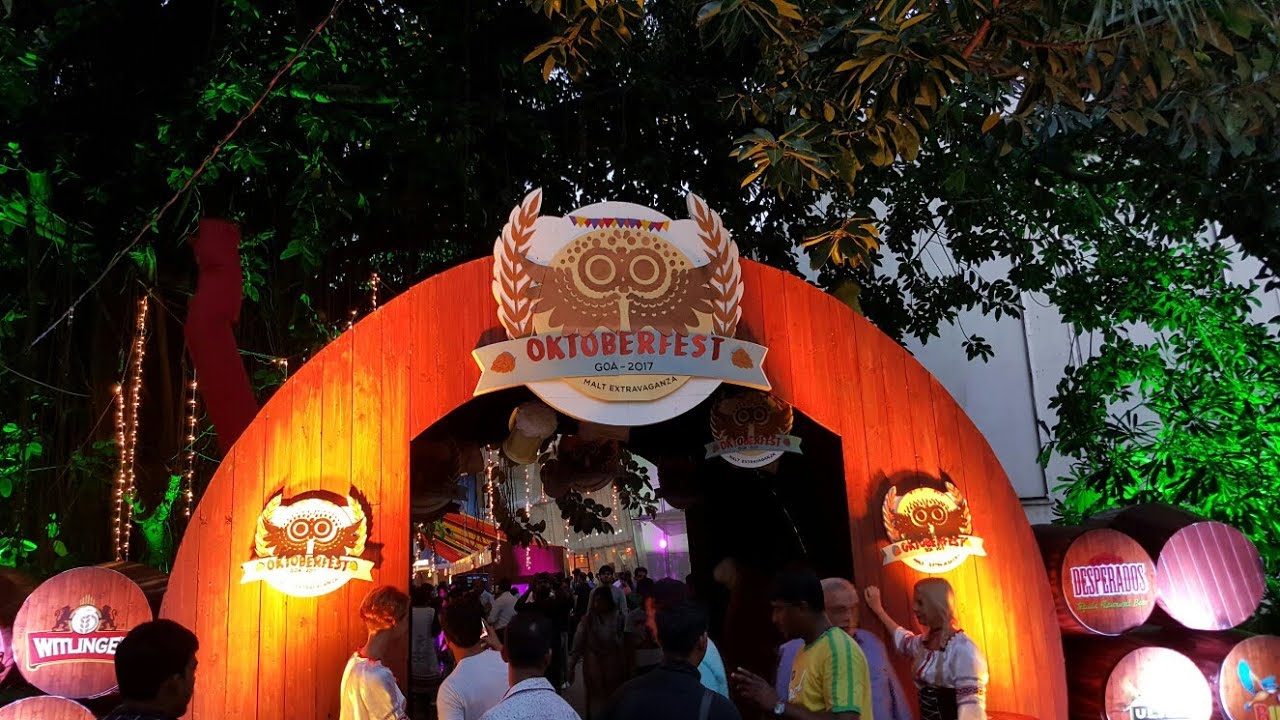 Goa October Checklist
There is little rain in October. But you should still carry the umbrella for those sudden, sharp showers. Get a good shoe if you plan to do trekking, and comfortable slippers for those long walks on the beach. Carry your sunscreen because the sun is out once again. The monsoon clouds are gone now.
Hotels in Goa in October
Goa Tourism has been trying to extend the holiday season for some time with some success. As a result, there are more tourists now in months such as October, which is just before the peak season starts. But there are still fewer tourists than the peak season of November-January. So there is a chance that you can get discounts, but the room prices won't be as low as the summer or the monsoon months. Flight tickets and car/bike rentals will cost more too compared to September.
Many properties that work with only a few staff members are beginning to hire again, so the service will be better in October. Some guest houses and home stays close down for the summer and monsoon. They are starting to open up as well.
Rent a Villa in Goa
October is one of the best months to visit Goa. There is little rain. The humidity is low. Pleasant weather, not too hot! The water sports activities are beginning to open up. Book a luxury villa to make the most of your vacation in Goa this month. The prices are still lower than the peak season, so you will be able to save money or upgrade to a better property at the same price.
There is activity in South Goa again after the hiatus of the summer and monsoon months. Select a luxury apartment, premium house, or private villa with swimming pool in the South or in North Goa, close to the major beaches. We have many villas throughout the state. Many of our villas are right on the beach, on the waterfront, or are located in a nice lane, away from the crowds. Enjoy your privacy, as there will be no other guests at the villa during your stay. The luxuries and amenities offered are comparable to star hotels.
Villas for rent in October:
Luxury 3-bedroom villa with its own private pool. Great river view and centrally located!

From 18 000 Rs. per night

Beachfront 7-bedroom villa private pool villa. Prime location. 5* service.

From 30 000 Rs. per night

Luxury villa with direct access to the beach. 5* star service. Prime location of North Goa.

From 19 000 Rs. per night
* Price depends on arrival dates and duration of stay.
---
Related articles:
---
Rate this article:
Rated

3.93

/ 5 based on

27

reviews.