Baga Beach
Everything You Need to Know About Baga Beach
Table of contents
Baga beach is one of Goa's most popular beaches. It is between the Baga River in the north and Calangute beach in the south. The Baga-Calangute-Candolim stretch is one of the longest sandy shores in Goa, and attracts thousands of tourists in peak season. Baga is 17.3 kilometers from Panaji, the state capital via the NH 66 and Chogm Road. There are plenty of beach shacks, coffee bars, clubs, shops, street food vendors, and water sports activities to choose from. The beach is popular for its nightlife too.
Tourism first arrived in Goa in the late 1960s. The flower-children or hippies came to Goa from San Francisco after the famous gathering in 1967, which was referred to as the "Summer of Love". Goa, at that time, had just become a part of India. Very few people knew of Goa. There were hardly any tourists.
The hippies came in droves. Baga was the most popular beach then. Gradually, others started to arrive as well.
The Baga beach is next to Calangute. A rocky projection and a small river separate it from Anjuna, another popular beach in Goa. Baga is one of the top party spots in Goa. There are many nightclubs and discos. The seaside is full of restaurants, cafes, shops, and resorts. Thai massage, tattoo parlor… everything is close. For the adventurer and water sports lover, there is jet skiing, windsurfing, and parasailing.
Baga Map
Baga Gallery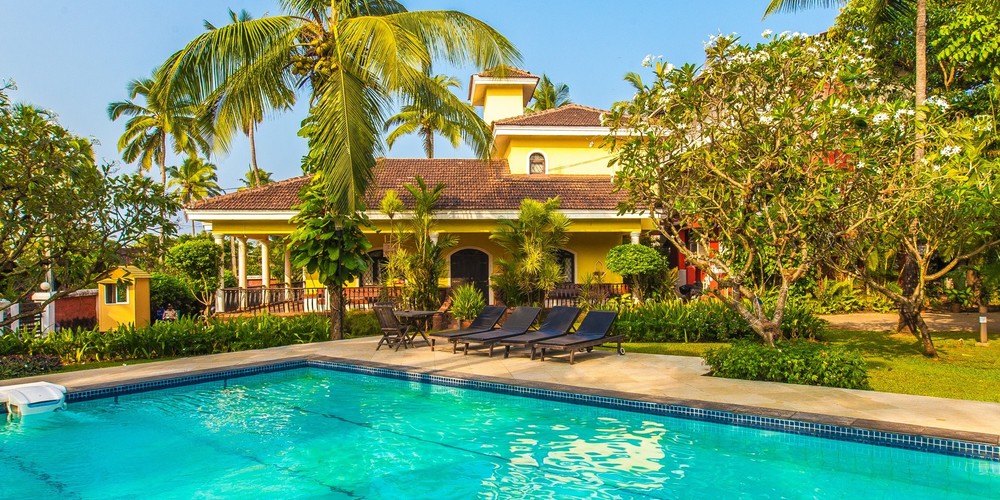 Luxury villa with direct access to the beach. 5* star service. Prime location of North Goa.
Villa for rent from 19 000 Rs. per night
Enquire / Get best deal!
Quick Facts About Baga
Baga is in North Goa. It is named after the Baga Creek, which empties into the Arabian Sea at the northern end of the beach, just after the famous Britto's restaurant.
The beach is located between Calangute in the south and Anjuna in the north. An extension of Calangute, it is often difficult to determine where Calangute ends and Baga starts. The Baga side of the beach is more serene and tranquil, though.
Closest airport – Dabolim – 39.9 kms.
Closest railway station – Vasco da Gama – 42.7 kms.
The Casa de Retiros or Baga Retreat House is just across the creek, overlooking the Arabian Sea on top of a hill. It is dedicated to St. Francis Xavier.

There are many water sports activities here. You can choose from banana boats, bumper boats, water scooter, jet skiing, dolphin cruises, and parasailing.
There are also many tattoo, tarot and palmistry shops. You will find shops like the Aroma Thai Day Spa and Café Coffee Day.
The beach is lined with sun decks, restaurants, shops, shacks like Zanzibar, Marin, Silver Sand, Café Blue Moon, Bistro, Britto's, St. Anthony's, and more.
There is a new car park for 800 vehicles at the northern end of the beach.
Tito's Lane leads up from the Calangute-Baga Road to the beach. This lane is lined with the top attractions – Café Mambos, Club Titos, Cocktails and Dreams, Get High, Cape Town Café, Valencio's, Havana, and more.
Best Time Of Year To Visit
The best time is the winter, between November and February. It is usually between 31°-32°C this time of the year. The monsoon is a nice time too, but the humidity is likely to be higher. The sea may be choppy. The summer months, from the middle of March to early June, will be hot. But there will be fewer people at the beach.
Weather
The summer is hot and humid. The day time temperature can reach up to 31°, with some days being as high as 35°. Avoid direct sun exposure between 11 AM and 4 PM. The evenings are pleasant, but the humidity will still be high. Monsoon showers arrive between early June and the middle of the month. Goa receives a lot of rain because of its coastal location. There is a chance of thundershowers on many days. Sometimes you may find the streets waterlogged. Temperature begins to drop noticeably from September. November to January is the official winter months. You can expect very nice and pleasant weather. There is no heat of the summer or the rains of the monsoon. Spend a lot of time at the beach without the risk of getting sunburned.
Climate in Baga
Month
Jan
Feb
Mar
Apr
May
Jun
Jul
Aug
Sep
Oct
Nov
Dec
Year
Average high, °C
31,6
31,5
32,0
33,0
33,0
30,3
28,9
28,8
29,5
31,6
32,8
32,4
31,3
Average low, °C
19,6
20,5
23,2
25,6
26,3
24,7
24,1
24,0
23,8
23,8
22,3
20,6
23,2
Average precipitation mm
0,2
0,1
1,2
11,8
112,7
868,2
994,8
512,7
251,9
124,8
30,9
16,7
2926
How to reach
By Air — The Dabolim International Airport is 39.9 kms from Baga. It is well connected with major Indian cities like Mumbai, Delhi, Pune, Chennai, etc.
By Rail — The Vasco da Gama railway station is 42.7 kms away.. Madgaon, another important railhead in Goa, is 50.9 kms away.
By Road — The beach is 10.5 kms from Mapusa and 17.6 kms from Goa's capital Panaji if you take the Chogm Road.
You can drive your own car, or hire a vehicle at the station or airport to reach your luxury apartment or villa in Baga beach.
9 things to do in Baga
Baga is a favorite holiday destination for adventure lovers, water sports enthusiasts and sea lovers. Baga and Calangute are both party and nightlife destinations.
Spend your vacation just like you want. Sit back on your sundeck and relax with nature all around you, or choose from the range of activities on offer.
Water sports: Choose from banana boats, bumper boats, water scooter, jet skiing, dolphin cruises, and parasailing.
Barracuda Diving is close to the lagoon near Baga River. The Blue Whale Water Park and Mackie's Saturday Night Market is close to the diving school.
Holi parties are held at the beach in early March.
Café Mambos – This is one of the most popular nightclubs in Goa. It plays disco and house. Mambos stays open from 20:00 to 3:30 in the morning. The entrance fee is 1500 rupees for a couple, 2,000 rupees for single males. Alcohol is included in the price.
Club Titos — This is another big nightclub in Baga. It plays both electronic and Indian Bollywood music. Tito's stays open from 21:30 to 3:00 in the morning. The entrance fee is 1500 rupees for a couple, alcohol included. There are sometimes costume parties during the weekends.
For food, visit the hip Cocktails and Dreams, Cape Town Café, or Cavala for its retro performances. Enjoy Mediterranean and European cuisine, while sitting beside the pool at Fiesta, just opposite Tito's. For authentic Goan cuisine, head to Britto's. Then there is Go with the Flow, which is tucked away beside the river.
Visit Aroma Thai Day Spa for foot, head, neck, shoulder, and full-body massage. The spa is located right on Tito's Lane, next to Shawerma King. There is also the Glamazon Salon & Spa and the Ora Regenesis Spa.
There is ABS Yoga Retreat Centre at Titos Lane 2 for yoga and meditation sessions.
You will find at least three amusement parks for kids and adults like the Blue Whale Water Park, Monsoon Fun Park, and Snowpark.
However, many people are simply content lazing on the sun lounges in front of the beach shacks all day, and feasting on a steady supply of food, beer, and cocktails.
Shopping at Baga
There are ample shopping opportunities at Baga. You will find small street-side stalls, large department stores, and even night markets.
Arpora Saturday Night Flea Market – It is between Baga and Anjuna beach, close to the Baga river. This is a paradise for food lovers. You will get cuisines from all over the world.
Mackie's Night Bazaar – The colorful Saturday market offers shopping, entertainment, music and food. A must visit.
You will find a lot of stores of all sizes including street-side stalls all over the area. There is even a magic shop (World Famous Magic Shop) that claims to teach magic in just 2 minutes. It is close to the river.
Baga sightseeing
Enjoy the picturesque beach, great views, the creek,

and so much more here.
The beach is always the main draw. But there is a lot more to see here, like -
Retreat House or Casa de Retiros – Dedicated to St. Francis Xavier, this sits pretty on top of a hill on the other side of the creek. Enjoy stunning views of the sea and creek from the house.
Our Lady Of Piety – The church is on the Calangute-Baga Road. It was established more than 250 years back by the Portuguese.
The Chapora and Aguada forts and Dr. Salim Ali Bird Sanctuary are also at a close distance from the beach.
Don't miss the night markets. Also make sure to explore the lanes and by-lanes of Baga. You will discover many hidden treasures here.
Top 5 Restaurants in Baga
North and South Indian, Chinese, Continental, and Goanese food are on offer. There are shacks on the beach and restaurants at Tito's Lane and elsewhere.
Britto's – This is a very popular shack on the northern end of the beach. It is a landmark of Baga. Mellow lighting and good music gives it a good ambience. The seafood and drinks menu is huge.
Cape Town Café – This famous bar and nightclub is at the centre of Tito's Lane. Try some of the best Goan curries here. You can try the burger and fries as well.
Dream Catcher – Midway between Tito's Lane and the creek, Dream Catcher serves super cheap drinks along with the yummy food. It is right on the beach.
Go with the Flow – This is located on the other side of the creek, close to the Baga Retreat House. Open-air dining on the garden beside the river with neon light, adds a special touch. The white-wicker furniture is very impressive. Prawn laksa and pork belly are two of its signature bites.
Relish – This multi-cuisine restaurant is between Baga and Calangute, on a lane just opposite Barista Coffee. Pick from Indian, Chinese, and seafood. The vegan menu is good too. They even offer gluten-free options.
There is also Café Mambos and Tito's, both offering mouth-watering delicacies, including Goanese and continental cuisines.
Night clubs in Baga
The nightlife on Baga Beach is immensely happening. There are many famous nightclubs in the area.
In Goa, you will find some of the best nightclubs in India. They host special events and even theme parties with the relevant kind of music. You can shake a leg and enjoy on the dance floor. Here are some of the most famous nightclubs in the area.
| | |
| --- | --- |
| Club Tito's | Cafe Mambo |
| Club Tito's is one of the oldest and most happening night clubs in Goa. Tito's lane is the defining and top place for nightlife. A wide range of music is played here with matching cocktails and alcohol. The food option is huge too. | Cafe Mambo, next to Club Tito's, is a beach club. It is always full during the weekends. This beach club provides commercial house music and a large menu of food and drinks. The crowd here is a mixture of foreigners and Indians. |
Water Sports in Baga
There are plenty of options to choose from, such as –
Parasailing
Jet Ski
Banana riding
Bumper ride
Body boarding
Single and double kayaking
Paddle boarding
Knee boarding
Speed boat rides
Surf board lessons
Wake boards
You can do many of these activities from anywhere between 10 minutes to more than an hour. Packages are available too that includes multiple water sports activities for kids and adults. You can book them on the beach or online. There are many operators that offer water sports in Baga.
Hotels and Villas in Baga
There are all types of accommodation options in Baga from simple budget rooms to star-category hotels and boutique properties. In recent times, a few service apartments have also come up here. There are cottages, villas, and guest houses as well.
Many of these properties are clustered around Tito's Lane. Some of them offer fabulous views of the sea, while others are tucked inside small lanes around the Calangute-Baga Road. There are quite a few riverfront hotels and villas too that face the creek. Those offering river or sea views naturally cost more. The cost will also depend on the amenities and luxuries on offer. Many hotels, villas and apartments come with swimming pools, spa & wellness centers, fitness clubs, free Wi-Fi, mini-kitchen, and mini bar.
Villas for rent
Luckily, there are plenty of good villas that are available for rent in Baga. You can pick from Grace Villa, Johanna Garden, Westwind Luxury Villa, Johanna Garden and more. They offer free Wi-Fi, swimming pool, manicured lawns, parking lot and comfortable spacious rooms with mini-kitchen, bathroom with all necessary supplies, mini bar, terrace and other accommodation requirements.
Each villa has multiple rooms for the entire family. You are sure to have a lovely vacation here. You can check our other villas we have for you here.
Comfortable villa with a swimming pool. 4 comfortable bedrooms. Baga beach is about 600 meters.
For 6-8 adults.

17 000 - 28 000 Rs. per night

Beautiful and modern 4 bedroom villa in Baga provides comfort and luxury for holiday family or a group of 8 people. Private swimming pool.

32 000 - 45 000 Rs. per night

3 bedroom villa. Close to all "happening spots" still in a quiet area. This is a great place to be for a company or a family get together for 3-7 people.

32 000 - 45 000 Rs. per night
* Price depends on arrival dates and duration of stay.
---
Related articles:
---
Rate this article:
Rated

4.27

/ 5 based on

11

reviews.