Candolim Beach
Everything You Need to Know About Candolim Beach
Table of contents
Candolim is a popular beach in North Goa, located between the Baga-Calangute stretch and the Aguada Fort. Baga, Calangute, and Candolim are together the three most popular beaches in North Goa. Candolim beach is 12.5 kilometers from Panaji via the Betim–Verem–Saligao Road. It is a busy beach, lined with sundecks and umbrellas. The beach is popular with both foreign and domestic tourists. Candolim can get crowded, but there are still fewer people here than Baga and Calangute in peak season.
Head to the beach, lie down on a sun bed, relax, and forget about the rest of the world as you listen to the waves.
The best time to plan your trip to Candolim is from November to March. The weather will be comfortable and cool. There is very little chance of rain this time of the year..
There are plenty of accommodation options near the coastline — small hotels, large hotel complexes, cozy guesthouses, luxury villas in Candolim and hostels.
Candolim Map
Candolim Gallery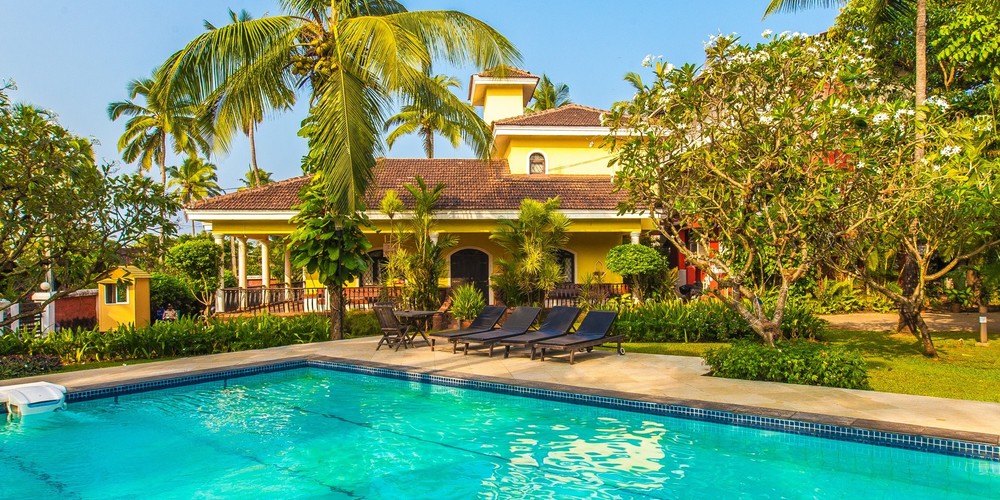 Luxury villa with direct access to the beach. 5* star service. Prime location of North Goa.
Villa for rent from 19 000 Rs. per night
Enquire / Get best deal!
Quick Facts About Candolim
The beach stretches from Fort Aguada to Baga for 30 kilometers, making it one of the longest beaches in the state.
A bulk carrier ship, The River Princess, was stuck here since 2000. It was finally cleared in 2015, and was a popular tourist attraction.
FabIndia is a good place to shop for clothing and souvenirs. You will find clothing, jewelry, home furnishings and beautiful high end gifts.
The area is quite small — you can easily get around on foot.

The nearest railway station is Thivim. You can reach the main tourist area from the station in about 30 minutes.
Candolim is the birthplace of Abbe Faria, a freedom fighter, and the Father of Hypnotism.
Very popular with tourists from the UK. But you will find tourists from other countries as well.
Visit the Snip Spa Salon for a haircut and spa treatment. There are other options too.
The Portuguese constructed Fort Aguada near Candolim in 1612 to prevent Dutch and Maratha invasions.
Best Time to Visit
The best time to plan your trip to the Candolim Beach is from November to March. The weather will be comfortable and cool. There is very little chance of rain. Also, there will be many festivals in Goa in December. However, this is the peak season so you will need to book your accommodation in advance. The rooms will cost more than at other times of the year.
You can also visit between February and March. There will be fewer tourists, accommodation will cost less. October is another good month. Goa will be green after the monsoon. The prices are cheaper. The beaches are not crowded.
Weather
The winter season, between November and January is the best time to visit the beach. Nice and cool weather. You can spend long hours on the beach or go sightseeing without the worry of rains or getting sunburned. The summer between March and early June will be hot. On some days, the temperature will go up to 35°C. Humidity will be high. Middle of June to September is the monsoon. Expect heavy rains because of Goa's coastal location. There is a chance of thundershowers on some days. There won't be any water sports activities.
Climate in Candolim
Month
Jan
Feb
Mar
Apr
May
Jun
Jul
Aug
Sep
Oct
Nov
Dec
Year
Average high, °C
31,6
31,5
32,0
33,0
33,0
30,3
28,9
28,8
29,5
31,6
32,8
32,4
31,3
Average low, °C
19,6
20,5
23,2
25,6
26,3
24,7
24,1
24,0
23,8
23,8
22,3
20,6
23,2
Average precipitation mm
0,2
0,1
1,2
11,8
112,7
868,2
994,8
512,7
251,9
124,8
30,9
16,7
2926
5 Best Restaurants in Candolim
There are many places to eat and drink. You will find many bars and restaurants all along the beachside, the main road and the lanes. However, the best ones are at the center of the town. Here are some of the top restaurants:
After 7: This is one of the most popular restaurants in Candolim, offering a superb selection of mainly European food and wine, served in a beautiful and romantic garden.
Earthen Oven: An authentic Northern Indian restaurant, Earthen Oven celebrates tandoori cuisine cooked on charcoal. This mouthwatering cuisine became known during the Mughals and has been refined to perfection over the years.
Tuscany Gardens: Treat yourself to a sumptuous Italian meal. Tuscany Gardens is one of the best restaurants in Candolim, serving up fresh, high quality Italian cuisine, including thin-crust pizza and al dente pasta.
Moroccan Shisha and Grill Lounge: Delicious menu of Moroccan food, seafood, Indian dishes and tandoor. You can sit back and smoke a hookah and even quench your thirst with a juice from the organic juice bar.
Karlton's Horizon Grill: If you have a craving for barbecue, head to this laid back grill where you can feast on steak, tandoori pork chops, garlic chili prawns, beef wellington and much more. They also feature an extensive bar menu with beautifully crafted cocktails.
Shopping in Candolim
The main supermarkets in Candolim are Newton and Delfinos. There is also the Fruit & Fish Market, only a 5 or 6 minute drive from the beach area. You can also check out the main night market at Ingos Market, which has an incredible range of stalls selling food, fruits, vegetables and other odd items.
You will find plenty of shops to buy various goods and souvenirs at reasonable prices. Visit Fabindia, one of the best places to find high quality clothing and original Indian jewelry.
Here are some shops that are very popular with the tourists:
Acron Arcade Shopping Center — You will find a rich collection of clothes, footwear and souvenirs. The service staff is friendly.
FabIndia — A very nice shop with wide selection of quality cotton-made products, including clothing, jewelry, cosmetics, linen, furniture, and handicrafts at reasonable prices.
InStyle Jewellers — Pick from high-quality jewelry and hand-made suitcases. The shop can create unique designer things based on your design. Certificates are also issued here.
Tony`s the Designer Jewellers — This is the place for only quality jewelry. Top quality service and consultation. Certificates are issued.
Elephant shop — A good place for currency exchange and SIM-cards.
Amazing Things To Do In Candolim
Rent a Bike
The best way to explore Candolim is by renting a scooter or a motorcycle. Make sure that you wear your helmet, and of course, you should have a valid driving license. The rent for one day will cost around 250-300 rupees. A motorcycle will cost around 500-700 for one day.
Watersports
Enjoy exciting watersports activities at Candolim. There are many different activities to choose from here — from parasailing to wind surfing, water skiing and much more.
Yoga
Yoga classes are also a popular activity here. Unwind and relax as you learn deep breathing and stretching exercises, while listening to the sound of waves hitting the shore.
Live Music
Stone House is a popular restaurant in Candolim, within a beautiful old house with a shady front courtyard. There are live blues music performances in the peak season. It's a good place for a drink and dance.
Attractions
There are a few things to see like the St. Antonio Chapel between Candolim and Calangute, the Portuguese colonial Costa Frias Villa and the famous Fort Aguada, which was built by the Portuguese in 1612 to prevent attacks by the Maratha and the Dutch. See the small church and chapel, prison, military barracks and a light house, which was built in 1864 and is the oldest in Asia. There is also a small pond towards Calangute beach in the north. It has crystal-clear water and huge scarlet lotuses – a very nice place!
Watersports and activities
There are a lot of watersports activities – parasailing, speed boating, banana boating, and jet skiing. You can also go on a bird watching and dolphin watching trip. These trips are very popular with tourists. Parasailing will cost you about 600 INR, a banana boat ride the banana boat riding will cost about 300 INR, and a 5-minute jet-ski ride will cost about 500 INR.
You can also try dinghy sailing. These small boats can hold 4-5 people. It will be a unique experience for sure for a small group.
Jet-skiing, parasailing, banana rides and paragliding are all popular water sports activities in Goa.
Of course, many tourists come to Candolim to just relax on the beach, enjoy the sea water, get a tan, and to enjoy the nightlife. But there are other attractions as well, like the festivals. The Sunburn festival, for example, is held in December every year. It is very popular. Children will also find interesting activities in Candolim. You can take them to the Splashdown Goa or the Melange Children Park. There are many pools, sliding boards, and other games here.
Nightlife on Candolim Beach
Candolim is one of the top places in Goa for nightlife. Many nightclubs are on the main road or close to the beach. Many restaurants too play live music. Some of them even have a dance floor at the back. Morina, Bom Sucesso, Vanilla Lounge and Zappa Beach Shack are the famous party places here.
Popular bars, pubs, and nightclubs in Candolim:
Bar-Be-Que & Grill
Bar Eclipse
Bar 1 The PUb
Tinas Resto And Pub
Bar Latino
Pharaoh's Den
Bar-Square Goa
Jambalaya Restaurant & Bar
Palm Shade Guest House Restaurant & Bar
Bon Appetit Restaurant & Bar
Buena Mesa
Hotels in Candolim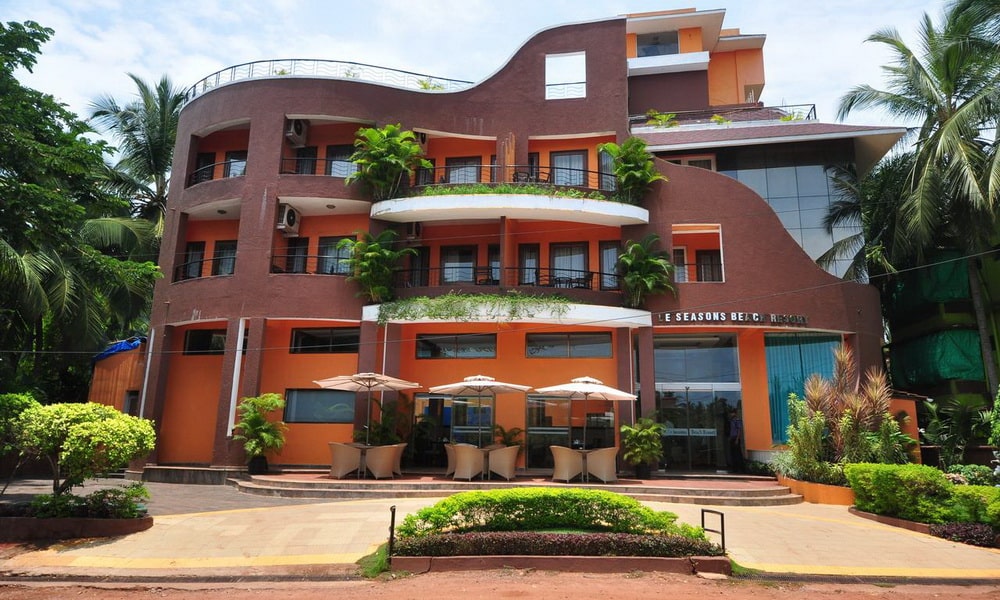 Le Seasons Beach Resort Goa in Candolim
Accommodation in Candolim costly slightly more compared to other places in Goa. You will find 4 and 5 star hotels, including some of the top names like Radisson, Hyatt, Taj, Aguada Hermitage, O-Hotel, Marquis and the 360 Degree Boutique Hotel.
There are many hotels, resorts and guest houses ranging from luxury, deluxe to standard, which offer comfort and all amenities for modern living.
Le Seasons Beach Resort and Lemon Tree Amarante Beach Resort are right on the beach. These 4* hotels provide their guests with swimming pools, comfortable rooms with mini bars, cable TVs, air conditioners, all necessary supplies and accommodation requirements, fitness centers, car rent services, small travel bureaus, bars and restaurants with local, vegetarian and European cuisines.
You will find the most affordable accommodation near the center of Candolim. Among them are the Summerville Beach Resort Hotel and Per Ave Hotel. These 3* hotels provide spacious cozy rooms with air conditioner, mini kitchen and bathroom, swimming pools, bars and restaurants with local, Asian and Continental cuisines.
Fortune Select Regina near the Fort Aguada is a top 5* hotel. You will get all comforts and amenities. The spa here is very good too. They have 4 restaurants offering international, Asian and Indian cuisines, including seafood and grilled foods..
Some popular Candolim hotels:
Aldeia Santa Rita
360 Degree Beach Retreat
Aguada Anchorage
Acacia Goa
Bougainvillea Guest House
Alegria — The Goan Village
Banyan Tree Courtyard
Alor Grande Holiday Resort
Casablanca
Country Inn & Suites by Carlson, Goa Candolim
Celestiial Boutique Hotel
Deltin Suites
D'souza's Holiday Homes
Fortune Select Regina
Ginger Tree Beach Resort
De Alturas Resort
Ginger Tree Village Resort
Godwin Hotel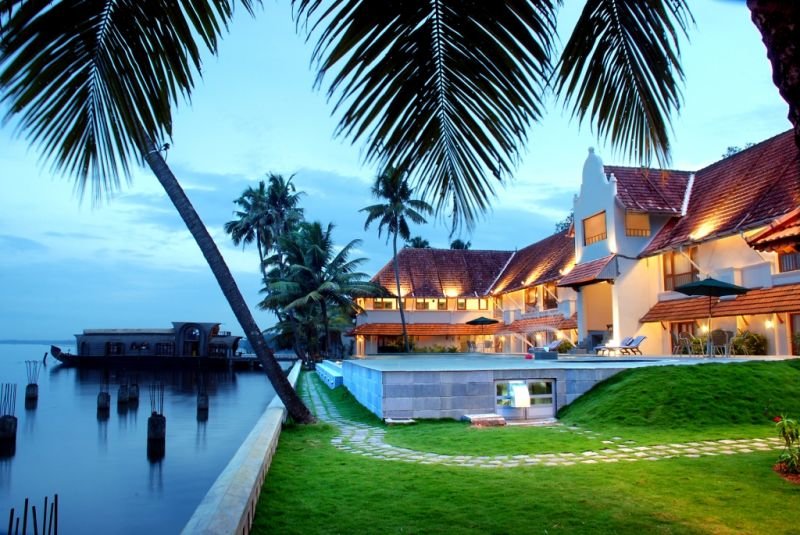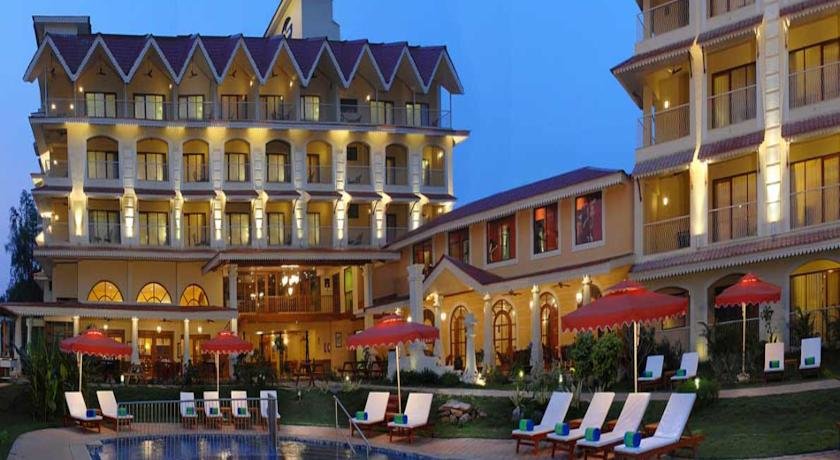 Villas for rent
There are many luxury villas in Candolim to suit every taste and budget in Candolim - Villa Candolim, Farrington On The River and Garden Grove are some of the best properties. These villas are located near the key Candolim Beach attractions. They have good-sized rooms in modern style with spacious wooden beds, bathrooms with bath accessories and supplies, cable TV, air conditioner, sea and garden view terraces, free parking lot, open swimming pool and well-equipped kitchen with microwave, oven, fridge and other cooking implements.
Luxury 3-bedroom villa right on the beach. Centrally located. Private pool.

From 25 000 Rs. per night

Riverside 3-bedroom luxury villa 10 mins drive from Candolim. Complete privacy. North Goa.

From 25 000 Rs. per night

Luxury villa with direct access to the beach. 5* star service. Prime location of North Goa.

From 19 000 Rs. per night
* Price depends on arrival dates and duration of stay.
Tourism service and infrastructure in Candolim beach is one of the best in Goa. There are many comfortable hotels, nice clubs, restaurants, various shops, SPA and Ayurveda centers. Practically all kinds of water sports activities are also available here. You can enjoy nightlife, water sports, eat, drink, party, or simply relax to take in the beauty of nature.
---
Related articles:
---
Rate this article:
Rated

4.29

/ 5 based on

17

reviews.