Table of contents
The Saturday Night Market is located at Arpora in North Goa, 4.3 kilometers from Anjuna beach, and 3.7 kilometers from the Baga beach. The market is 17.7 kilometers north of Panaji. Also called Ingo's Night Market, it is open between 4 PM and 11 PM from November to April. This is a great place not just for shopping, but also for feeling the Goa ambience. There are party zones for revelers. There is live music, bars, and restaurants serving organic salads, chocolate waffles, Greek food, and local delicacies. You can shop clothes, bags, spices, funky jewelry, handicrafts, leather accessories, shoes, exotic lamps, and more.
The night market at Arpora attracts a huge number of tourists – both Europeans and Indians. It is particularly popular with foreign tourists, and the hippie culture. You will find many stalls run by Europeans, making the ambience distinctively cosmopolitan. The nearby Mackies Saturday Night Bazaar beside the Baga River is much smaller in size and has less character.
The Arpora Night Market
| | |
| --- | --- |
| Where is it located? | Arpora in North Goa, 4.3 kilometers from Anjuna beach, and 3.7 kilometers from the Baga beach. Right side of the Aguada-Siloim Road if you are traveling towards north Goa from the south. |
| When is the market open? | Between 4 PM and 11 PM on Saturdays. November to April every year. But you will find it fully functional only between the middle of December and early February. Many stalls may be closed at other times. In peak season, the market may stay open till late in the night, 12 AM and beyond. |
| How big is the market? | Huge market with hundreds of stalls. Much larger in size compared to the nearby Mackies Saturday Bazaar. |
| What can you buy here? | Shops and stalls of different sizes sell clothes, bags, spices, funky jewelry, handicrafts, leather accessories, shoes, exotic lamps, and more. |
| Price | Prices are on the higher side, but negotiation is allowed. Credit/debit cards are usually not accepted. |
| Food at the Arpora Night Market | Indian, Konkani, and continental – Salads, roast chicken, Italian, Russian, Greek cuisine, seafood. There are many pubs and cocktail bars as well. |
| Ambience | International and party-like atmosphere. Many foreigners. Hippie culture. Fun zones and areas for parties. Very warm and hospitable vibe. The market can be very crowded in the peak tourist season. |
| Entry, Parking | Entry is free. Limited parking space available. |
Mackies Bazaar And The Saturday Night Market
It can be a bit confusing because the Saturday Night Market and Mackies Saturday Night Bazaar are both located at Arpora. They are just 5 minutes away from each other. But Mackies is much smaller in size. Most of the stalls there are from local vendors, while at the bigger Saturday Night Market, you will find many European run shops. The music and live performances are also significantly dull at Mackies.
What makes the Arpora Saturday Night Market beautiful is the way it is arranged. The winding pathways pass through many stalls, even as the venue gradually goes up a hilly slope. There are many entry and exit gates, with parking areas just outside. So remember the gate if you have a car or bike parked outside.
The market can be divided into three zones –
Lower zone – This is where you will find local products from across India. European stalls, with many of them selling exclusive apparel.
Central zone – The food stalls and central field.
Upper zone – Designer stalls and boutiques.
Location
Arpora Saturday Night Market
Location: 1224-26/3, Calangute — Anjuna Road, Goa 403509 India
Gallery
The Central Field
The pathways all lead to the central field, where you will find a stage for live music and performances. Many foreign bands and a few local Goa bands play here. Pubs and bars are located on both sides. The wide empty field is quickly filled with dancing people. You will also see jugglers and flame dancers showing off their talents.
As you walk upwards, you will see many food stalls, selling a variety of food – local, Indian, and international. You can choose from Greek, Russian, Turkish, Italian, sea food, and others. Alcoholic drinks are served at affordable prices. The displays and kiosks get more exquisite and interesting.
Close to the topmost level, there are two open spaces for dancing. Music blasts off from both sides. There is EDM, trance music, rock, pop, and music from other genres. There are lighting effects too. The ambience here is definitely party-like. You will find many foreigners here, as the Arpora Night Market has been traditionally more popular with them. You can hear the music from the central stage area too.
Reach for the top and you can look down at the entire flea market with its bright lights and all the action.
Top 12 Facts About The Arpora Night Market
It was formerly known as the Ingo's Night Market. This name is still popular with the local population.
The Saturday Night Market is five times bigger than the neighboring Mackies Bazaar, which is very close.
The Arpora Saturday Night Market is a flea market, but you will find many branded products and designer boutiques here.
It is more than just a market for shopping. There is music, live shows, food, drinks, and partying. The ambience is fun and very easy.
There are several entry and exit gates.
Parking is available at a fee. But the parking space is inadequate in peak season.
The Arpora Night Market is one of those rare places where there are more foreign visitors than Indians. Many of the stalls are also run by Europeans, who are long-term residents of Goa.
International Flavor – You will hear people speaking Spanish, Russian, German, French, Konkani, Hindi, and other languages. Many local vendors can speak foreign languages like Russian or Yiddish fluently. Cultural influences from around the world can be seen here.
Fortune tellers, tattoo parlors.
Music and dancing – Indian and international bands play music. Jugglers and flame dancers give the place a party vibe.
What you can buy – There is lots of stuff on sale like antique jewelry, clothes, shoes, home décor, bags, rugs, leather good, souvenirs, spices, decorative lamps, handicrafts, and more.
What you can eat – Konkani and Indian cuisine. International – Greek, Russian, Italian, Chinese, and more. Cuisines from all over the world.
Plenty of interesting colors and scenes everywhere.
Great place for photography.
What To See Nearby
The Arpora Night Market is very close to Club Cabana, a popular nightclub in Goa. It is also close to a go-karting facility where there is a 340 meter track with several narrow stretches and u-shaped turns.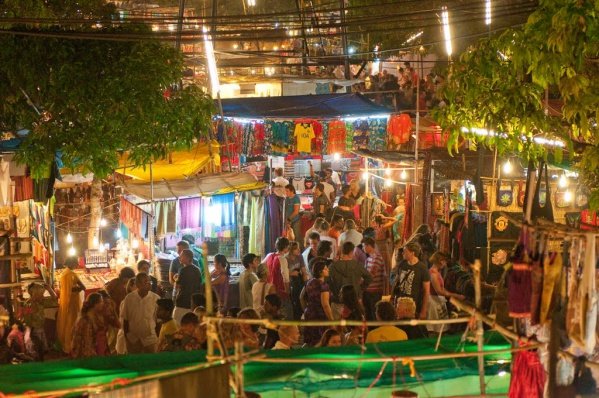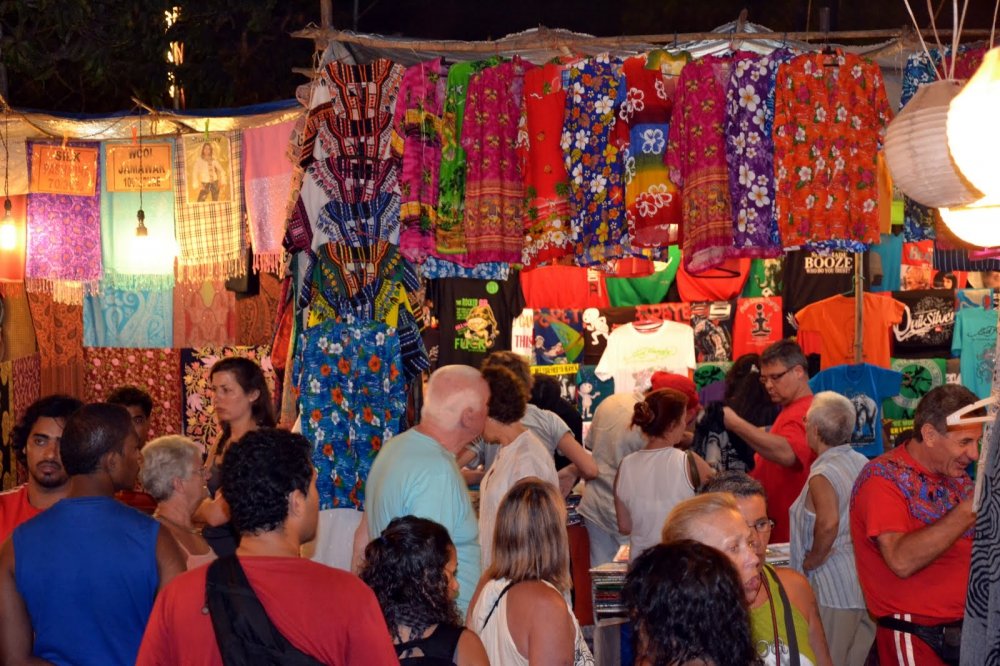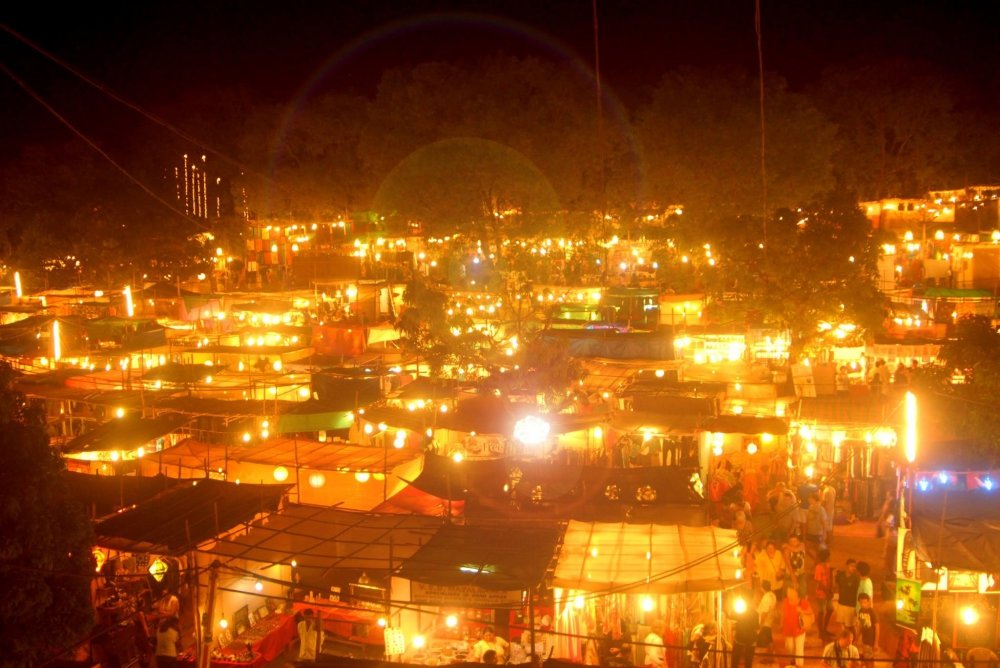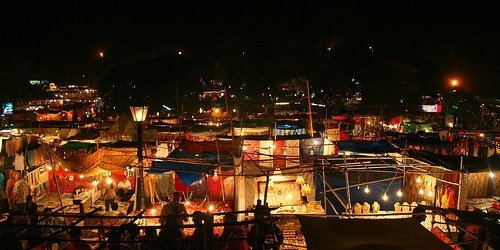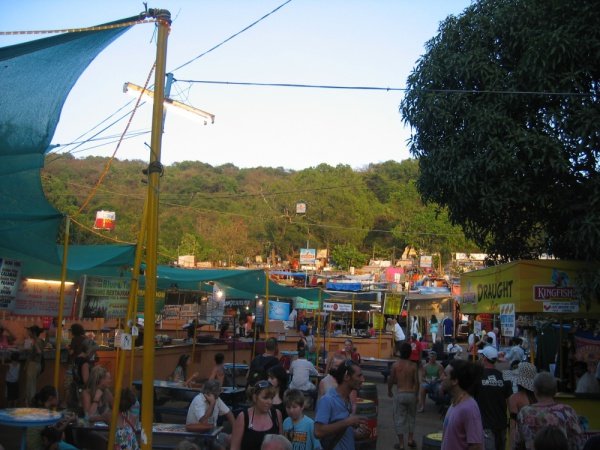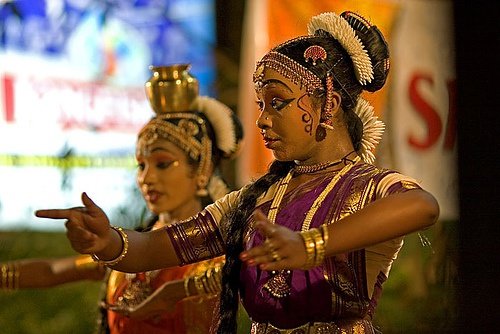 Villas for rent near Arpora
Luxury 3-bedroom villa with its own private pool. Great location.

From 18 000 Rs. per night

Ultra-luxury 5-bedroom villa with 5* service. Private Pool. Riverview.

From 50 000 Rs. per night

Large private pool villa in prime location of North Goa.

From 19 000 Rs. per night
---
Rate this article:
Rated

4

/ 5 based on

10

reviews.