Table of contents
Konkani is the official state language and the most widely spoken language of Goa. However, Goa, like elsewhere in India, is multi-cultural and multi-lingual. The locals speak and write Konkani, Marathi, Kannada, Hindi, English, and even Portuguese, though they are very few in number. People from many regions have come and settled in Goa, and this is why so many languages are spoken here. Marathi comes second in popularity in the state.
Languages Spoken in Goa
Konkani
57%
Marathi
23%
Hindi
5.7%
Kannada
5.5%
Urdu
4.0%
Others
4.8%
* Data according to the 2011 census
The Konkani Language in Goa (goan language)
The western coast of India is popularly referred to as the Konkan coast. The culture is distinct, with its own food habits and festivals. The language is from the Devanagari script, which is common in India. But there are dissimilarities as well, as Konkani has been influenced by Portuguese over the years, when Goa was a colony of Portugal. The Portuguese ruled Goa for 450 years till 1961 when it was finally freed.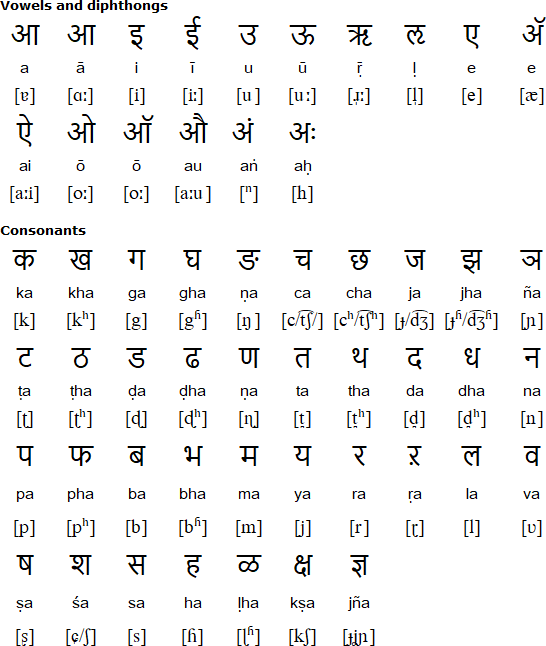 Devanagari alphabet for Konkani
Approximately 7.4 million people speak the language in India, many of whom are in Goa. It is a minority in other states and union territories – Kerala, Maharashtra, Karnataka, Dadra and Nagar Haveli, and Daman and Diu. Goa is the only state where it is a majority. Almost everyone will understand in Goa, even if they cannot write in the language.
There are some similarities between the two alphabets, because they are both Indo-Aryan, and follow the Devanagari script. Many alphabets look similar and serve the same purpose. But not all of them are the same. There are some unique alphabets.
There are 44 letters in the Hindi alphabet. In Konkani, there are 52.
In Hindi, there are 33 consonants and 11 vowels, but in Konkani, there are 36 consonants and 16 vowels.
But in spite of these differences, the language follows a Sanskrit structure, like Hindi.
Konkani used to follow the Brahmi script once, but it's not in use anymore. Now it is written in Devanagari, and to some extent in Malayalam, Kannada, Roman, and Persian scripts. The Devanagari script is recognized as the standard.
Konkani Language Festivals – Konkani Lokotsav is a 3-day annual festival held to celebrate the language and culture. However, the festival is not held in Goa. It is organized jointly by the Kannada Culture Department and the Karnataka Konkani Sahitya Academy at Mangalore, which is 375.6 kilometers from Panaji. There are literary and cultural programs, choir group songs, seminars, lectures, and a food festival is also held. Books are sold. There is also a poetry festival in the city of Mangalore.
Marathi in Goa
Marathi comes second to Konkani. It is popular, because the state of Maharashtra is next to Goa. Marathi too is derived from Sanskrit, like many other Indian languages. They both use Devanagari script. Many Goa people speak them both easily.
The Official Language Act of 1987 made Konkani Goa's official language. However, Goa's government states that Marathi can also be used in official communication. The government will often correspond through emails and letters in Marathi. Most people comfortable in Marathi are from north Goa, bordering Maharashtra.
Interestingly, there is some conflict between the two. Supporters of Marathi consider Konkani to be one of its dialects, and the state of Goa to be a part of Maharashtra. After independence in 1961, the Goanese people had to fight to gain official recognition of their native language. They waged a stubborn struggle, which led to even bloody clashes and deaths. Finally, Konkani was recognized as the official language.
Portuguese Language in Goa
During the colonial days, only Portuguese was used in verbal and official communications. Everyone had to learn it. The missionaries would use it for every purpose. But both Konkani and Marathi survived, as parents would secretly teach their children at home. The usage of Portuguese began to fall drastically as soon as the colonists left Goa. It is not an official language at this time.
Now, you will find very few people speaking and writing in Portuguese. Only those who were born before 1961 when Goa was freed still use it. But in recent years, there is a revival, as many organizations and traditionalists are promoting Portuguese. In many schools, Portuguese is now studied as a third language.
Hindi and English
Hindi is the national language in India and spoken almost throughout the country. It is widely understood and spoken in Goa as well. Many can write in Hindi too.
English too is widely understood, and spoken, especially in the tourist places and resort areas. All educated people speak fluent English, and many, especially the teenagers, even speak in English at home. English is not as popular in the interior and village areas, though. The most widely spoken languages there are Konkani and Marathi.
Foreign tourists in Goa communicate in English with the locals. Hindi is a popular second language in the tourist places. But Indian English is different in the way Americans and the British speak. In written communication, most locals follow British English.
Phrases in Konkani
It is good to have at least a working knowledge of the goan language, as this will help you speak with the locals and understand them better. The local tongue will bring a smile on their faces. They will be friendlier, and may offer you better deals.
Here are a few common phrases, words, and numbers in Konkani that is used every day in Goa.
Everyday conversation
Hello/good morning/
Deu boro dis dium
Good evening
Deu bori sanz dium
Good night
Deu bori raat dium
What is your name?
Tuchem naum kitay?
My name is (name)
Mojem naum (name)
Where do you come from?
Tu koyee-sau yet-ai?
I come from (place)
Mau zo gao (place)
How are you (male)?
Tum Ko-so-asa?
How are you (female)?
Ko-shem-asa?
Thank you
Deu borem korum
Please
Upkar koroonc
Sorry
Maaf kor
What
Kitem
Where
Khuim
Why
Kiteak
Can you help me?
Mhojem modot korshi?
Can you tell me?
Maka saangshi?
May I have?
Maka meutolem?
Do you know where he is?
Tu zaanoi toh khoi assa?
When will he be back?
Toh kednaam porot yet-olo?
May I take a photograph?
Au eek foto kaadum?
Yes/no
Hoei/Na
Good
Borem
I am tired
Aoo tsod tokla
I feel sick
Mhojea jivak borem dissonam.
I am happy
Aoo tsaud kooshi
I love Goa
Maka Goemcho mog asa
I don't understand
Hanv soz-mog-nam
Do you speak English
Tum Inglez uloitai?
I speak a little Konkani
Aoo thodee Konkani ooloyta
What is the time?
Kitlim voram zaleant?
I have to go
Maka vos-oonk zai
Goodbye
Miochay / Adeus
Accommodation and getting around
Can you get me a taxi?
Maka ek taxi haadshi?
How much does a taxi charge?
Taxi kitley bhaadem ghetaam?
Where is the (Police Station)?
(Police Station) khuim assa?
Where can I catch the bus to (Panjim)
(Panjim) bus ko-ee tamta?
How far is the bus stop?
Bus stop kitley pois assa?
How do I go there?
Thuim hao kosso vossoonk?
Does this bus go to (Panjim)?
Ee bus (Panjim) voi-ta?
Which bus goes to (Calangute)?
Khui-chi bus Calangute vetaa?
How long will it take?
Kitlo vogoth laagtolo?
When does the bus leave?
Bus kitley-anc so-ta?
Have we arrived in (Candolim)?
(Candolim) pau-lay?
How much to (Baga)
(Baga) vossoonk kitlay pot-ollay?
How many kilometers is it to (Calangute)?
(Calangute) kitlay pois asa?
Turn left/right
Dai-an/ Ooj-an wot
Drive more slowly!
Sossegarde solay!
Where can I make a phone call?
Maka phone koroonc khuim meltolem?
Do you have a room/house to rent?
Tu jay shee room/ghor asa?
I want a room for a day
Maka eke dissak room zai
I would like a single / double room
Maka single / double room zai
What is the charge per day?
Eke dissak kitley poi-shay?
Eating and Drinking
I am hungry
Maka bhook lagleah
I am thirsty
Maka taan lagleah
Where can I get some snacks?
Maka khaunk 'snacks' khuim meltolem?
Water
Oodok
No ice
Borof naka
No sugar
Saakor naka
I do not want it spicy
Maka tik naka
The food is good
Jevon borem
Shopping
Do you sell cashew nuts?
Tumi kaju bhieo viktaat?
How much?
Kitlem?
Too expensive!
Ekdom mar-rog!
I don't want it
Maka naka
I want...
Maka zai...
Have you got another one like this?
Oslem aneek assa?
I'll take this
Haon hem ghetam
Do you take credit card?
Tu credit card ghetam?
Can I pay in dollars / pounds?
Mhojean pounds voh dollaraani faarik koroonc zata?
Days
Monday
Somaar
Tuesday
Munglar
Wednesday
Boodhwar
Thursday
Brestar
Friday
Sookrar
Saturday
Shenvar
Sunday
Aeetar
Relationships
Father
Pai (Christian), Bapui (Hindu)
Mother
Mai (Christian), Avoi (Hindu)
Son
Poot
Daughter
Dhoo
Grandfather
Shapai (Christian), Aazoh (Hindu)
Grandmother
Shamai (Christian), Aajee (Hindu)
Grandson
Naathu
Granddaughter
Naath
Father-in-law
Saasupai
Mother-in-law
Saasumai
Son-in-law
Zaavaim
Daughter-in-law
Soon
Wife
Baile/ Gorkarn
Husband
Ghov/ Gorkar
Child (male)
Bhurgoh
Child (female)
Bhurguem
Children
Burgim
Man
Dadlo
Woman
Baile / Naari / Ostori
Boy
Chedoh
Girl
Cheduu
Adopted boy
Posko
Adopted girl
Poskem
Relative (boy)
Soiro
Relative (girl)
Soiri / soirem
Human being
Moonis
Proprietor
Paatranv
Land owner
Baatkaar
Time
Now
At-ants
Later on
Maagir
Today
Aiz
Yesterday
Kaal
Tomorrow
Fal-yam
The day before yesterday
Poi-r
The day after tomorrow
Porvaam
Morning
Sokalim
Afternoon
Donpara
Evening
Sanje
Night
Raat
Months
January
Janer
February
Febrer
March
Mars
April
Aabril
May
Mai
June
June
July
July
August
Aagost
September
Setembr
October
Otubr
November
Novembr
December
Dezembr
Numbers
1
Ek
2
Donn
3
Teen
4
Char
5
Panch
6
Sow
7
Sath
8
Aatt
9
Nau
10
Dha
20
Vees
30
Tees
40
Cha-lish
50
Pon-nas
60
Satt
70
Sottar
80
Voishim
90
Novot
100
Shem-bor
150
Ded-shem
200
Don-sheem
500
Paanshim
1000
Ek-hazar
2000
Donn-hazar
---
Rate this article:
Rated

4.44

/ 5 based on

16

reviews.