Table of contents
Benaulim beach is in South Goa, between Sernabatim and Varca beach. This is a long stretch of sand that extends all the way beyond Colva in the North and Varca in the South. It is a clean, windswept beach where you can see many fishing boats and trawlers. The beach is sandy – there are no rocks here. You will find fewer people on the beach compared to North Goa. In fact, for long stretches, you will see almost nothing, and then suddenly there will be a few clusters of shacks, beach loungers, and restaurants. There are old houses, temples, and churches you can visit when you want time away from the beach.
The Benaulim beach is at a distance of 10 kilometers from Margao, the largest city in South Goa, and also Goa's commercial and cultural capital. Margao is also the closest major railhead. The Goa international airport at Dabolim is 23.2 kilometers away by the Dabolim-Cavelossim Road and the NH566. Goa's state capital Panaji is at a distance of 36.6 kilometers. It is 4.2 kilometers from the Colva beach.
Benaulim Map
This is one of the quietest beaches in South Goa, even in the peak tourist season. It remains peaceful and calm, so it is an excellent place for relaxation. But the evenings, especially the weekends, tend to attract a crowd, as there are many visitors from Margao. On the beach and the village, there are many foreign tourists as well.
There are swaying palm trees that line the shoreline. You will see many fishing trawlers and fishermen pulling in the nets and counting their catch for the day. There are many beach shacks, and restaurants with sun beds and umbrellas where you can sit back or lie down to relax with a drink in your hand. Fewer people on the beach, so you will have more privacy! Most of the shacks and restaurants are located close to where the Benaulim Beach Road ends.
Before the Portuguese arrived in Goa, Benaulim was known as Banawali or Banahalli, which in local language means "village of the arrow". Ban in Sanskrit means 'arrow', while Halli in the Kannada language means 'village'. According to a legend, Lord Parashurama, an avatar of the Hindu God Vishnu fired an arrow into the sea and asked the Sea God Varuna to go back to the place where the arrow landed. The arrow landed at today's Benaulim.
Benaulim Gallery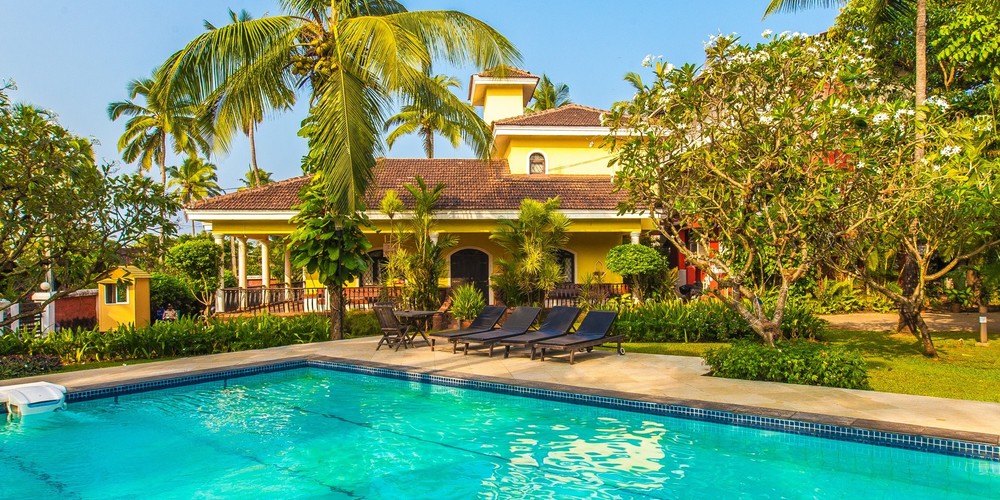 Luxury villa with direct access to the beach. 5* star service. Prime location of North Goa.
Villa for rent from 19 000 Rs. per night
Enquire / Get best deal!
Quick Facts About Benaulim
Benaulim is in South Goa. It is part of a long stretch of sand, and is one of the emptiest, quietest, and cleanest beaches in the south. Developed tourist infrastructure. Many shacks on the beach, cafes, restaurants, shops, ATMs, banks, tattoo parlors, and bars along the roads.
Closest airport – Dabolim – 23.2 kms.
Closest railway station – Margao – 5.4 kms.
Margao City Center – 10 kms. This is a serene and quiet beach. Very clean. More tourists are coming here than before, but it is still relatively empty and peaceful.
Plenty of water sports action on the beach – speed boats, banana boats, parasailing, windsurfing, and jet skiing. There are dolphin sighting tours too. There are operators who offer fishing trips as well. The sea is safe for swimming. Nice slope that comes down to the Arabian Sea. There are no rocks here.
Many places for sightseeing, like the St. Christopher Church, Our Lady of Mercy Church, and the Holy Trinity Church. You must also visit the Goa Chitra Museum. Bull fighting in the fields at Benaulim close to the beach with Konkani music. This is sure to be a fun and exciting experience.
There are many massage parlors and ayurvedic treatment centers at Benaulim. Benaulim has one of the most happening nightlife scenes in South Goa.
Best Time Of The Year To Visit Benaulim
Benaulim is never as crowded as some of the popular North Goa beaches. But most tourists prefer the winter season (November to February), as the weather is very nice this time of the year. The beach shacks will also be open. The restaurants, pubs, and cafes will also be fully stuffed, so you will get the best food, drinks, and service. Winter is the time for water sports at Benaulim. The monsoon is deemed too risky, and the summer is very hot.
Weather
Like elsewhere in Goa, Benaulim is also hot in the summer. The daytime temperature ranges between 33°C and 36°C, which is average by Indian standards, but on a beach you will feel the heat even more because of all the sand. The sun will beat down strongly, almost like burning your skin. So you must stay under shade between 11 AM and 4 PM. Nice wind comes in from the sea in the evening, but the humidity is high.
The monsoon in Goa is between the middle of June and early September. The temperature comes down quite a bit, particularly in July and August, but it is very humid. There is a lot of rain. On some days there can be thundershowers. With heavy rainfall, there can be chances of water logging too. High waves. The sea is choppy.
Weather in Benaulim
Month
Jan
Feb
Mar
Apr
May
Jun
Jul
Aug
Sep
Oct
Nov
Dec
Year
Average high, °C
31,6
31,5
32,0
33,0
33,0
30,3
28,9
28,8
29,5
31,6
32,8
32,4
31,3
Average low, °C
19,6
20,5
23,2
25,6
26,3
24,7
24,1
24,0
23,8
23,8
22,3
20,6
23,2
Average precipitation mm
0,2
0,1
1,2
11,8
112,7
868,2
994,8
512,7
251,9
124,8
30,9
16,7
2926
The winter at Benaulim beach is very nice. You will have a clear sky and very little rain. The sun is pleasant even during noon, so you can swim, or visit some of the tourist attractions close to the beach. There is very little humidity too. Take long walks on the beach, play beach football or volleyball if you want.
How To Reach Benaulim
By Air — The Dabolim international airport is 23.2 kms from Benaulim. Taxis are available for rent at the airport counter. There are many flights from Air India, Indigo, Etihad, Air Arabia, Air Asia, Qatar Airways, and Jet Airways.
By Rail — Margao is the closest major railway station. It is 5.4 kms away.
By Road — The Margao City Center is 10 kms from Benaulim. The state capital Panaji or Panjim is at a distance of 36.6 kilometers.
Top 6 Things To See And Do At Benaulim
See The Churches – There are beautiful churches close to the Benaulim beach that you may want to visit. Tourists from all over Goa come to see the rococo architecture at the St. John the Baptist church. There is a parish hall just beside the church and a cemetery across the street. There is also the Holy Trinity Church, St. Christopher Church, and the Our Lady of Mercy Church. The Holy Trinity Church has a modernistic style.
Goa Chitra Museum – This is one of the best museums in Goa to visit. It showcases traditional agrarian lifestyles and technology of Goa. There are more than 4000 artifacts to see here. Workshops are also organized for school and university students.
Water Sports – You can enjoy water sports activities on the beach, except for the monsoon moths, when it is deemed too risky. Choose from speed boats, banana boats, parasailing, windsurfing, and jet skiing. There are dolphin sighting tours too, and if you are lucky, you can even see crocodiles. You can also try your hand at fishing if you want.
Bull Fighting – Between October and May every year, there is bull fighting at Benaulim. Head to the rice fields in the village and you will see a large crowd cheering as Konkani music plays loudly. Thousands gather to see these fights. There is betting too. Locally, it is called "dhiro".
The Beaches of South Goa – Benaulim is close to some of the beautiful beaches of South Goa. Cavelossim is just 12.7 kms away. This is another serene and quiet beach, and there is also the Sal River here where you can cruise to see birds and bats. South Goa's most famous beach Palolem is about an hour by road from Benaulim. The Agonda Beach just before Palolem has been rated as Asia's #1 beach by the TripAdvisor Travelers' Choice® awards for 2018. There are guided bicycle tours of South Goa as well.
Go Kart Racing – Karting is an exciting adventure sport. There are two karting tracks in Goa – at Arpora in the North, and at Nuvem in South Goa, which is just 12.7 kms from Benaulim. It is just north of Margao. It is open for adults and even kids above the age of 12 years (the Arpora track does not allow kids). The Nuvem track is open from Tuesday to Sunday, 4 p.m. to 10 p.m. It is shorter than the Arpora track, but still promises a lot of fun.
The Beach
The Benaulim beach is very nice, clean, and one of the quietest beaches in Goa. Stay here if you want a quiet and relaxing Goa vacation. It is a sandy beach without rocks. This beach is preferred by tourists of average wealth, who want to spend their vacation in a more natural and not too overcrowded environment. You can swim without a worry as there are no rocks in the seabed, and no jellyfish. The beach slopes down nicely into the Arabian Sea.
There are fewer tourists here, even in the peak winter season, so Benaulim is cleaner as well. It's a must quieter beach than the neighboring Colva mostly because the village is about a kilometer back from the beach, and there are many lanes than lead up to the beach. You will see many foreigners here. There are many locals too, who come down to the beach from Margao in the evening, especially in the weekends, but the crowd gets divided between Colva and Benaulim so it's still bearable. Benaulim wears a desolate look outside the main season.
It's a long stretch of sand and thus perfect for long walks. For large stretches, you will see almost nothing, and then there will be clusters of a few beach shacks with their loungers and umbrellas where you can sit back and relax with a drink in your hand. Most of the shacks are located at the center of the beach, where the Benaulim Beach Road ends. Most of the bars, restaurants, shops, and hotels are located along the Vasvaddo Beach Road close to the Maria Hall intersection.
In April, for three Sundays, a Beach Bonanza Fair is organized on the beach. You can see many locals and even the tourists dancing with music. This is a fun event with lots of entertainment.
Goa Chitra Museum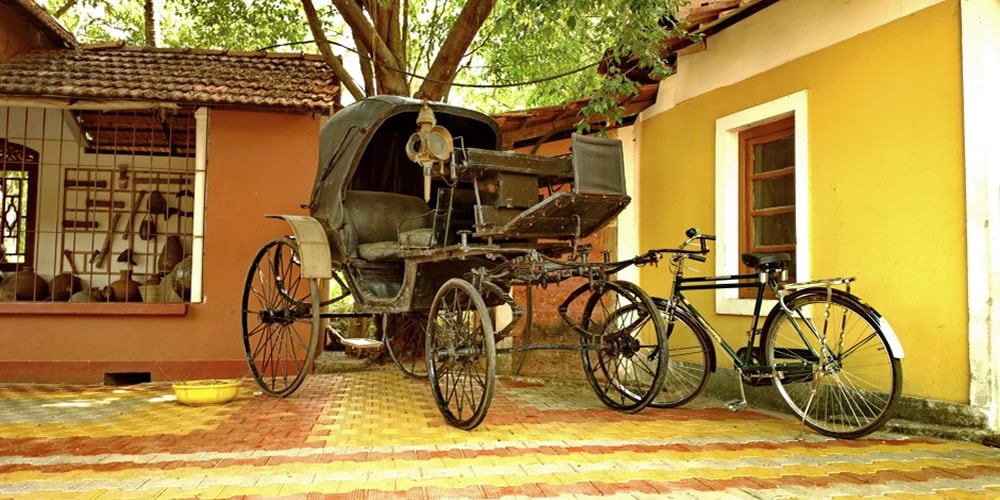 Goa Chitra Museum, Benaulim
Just 3.2 kms from the Benaulim beach, the Goa Chitra Museum is a must visit. TimeOut Mumbai has described it as "one of Goa's most charming attractions". This museum showcases the agrarian lifestyles and technology of Goa by displaying more than 4000 artifacts from different times. You can see farming tools, local pottery, ancient carts, palanquins, musical instruments, and more.
There is also an organic farm that shows how herbs, vegetables, rice, sugarcane, and spices are cultivated in the coastal belt. Goa Chitra also organizes workshops for school and university students, and helps craftsmen and artisans develop their trade.
History
Benaulim is closely associated with Hindu mythology and especially Parashurama God – the sixth avatar of Vishnu and the son of a Brahmin father Jamadagni and mother Renuka. According to the legend, this God-warrior shot an arrow from the top of Western Ghat Mountains into the direction of a Konkan City for delineating the boundaries of the new Goa land. The place where the arrow landed was called Banahalli or the Banavalli, which in Sanskrit language means "The Village of the Arrow" ("baan" in Sanskrit means "an arrow"). The name was changed to Benaulim after the Portuguese arrived.
The ancient Banavalli once had a magnificent Katyayani Baneshvar Temple, which was dedicated to Lord Shiva and his wife Parvati. You can still see the ruins of this temple. In the 16th century the deities were shifted to Aversa, a city in North Kanara.
Benaulim is a symbolic place for Catholics, primarily because here the blessed Father Joseph Vaz, also known as Jose Vaz, was born in 1651. He was a missionary and was called by religious people the "Apostle from Ceylon".
Nightlife
Adega Camoens Nightclub is a lobby bar with a disco. The Club is situated in the building of Taj Exotica Hotel. This nightclub differs from other Goa clubs and discos because of its extravagant interiors that are inspired by Hollywood. Hollywood themes and motives in the rooms make it truly unique. There are parties here on Fridays, Saturdays and Sundays. On other days, there is live music from solo artists and different bands, or watch tap-dances.
Adega Camoens Nightclub is open from 12:00 noon till midnight. Happy hour is between 7:00 PM and 8:00 PM. Drinks are available at 50% discount.
Fiplees Restaurant, Pub & Leisure Zone Club is a restaurant that serves good food, a pub with a huge variety of drinks, and a disco with good music. It is located near the Maria Hall shopping center. Food includes Indian, Chinese, and European continental. The music menu is as much diverse as the dish menu. Well-known DJ's and music bands perform here, playing pop, reggae, country, jazz, Indian classical, and others. There are themed parties and karaoke-evenings too that continue till early morning.
Art Escape Resort Club is another good place for live music. You can listen to classic rock, retro or reggae. A special genre of music plays here every evening. Different art-workshops are also conducted at the club.
Hotels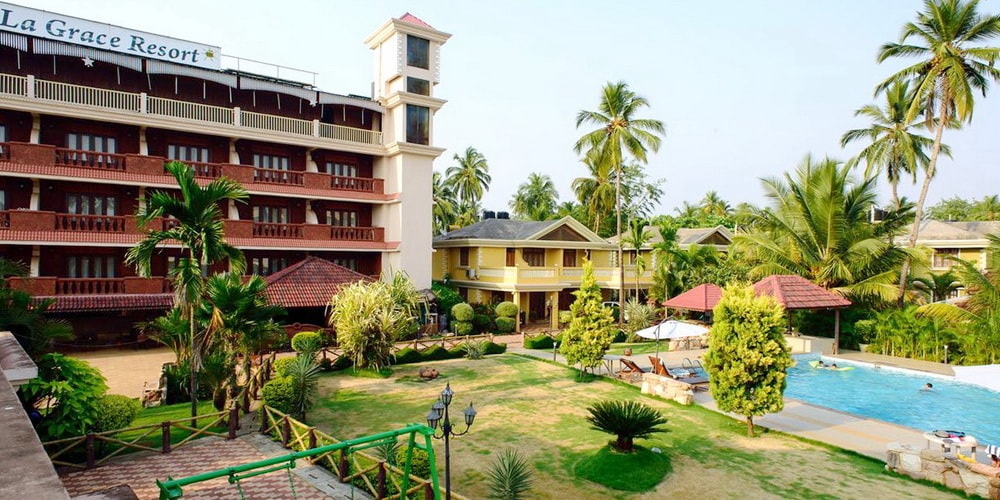 La Grace Resort, Benaulim
There are hotels of all sizes and budget, many of them close to the Benaulim beach. Some popular hotels here are La Grace Resort, Taj Exotica, Royal Palms, Lotus Beach Resort, San Joao Holiday Homes, Furtado's Beach House, Palm Grove Cottages, and Cleopatra Resorts. Taj Exotica is a 5-star property and is the costliest.
All essential services, communications and connections in the village are concentrated around the Maria Hall, which has a touristic center, currency exchange office, cheap international telephone communication, many shops, pharmacies and Internet cafes. The village has a bus stop too.
Villas in Benaulim
There are many villas and luxury apartments too in Benaulim. Villa Sunflower, Pearl Apartment, Blue Diamond Apartment, and Osocozy are just some of the available properties. You can enjoy the same level of luxury as star hotels and resorts in these properties. Check each villa or apartment for its location, pictures, and amenities.
Comfortable 2 bedroom apartment with a swimming pool.

Starts from 2 800 Rs. per night

3 bedroom villa in Benaulim.

Starts from 30 000 Rs. per month

Luxury 2 bedroom apartment. Close to all "happening spots" still in a quiet area.

Starts from 4 700 Rs. per night
* The price depends on the location, the season, and the duration of your stay.
---
Rate this article:
Rated

4.54

/ 5 based on

13

reviews.