Majorda Beach
The beach has a half kilometer stretch of soft and nice sand in South Goa
Table of contents
Majorda beach is in South Goa, between Utorda at the northern side and the Betalbatim beach. This is one of the prettiest beaches in the south. Majorda beach in itself is about half kilometer long, but is part of a 25 kilometer wide stretch of sand along the Arabian Sea. There are a few beach shacks where you can spread out that serve tasty Konkani, Russian, continental, Indian food, and drinks. You can take the sun bed and umbrella for free, but you are expected to place an order.
The Majorda beach is 16.1 kms from Vasco da Gama by the Dabolim-Cavelossim Road, MDR43, and the NH566. It is 11.6 kms from Margao, and the Colva beach is only 6.4 kms away. This is a great beach for nature lovers and adventure seekers. There is water sports here you can enjoy. There are a few clubs, restaurants, and pubs too. You can go on long walks. Or you can just sit back and relax, enjoying the beauty of nature.
Majorda Map
Majorda is never as crowded as the busier north Goa beaches. Many foreigners here, especially Russians! The beach shacks and restaurants also have a Russian food and drinks menu. It is a clean and wide beach with golden white sand, which gets wider at the center because a small stream meets the Arabian Sea here. You will see a few small bamboo bridges over the stream as you approach the beach from the Majorda Beach Road. Cross one to enter the beach.
The Mish-Mar shack is located between this stream and the sea. Beautiful setting! There is a car parking lot on the right just before the beach. Tall trees everywhere – lots of greenery all around. The Majorda Beach Resort, which dominates the landscape here, will be on your right, just before the parking lot.
Bakery arrived in Goa at Majorda. The Portuguese taught the villagers how to bake European breads. The bakeries here are still considered some of the best in the state. Also, according to a legend, Lord Rama was kidnapped and brought here when he was a kid. But he managed to run away to where the Cabo-de-Rama fort is today.
Majorda Gallery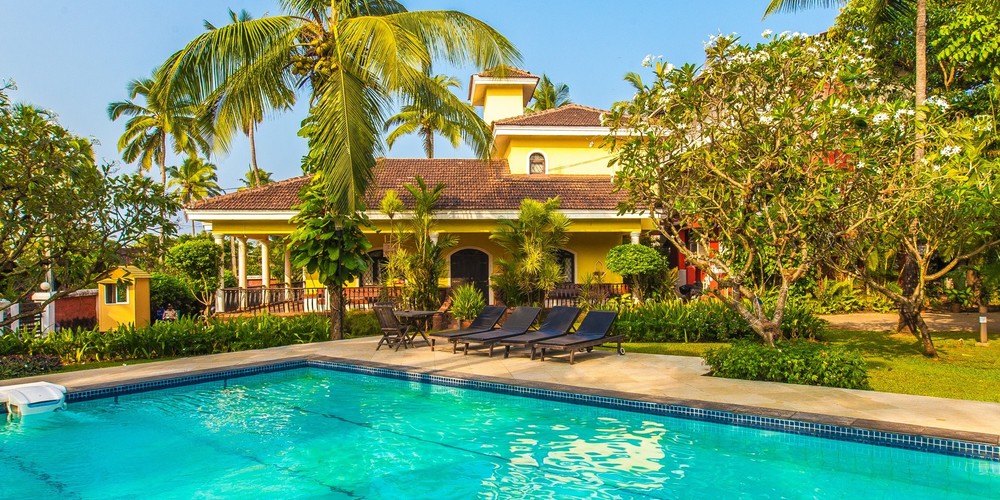 Luxury villa with direct access to the beach. 5* star service. Prime location of North Goa.
Villa for rent from 19 000 Rs. per night
Enquire / Get best deal!
Quick Facts About Majorda
Majorda is a half kilometer long beach in South Goa, but has a more central location, as it is close to Vasco da Gama. It is a clean, serene, and wide beach, part of a long stretch of sand that extends from the Valsao beach in Vasco to Betul in the south. This is a clean, quiet, and wide beach with light creaking golden sand. The sea is safe for swimming. There are no high waves here. The sea bottom is very clean, pure and sandy.
Closest airport – Dabolim – 16.7 kms.
Closest railway station – Majorda – 2.4 kms.
Margao City Center – 11.6 kms.
Vasco da Gama — 16.1 kms. Fewer tourists than Colva, and the other popular South Goa beaches like Palolem. Nice and serene. A good place for a relaxing vacation. Popular with foreigners.
Developed tourist infrastructure – hotels, resorts, villas, shops, cafes, and restaurants. The Majorda Beach Resort dominates the landscape here. The main village is a 10-15 minutes from the beach. There are about 4-5 shacks on the beach, serving Indian, Konkani, Russian, and continental food. Russian menu also available. Sun decks with umbrellas on the beach.
Close to Vasco da Gama and Margao. Many churches, gardens, and other attractions to see nearby. You can also visit the other south Goa beaches from Majorda. There are plenty of water sports activities on the Majorda beach – surfing, skiing, speed and banana boat rides, parasailing.
Best Time Of The Year To Visit Majorda
Visit Majorda in the winter, between November and February, if you can. This is the best time to visit the beach. It will be cool and pleasant, with almost no rain. You can spend the entire day at the beach here, or go on long afternoon walks to explore the coast. You won't even need a sun block cream. Tourists from Russia and other countries can get a gorgeous tan, sitting or lying down on the loungers.
The tourist infrastructure will be up and running between November and February. The beach shacks, restaurants, bars, and shops will be all open. You can also enjoy water sports on the beach this time of the year.
Weather
Majorda has a hot summer. Long and hard sunny days with the sun feeling like almost burning your skin! So avoid direct exposure. Stay indoors between 11 AM and 4 PM. Cool air comes in from the sea in the evening, but there won't be any considerable change before 8 PM. The early morning and late evenings are more pleasant. On some days, the temperature can go up to 36°C.
There will be a few rainy days in May, but officially, the monsoon starts in Goa around the middle of June, and lasts till early September. There is a 4-5 degree change in temperature, but you may still feel uncomfortable because of the high humidity. The sky is likely to remain overcast, with two to three spells of rain. There can be thundershowers too on some days. Swimming is best avoided because the waves will be high. The sea will also be choppy.
Weather in Majorda
Month
Jan
Feb
Mar
Apr
May
Jun
Jul
Aug
Sep
Oct
Nov
Dec
Year
Average high, °C
31,6
31,5
32,0
33,0
33,0
30,3
28,9
28,8
29,5
31,6
32,8
32,4
31,3
Average low, °C
19,6
20,5
23,2
25,6
26,3
24,7
24,1
24,0
23,8
23,8
22,3
20,6
23,2
Average precipitation mm
0,2
0,1
1,2
11,8
112,7
868,2
994,8
512,7
251,9
124,8
30,9
16,7
2926
Intensity of the rain and its frequency begins to come down from late August, and by early September, the monsoon is officially gone. The temperature begins to rise once again, but it is not as harsh any more. November to February is the winter season in Goa, with January being the coldest month. The sky is clear. There is almost no rain. You can stay on the Majorda beach without worrying about the heat or rain. Visit some of the tourist attractions of Goa. There is no sweat, and no worries.
How To Reach Majorda
By Air — The Dabolim airport is 16.7 kms from Majorda. The airport is connected by many Indian and international airlines like Air India, Indigo, Etihad, Air Arabia, Air Asia, Qatar Airways, and Jet Airways. You can take a flight from Mumbai, Bengaluru, Chennai, Kolkata, Pune, and some international cities. There is a pre-paid taxi booth at the airport and also the big rail stations.
By Rail — Majorda railway station, 2.4 kms away, is the closest. There are two major railheads nearby. The Margao rail station is 11.2 kms away, while the one at Vasco da Gama is at a distance of 21.1 kms.
By Road — Margao city center is 11.6 kms from Majorda, while Vasco da Gama is 16.1 kms away from the Majorda beach.
Top 6 Things To See And Do At Majorda
Explore the Village – The Majorda village is a good 15-20 minute walk from the beach. This is a typical Goan village where you can see how people lead their everyday lives, and learn about their culture. Remember, unlike the Indian cities, most Goanese people prefer to live in the villages. Thick vegetation – you will see plenty of trees here. You should also visit the bakeries – the Pareira Bakery, Cassian's, and the Prakash Café among others. There are bike rentals, grocery shops, a wine store, a superstore, banks, and ATM's at the village.
Carpe Diem – This is a learning and art center with an art gallery, art store, a ceramic studio, and a café. It is located on the Majorda Beach Road itself. The studio also conducts activities and classes for students of all ages. There are book reading sessions, art classes, music, theater, yoga, and pottery workshops. Art exhibitions throughout the year, except the monsoon months! The café sells sandwiches, waffles, pastries, wraps, shakes, tea, and coffee.
Goa Chitra Museum – Located just 8.8 kms from Majorda, this museum showcases the agrarian lifestyles and technology of Goa. There are more than 4000 artifacts of local pottery, ancient carts, farming tools, musical instruments, palanquins, and more. See the organic farm here to learn how herbs, vegetables, rice, sugarcane, and spices are cultivated in coastal India. Goa Chitra also organizes workshops for school and university students.
Churches – There are many interesting and beautiful churches nearby. A few of them are at Majorda itself, while the others are at Margao and Vasco da Gama, which are both close. Visit Church of the Holy Spirit, Our Lady of Grace, St. Andrew's Church, Fatorda Church, Rachol Seminary, and the Milagries Chapel.
Water Sports – Enjoy water sports at the Majorda beach. There are many activities to choose from like speed boat and banana boat rides, parasailing, windsurfing, and jet skiing. The sea is safe for swimming.
South Goa Beaches – This beach is a part of a long stretch of sand that you can explore on foot. Or you can hire a bike locally and ride on the beach itself. Most of the south Goa beaches are wide and crowd free, so you won't have any problems. Of course, you can take the road as well to visit Colva, Benaulim, Cavelossim, Agonda, and Palolem, which are some of the nicest beaches in the south.
The Beach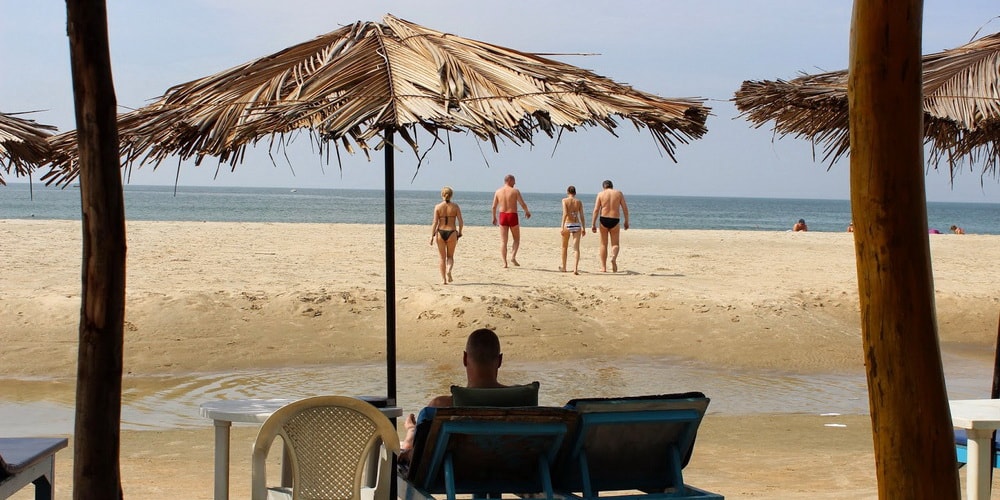 Majorda Beach
If you are looking for a laid-back and relaxing Goa vacation, then the Majorda beach is a very nice choice. It is not going to disappoint you. It is a golden sandy beach that slopes down to the sea gently. Majorda is a famous luxury south Goa beach, located between two other good beaches in the south – Betalbatim and Utorda. But Majorda is often smarter than Utorda. The beach is wide, clean, and very quiet. There are only a few shacks, and few tourists, so you don't have to fight for a sun bed. There is a good distance between the shacks. Your privacy is guaranteed here.
Approach to the beach through the Majorda Beach Road is a nice change from the busy and commercial Baga, Candolim, Calangute, and even Colva. There are hardly any shops or street side vendors here vying for your attention. Instead, the road is tree-lined and very green. At the end, there is a parking lot on the right. There is a small stream just ahead. Cross the bamboo bridge to enter the beach. There is a second Majorda Beach Road further north, which ends at the beach beside a shack.
There are no buildings on the beach, except a few shacks with their loungers and umbrellas. You can stretch out to relax and enjoy some Konkani delicacies and drinks. Mish-Mar, Kamron, Vaniya's Paradise, Sam's, Greenland, and Samson's Aquarian Bar are the beach shacks here. They are mostly temporary structures that are pulled down after the peak season. So in the off-season, Majorda wears a desolate look. There are almost no tourists.
This is an amazing place, popular with both Indian and overseas tourists. You will find many foreigners here, especially Russians. Walk a few steps towards the north, and you will see fishermen's boats. In late morning, you can also see them bringing in their catch from the sea and folding up the nets.
Swimming is safe here. No high waves, rocks in the water or jellyfish. Large empty spaces on the beach so you can play volleyball or beach soccer!
Infrastructure
The tourist infrastructure at Majorda beach is satisfactory, but it is growing rapidly. There are not so many shops and supermarkets here. The place still looks like a village, and retains its original Goan identity. However, you will still find the odd shop, grocery store, medicine store, banks, ATMs, car/bike rentals, restaurants, cafes, bakeries, a post office, and even a wine store – everything a tourist might need. There is also a large supermarket near the railway station. There is yoga and spa, and an ayurvedic therapy clinic at the neighboring village of Nuvem.
There is bus and car service to Margao, Vasco da Gama, the Majorda station, and the nearby beaches and villages.
Hotels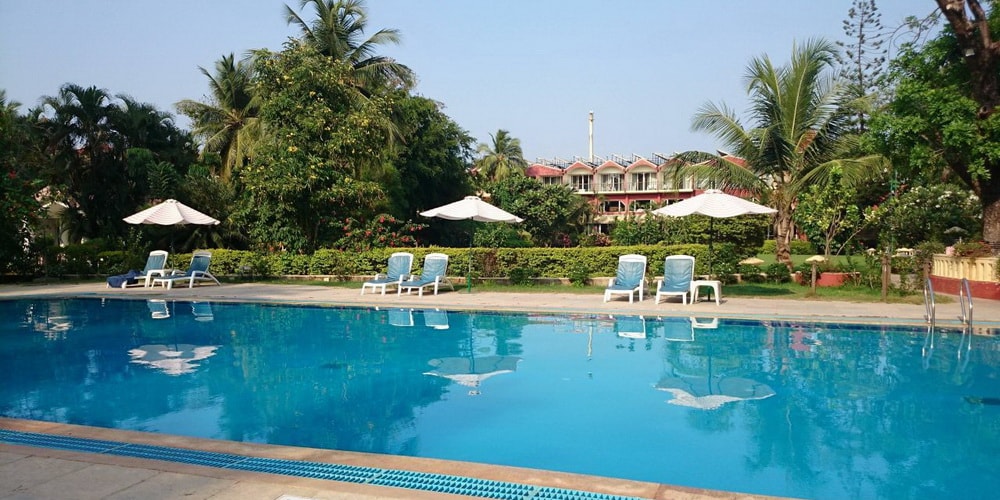 Majorda Beach Resort
The 5 star Majorda Beach Resort dominates the landscape. This is also the biggest hotel here. But recent reviewers have commented that the service is not quite satisfactory any more. There are other small hotels close to the Majorda beach too, like the Vivenda Dos Palhacos Hotel, Shangrila Beach Hotel, Alila Diwa Hotel, and the Coconut Groove Hotel. You will also find many guest houses and home stays. Most properties are offering budget accommodation.
Villas In Majorda
There are some decent villas too in Majorda that can make your Goa holiday very comfortable and enjoyable. Stay together as a group with no other guests, as the entire property will be yours for the duration of your stay. Have a picnic lunch in the manicured lawn or a barbecue poolside dinner. With your own private swimming pool, you won't have to scramble for a lounger. You will have more privacy in a luxury villa. The villas offer modern luxuries and comforts. Per person you will have more space than a hotel or even a resort.
Properties with sea views cost more. The cost also depends on the amenities offered, season, and the duration of your stay.
Ultra-luxury 3-bedroom villa with private pool. Complete privacy. Maximum comfort.

From 20 000 Rs. per night

Private villa with European quality with 3-bedroom.

From 3 000 Rs. per night

Beach front 3 bedroom villa. Nice garden. Full AC.

From 12 000 Rs. per night
---
Rate this article:
Rated

4.62

/ 5 based on

13

reviews.