Bungalow in Goa
Table of contents
A bungalow is a single storied house, a cabin or a cottage. They are usually an independent house, typically small in size with a terrace. But there is sometimes an upper floor with a single room and a sloping roof. You will find many bungalows in Goa, but they are a bit different than the typical villas. The villas are more luxury, can be bigger having multiple rooms and facilities, while bungalows are typically smaller units. However, a bungalow in Goa can sometimes offer modern luxuries and amenities that many travelers looking for lifestyle seek.
A bungalow is a Bengali term from the eastern part of India, but the term has become popular throughout the world. The style of construction was taken up by the British to build summer retreats for their officers during colonial rule. The British carried the term with them to Europe and America, where it eventually also became popular.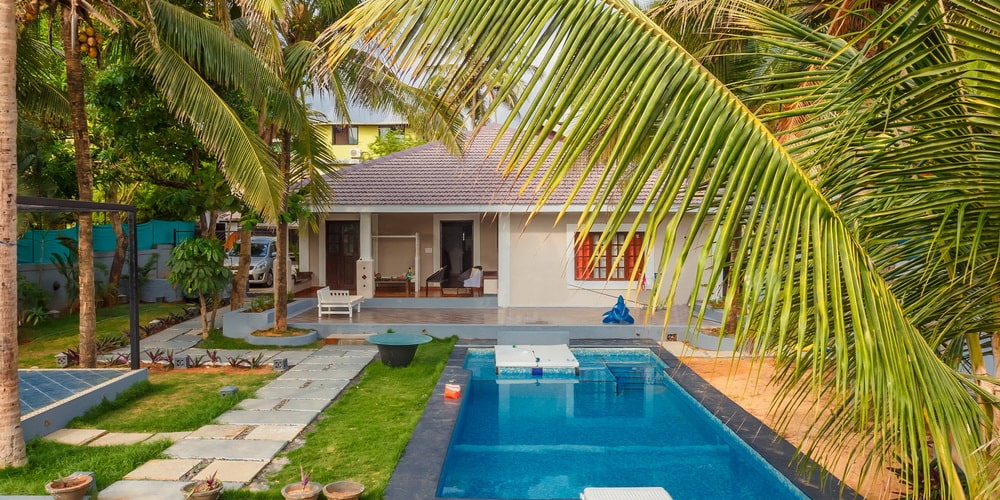 Difference Between A Bungalow And Villa
| | |
| --- | --- |
| Bungalow | Villa |
| Low, 1-storied houses, sometimes with a small second floor and a sloping roof. Sometimes bungalows have an outside courtyard or garden. | Bigger properties having more rooms, often with 2 or 3 floors. Villas almost always are luxury properties with a lawn, parking area, and private swimming pool. |
| Smaller in square footage. | Larger properties with multiple rooms. |
| Modern housing for the working class, but usually affordable. | Villas mostly for luxury homes, leisure. |
| Constructed by the British as summer retreats for their officers and families. The British made them popular throughout Europe and America. | Upper class country estates by the Romans. Tuscan style villas became popular during the renaissance period throughout Europe. |
| A bungalow usually has a balcony or a verandah. | Villas don't have balconies typically. |
Different Types Of Bungalows
Bungalows are usually single-storied. But there can also be different types,
Raised Bungalows – Raised construction with basement, above the ground partially.
Additional Levels – Some bungalows can have an additional level like a loft.
A villa is usually costlier than a bungalow because villas are premium properties offering high luxury, while bungalows are more budget-centric with basic facilities. A bungalow is also usually smaller in size than a villa, and is thus, better for a family or a small group.
Bungalows In Goa
You will find many bungalows in Goa throughout the state. They are in South Goa, North Goa, and the hinterlands close to the wildlife sanctuaries and the Dudhsagar Waterfalls – Mhadei Wildlife Sanctuary, Bhagwan Mahavir Wildlife Sanctuary, Netravali Wildlife Sanctuary, and Cotigao bordering the state of Karnataka. You will also find a few bungalows in the cities, but they are rare. Most buildings in the cities are apartments or private houses.
Many bungalows in Goa are in rural communities with nature all around. There is a lot of greenery, agriculture fields all around, and thatched housing, as is seen in the villages. They are in peaceful and serene communities offering a quiet holiday.
Other bungalows are close to the beaches or in the riverfront, both in North and South Goa. Many of them are just a few minutes walking from the beach.
North Goa Or South Goa
Choose a bungalow in North Goa if you want a more active vacation. North Goa has most nightclubs, water sports, hippie markets, forts, and restaurants. There are more things to do here. The top beaches of North Goa include Baga, Candolim, Calangute, Anjuna, Ashwem, Vagator, and Arambol.
The South is more serene and relaxing. You will find lush coconut plantations, swaying palm trees, green hills, and miles of serene beaches here. Top beaches include Cavelossim, Mobor, Agonda, Colva, Benaulim, and Palolem.
Types Of Bungalows In Goa
There are different types of bungalows here determined by their construction,
Houses made from wood and other vegetable-based materials
Constructed from bricks and stones
Made from cane, bamboo, palm leaves
Cottage type properties
Temporary Structures – In Goa the word 'bungalow' also means temporary constructions that come up usually just before the peak tourist season (November to February). They are made from cane, bamboo, or palm leaves. You will find them on the beach or on stilts in the water, especially in South Goa – Palolem and Agonda beach, and also in the north – Arambol and Mandrem beach.
Sometimes, these bungalows are just behind a shack offering 1 or 2 rooms to guests. They are popular with budget tourists and those who want to stay close to water and want to enjoy nature. Facilities are basic. Sanitation features are also not that good. You may also encounter tropical fauna like spiders, scorpions, reptiles and other animals.
Guest Houses, Resort Hotels – There are much better bungalows in Goa too in the form of guest houses. And some properties are made entirely of separate bungalows in one complex – the resort hotels. They are classic wooden houses with a small terrace. They are of course much more comfortable – furnished accommodation, en-suite, and often even with air-conditioning. Some of them also have a second floor.
Cottage Bungalows – These properties are like luxury villas, a bit smaller though. The architectural styles are both modern and colonial. You will find such houses mostly in South Goa (Cavelossim, Colva, Betalbatim). These bungalows have an open-planning kitchen and living room, one or two bedrooms, terrace and balcony. Such houses are fully equipped with modern facilities, and are air-conditioned. They are very popular with families with children, couples, senior couples and groups of close friends who prefer a quiet, relaxing and comfortable vacation.
| | | |
| --- | --- | --- |
| Temporary Structures | Houses made from wood, vegetable-based materials, cane, bamboo, or palm leaves | Palolem, Agonda, Arambol, Mandrem |
| Guest Houses | Classic wooden houses with a small terrace. Sometimes with a second floor. | All over Goa. |
| Cottages | Like luxury villas – both modern and colonial with modern amenities. Popular with budget couples and families. | Cavelossim, Colva, Betalbatim |
Who Should Live In A Bungalow In Goa
A small group or family that needs only 1-2 rooms.
Budget-travelers who want a villa feel, but prefers to spend less money.
Nature lovers. Many bungalows have gardens and are set within nature.
Stay close to the sea. Many of them are beachside or close to the beach.
For a home-like feeling. Bungalows are a lot like homes.
Bungalow on rent in Goa:
Ocean view bungalow in the center of Anjuna village. Rooftop Terrace. Sea view.

From 7 000 Rs. per night

Beachfront 4-bedroom villa with its own private pool. Prime location of North Goa.

From 20 000 Rs. per night

2-bedroom bungalow with a picturesque garden. Quiet and safe location.

From 8 000 Rs. per night
* Price depends on arrival dates and duration of stay.
---
Related articles:
---
Rate this article:
Rated

3.5

/ 5 based on

2

reviews.