Top 5 Goa Beaches
Table of contents
Tourists visit Goa for many reasons – for its famous nightlife, parties, water sports, food, wildlife sanctuaries, waterfalls, and to see the UNESCO Heritage sites. But most of them visit for the beautiful beaches of Goa. North to South, from Querim to Tilmati, there are more than 40 beaches in Goa.
Some of them are rocky, while the others are sandy shores gently sliding down to the sea. Many of the beaches are serene, lined with coconut and palm groves. Other Goa beaches are busy, with many shacks and tourists.
Here is our list of the top 5 beaches in Goa.
1. Candolim-Calangute-Baga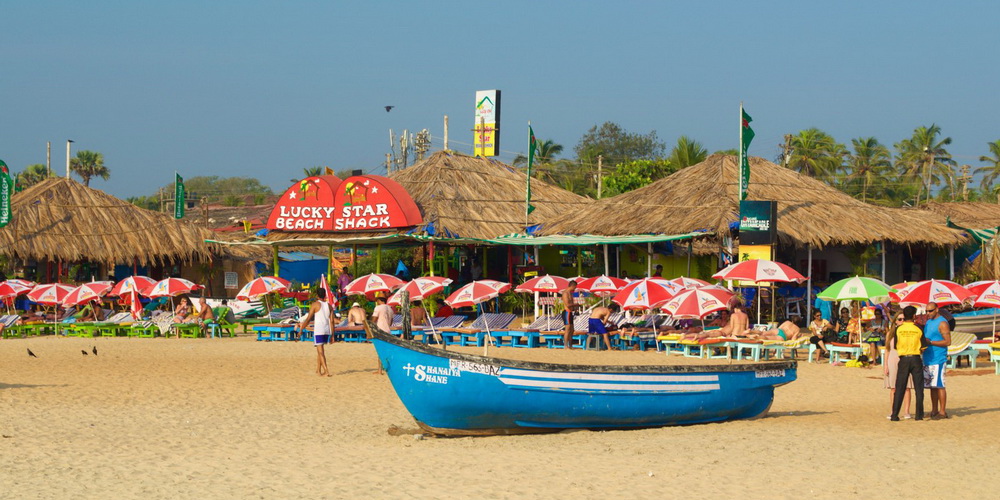 Baga Beach
Candolim, Calangute, and Baga are actually 3 different beaches, but it is the same stretch of sand that extends for 7 kilometers or 4.36 miles. They are in North Goa close to Panaji. The entire stretch is extremely popular with tourists, both Indians and foreigners. But all these 3 beaches can get crowded during the peak tourist season, especially Baga beach.
The stretch starts from Candolim, just after the Aguada Fort, and ends at the Baga River, which is a small creek. The shoreline is sandy and is lined with many beach shacks one after the other, where you can relax and have food, drinks. After dark, many of these shacks play music and host parties. There are water sports almost throughout this stretch – speed boats, banana boats, para sailing, wind surfing, paddle boarding, kayaking, and more. Swimming is safe here.
Tourist infrastructure in this stretch is extremely well developed. There are many hotels, resorts, villas, cafes, restaurants, bars, shops, and super markets. You will also find many nightclubs here.
Souza Lobo, Britto's, A Reverie, Kamaki, Tuscany Gardens, After 7, Club Tito's, and Cape Town Café are some of the best restaurants and nightclubs here.
Candolim, Calangute, and Baga are all nightlife and party destinations.
2. Anjuna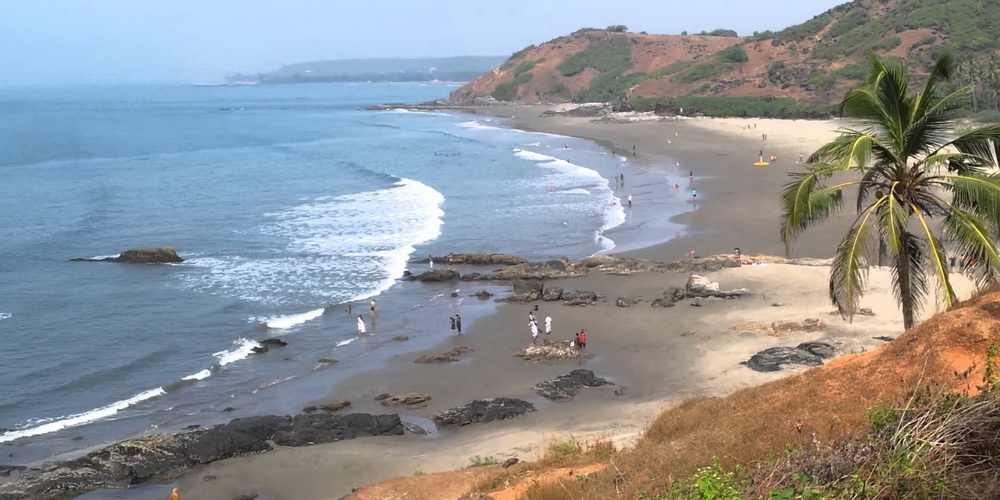 Vagator-Anjuna Beach
Anjuna beach is 6.9 kilometers north of Baga, across the small river. It is just across a rocky outcrop. Extremely popular with backpackers from Europe, Anjuna was one of the first beaches to come under the spotlight, thanks to the hippie culture during the 1960s and the 1970s.
This is a sandy beach, but with several rocky stretches. You will find many red laterite rocks here, which makes Anjuna a very picturesque beach. A small hill rises on the northern end of the beach. Visit the viewpoint on top.
Anjuna is a happening party destination. There are rave and trance parties, and also full-moon nights. The hippie influence can still be felt here. Curlies, Hill Top, and Shiva Valley are the hottest party destinations. There are many shacks, restaurants, bars, pubs, and cafes.
Anjuna is also famous for its flea market. It is on Wednesdays in peak tourist season. This is a good place to buy handicrafts, jewelry, clothing, and souvenirs. You will also find jazz and rock bands playing.
3. Arambol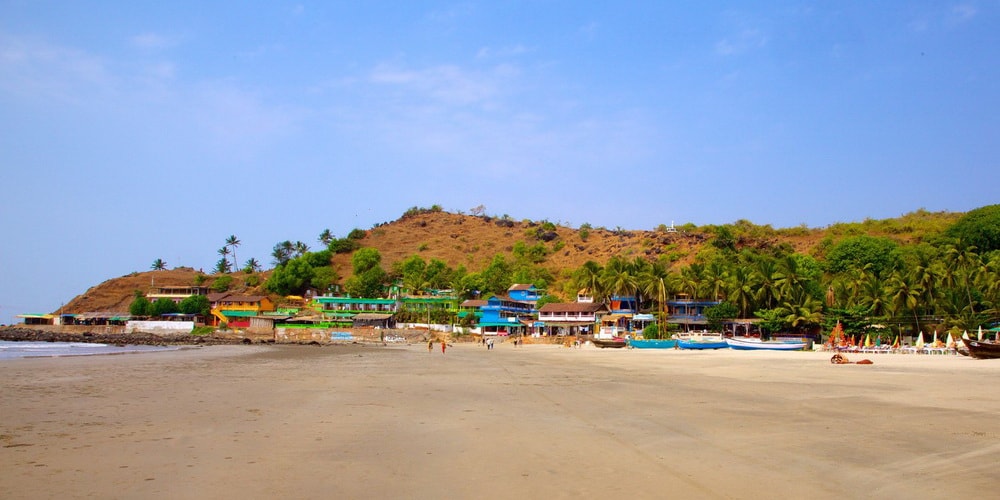 Arambol Beach
20.5 kilometers north of Anjuna, and 35.3 kilometers from Panaji, the state capital, Arambol is one of the northernmost beaches of Goa. Goa's border with the state of Maharashtra is very close from here. It is the last developed beach of the state.
16 kilometers long, Arambol is a sandy beach with a few rocky structures. It is a clean stretch with few tourists. Many Russians and foreign tourists. It is often a top pick with long-stayers and budget holidayers. Many palm trees line the shore, making this one of the greenest North Goa beaches. The Arambol Mountain rises at the northern end. You can try paragliding from here. There is also a small forest and a lake nearby. Good for hiking.
Visit the famous Banyan Tree, where The Beatles meditated when they came to Goa. You will find many meditation centers and yoga studios in the beach area.
But Arambol is also a top party destination. There are fire shows in the evening. Many foreigners play the Jimba. You can see Drum Circles too. There is also a flea market run by the Russians.
| | | |
| --- | --- | --- |
| Candolim-Calangute-Baga | North Goa | 3 beaches one after the other in a 7-kilometer-long shoreline. Sandy beach. Extremely popular with tourists. Many beach shacks, hotels, villas, restaurants, shops. Nightclubs. |
| Anjuna | North Goa | Sandy beach with rocky stretches. Popular with backpackers. Hot nightlife destination with rave and trance parties. Flea market close to the beach. |
| Arambol | North Goa | The northernmost developed beach in Goa. Popular with the hippies. Sandy beach with rocky structures. Tree lined. Paragliding. Popular with Russian tourists. Fire shows and parties in the evening. |
| Cavelossim-Mobor | South Goa | Serene and peaceful sandy beach. The southern end is almost completely deserted. Sal River meets the Arabian Sea here. Cruising, dolphin and bird watching. Top-end hotels and a few luxury villas. |
| Palolem | South Goa | One of the southernmost Goa beaches. Narrow sandy beach with backwater. Island nearby. Coconut groves. Party destination. |
4. Cavelossim-Mobor
Cavelossim and Mobor are two beaches in South Goa. Like Candolim-Calangute-Baga, this too is a single stretch of sand. They are both wide, sandy, clean, and secluded beaches. The Sal River meets the Arabian Sea here, making it a very interesting terrain. It makes a narrow stretch of land, with two water bodies on either side.
The southern end, where the Sal ends, is almost completely deserted. You will hardly find any tourists here, which makes it a great choice for a serene and relaxing holiday. There is a thick coconut and palm forest here.
Cavelossim and Mobor are both upmarket areas of South Goa. Only luxury resorts. The Leela and Holiday Inn, both 5-star properties, dominate. There are only a few beach shacks, where you will find guests from these two hotels. There are, however, a few luxury villas and guest houses on the river side.
The stretch is safe for swimming. There are water sports activities too. Bicycling is a favorite activity as there are so few people here.
Also try a cruise on the Sal River. There are bird and dolphin watching trips, and also fishing expeditions.
5. Palolem
Palolem beach is in a crescent shaped bay in South Goa, close to the state's border with Karnataka. This sandy beach is narrower than most others. However, the northern and southern ends are rocky. There are many coconut groves along the coast. There is also a backwater at the northern end, which goes in to a small forested area.
Unlike Cavelossim and Mobor, Palolem beach can get quite crowded. A lot of tourists have been visiting the beach, though it is quite far away from Margao, the largest city in South Goa. It is 38.7 kilometers from the city. It is about an hour and a half from the airport.
Palolem is also a party destination, like the many North Goa beaches. It is famous for the silent noise parties. There is also water sports here. You can cruise the backwater, or take a boat and visit the nearby secluded Butterfly beach, which is only accessible by sea, unless you are willing to trek through forest and hills. You can also visit the Kankon Island. It is accessible by foot during low tide.
---
Rate this article:
Rated

4.67

/ 5 based on

3

reviews.