Markets
Goa markets can be easily described as a dizzying feast of colors, smells and sounds. They are the preferred destination for commerce, entertainment and meetings for locals and tourists.
Fruit and vegetable markets and fish markets are in every tourist village and in all Goa's cities. Here farmers and fishermen are offering the fruits of their labor and sell.
In many places, there are flea markets and antique markets. Curiously, most of them were brought by the Europeans during the hippie invasion and the subsequent wave of tourists from the Old Continent. Some of these markets have over the years acquired a cult status not only as an attractive shopping centers, tourist attractions as well as attractiveness of the western coast of India.
Anjuna Fleamarket – of Goa's famous flea market. Closed on Wednesdays, from early morning to 7PM. The largest center of trade in clothing, souvenirs, accessories and all sorts of other goods.
Anjuna Nightmarket (Saturday Night Market) – Night Market and entertainment center, runs in his season (December-April), Saturdays from 6AM to an hour after midnight.
Nightmarket in Bagh – "cloning" market in Arpora, but far from the richness of the original.
Friday Market in Mapusa – Agriculture, Fisheries and clothing bazaar, known for a variety of products and is a landmark for consumer prices in Goa. Open all year. Normally, you can ask here if you want to buy some rare thing on the market in Mapusa, you get everything.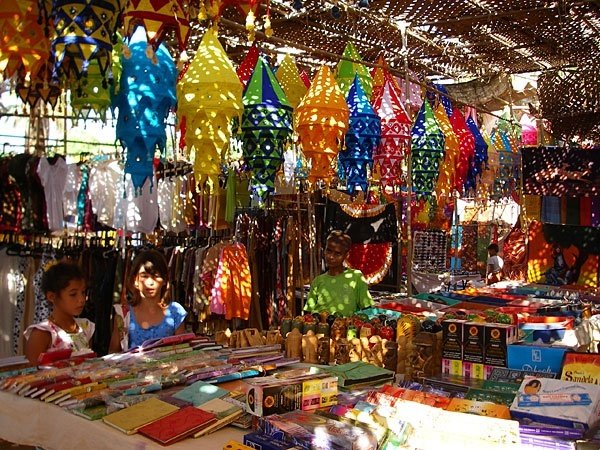 Market in Panadzhi – two-story building, covered combination of fruit and vegetables, clothing market. Open daily. Very popular tourist destination. As part of an organized tour in Panaji
Market in Маrgao – typical of an Oriental City Market, a huge area, where under ordinary goods are sometimes real hidden treasures.
Fish market (fish market) in Siolim — On the day and in the evening: or rather two markets. In the mornings, the market place at the bridge, and a 5PM trading begins at the turn of Morjim, compared to the Banyan. A variety of fish and marine animals.
Fish market (fish market) in Chapora — Open at night to 6PM.
Tibetan markets - the so-called series in the markets by Tibetan traders busy. They sell souvenirs, pictures, furniture, silver jewelry, semi-precious stones and pearls, which differs in design and quality. Tibetan markets, for example in Baga, Calangute, Colva. Tibetan merchants have to know that is not traded.
On Goa's markets, no matter how diverse or tightly follows one rule: no fixed prices. Labels prices are an uncommon practice on Goa's markets. The procedure usually is that you get to the dealer and ask for it as this or that his merchandise will. You can then advertise your own desired price if he agrees or not then that's the fun.