Table of contents
Morjim beach is in North Goa, next to Ashwem beach and the Chapora River. Morjim is famous as the nesting ground of the endangered Olive Ridley Turtle. There are many foreign tourists here. Most of them are from Russia, which is why, Morjim beach is often referred to as "Little Russia".
Morjim Beach is located in the northern part of Goa, 28.2 kilometers from the capital Panaji and 51 km from Dabolim Airport. It is 15.3 kilometers from Baga beach, another popular beach in North Goa, but this is in no way similar to Baga and the other busy beaches of the north. This is a quieter beach than the others in Goa's north. It is one of the northern most beaches of Goa. This 3 km long, wide and beautiful beach strip begins where the River Chapora meets the Arabian Sea, and where the Ashwem Beach begins.
Morjim Map
The beach is made of soft light sand. The sea is shallow, flat and fordable in some parts. This is what makes it a great place for swimming, even for those who are not experts. Kite surfing is a popular activity on the beach. There are small beach shacks and nightclubs, but they are away from the protected Olive Ridley sites, which are at the southern end of the beach close to the Chapora River's confluence. Most facilities are in the northern end, away from the protected areas.
Morjim is named after goddess Morzai. According to a legend, the goddess arrived here riding on a peacock (mohor in local language, which eventually became Mhor-Jim, and then Morjim), but others believe the goddess was fished out from the sea by local fishermen.
The beach is a part of a small but very cozy and beautiful Morjim village. There are many beautiful houses, villas and nice bungalows here. The landscape is a mix of palm tree grooves, paddy fields, ponds, forests, and cottages. The village and the beach is not "touristy", and gives off an authentic Goan charm.
Morjim Gallery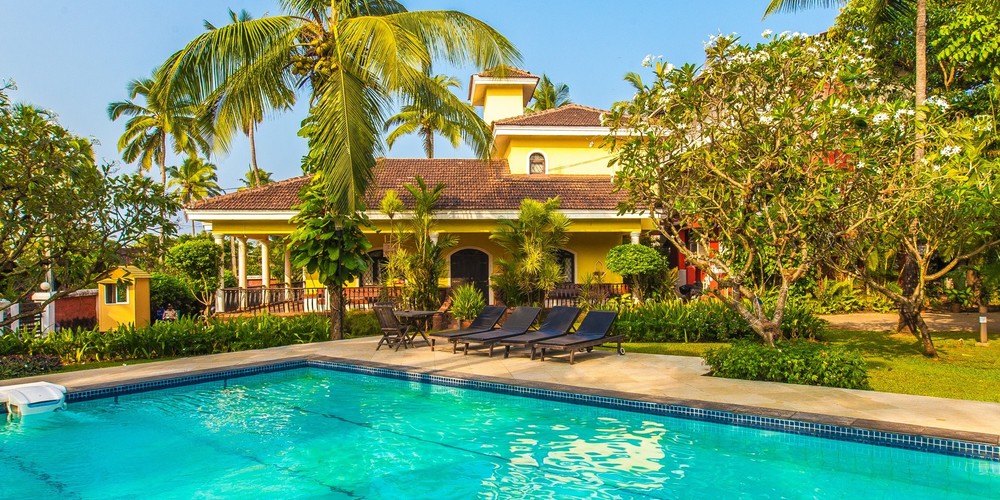 Luxury villa with direct access to the beach. 5* star service. Prime location of North Goa.
Villa for rent from 19 000 Rs. per night
Enquire / Get best deal!
Quick Facts About Morjim
Morjim is 28.2 kilometers from Panaji, 52 kilometers from Vasco da Gama via the NH 66, and 51 kilometers from the Dabolim international airport.
Morjim is quieter and more peaceful. It is one of the most tranquil North Goa beaches. There are many foreigners here, mostly Russians.
It is close to the most popular beaches of North Goa – Baga, Cabdolim, Calangute, Anjuna.
There is water sport on the beach – boat rides, water scooters, kayaking, dinghy sailing, and kite surfing, which is particularly popular here. Most water sport is at the north, as the southern end is a protected area.
There are beach parties and clubs, mostly at the northern side of the beach. There is a thriving nightlife here.

Morjim Beach is famous for the endangered Olive Ridley Sea Turtles. The northern end of the beach is a nesting ground of the turtles.
Chapora River is a birders paradise. There are many birds to see here – kingfisher, cuckoo, sandpipers, bay-backed shrike, sand plover, and others. Cruise on the beautiful Chapora River, and take pictures.
Chance to see dolphins. Short term and half day cruises on the Chapora River.
Visit Chapora Fort at the confluence of the river and the sea. Just beyond the fort is the famous Vagator Beach. Get amazing views of the shoreline, the sea and river from the top of the fort. There is a church inside.
Visit the Siolim Fish Market. Here you will find red and white snapper, lobsters, mackerel, tuna, kingfish, mussels, tiger prawns, squids, and much more.
Best Time Of The Year To Visit Morjim Beach
November to February is the best time to visit the Morjim beach. The weather will be more pleasant then with little rain, so you can spend more time on the beach. The beach shacks will be all open, and there will be parties. You can also rent a car or bike and visit some of the other beaches in the north and even plan a trip to the Chapora Fort without worrying about rain or heat. The summer is hot and humid, and the monsoon months are very wet. Most of the shacks will also be closed.
Weather
The summer months (March to early June) are hot. The temperature ranges between 32° and 36°C. Evenings are pleasant, but the humidity will be high, so you are likely to sweat. Avoid direct sunlight exposure between 11 AM and 3 PM. The monsoon (middle of June to early September) is not as hot, but there is a lot of rain. July and August are the wettest months. On some days there can be thundershowers too. Expect high waves and choppy sea.
Weather in Morjim
Month
Jan
Feb
Mar
Apr
May
Jun
Jul
Aug
Sep
Oct
Nov
Dec
Year
Average high, °C
31,6
31,5
32,0
33,0
33,0
30,3
28,9
28,8
29,5
31,6
32,8
32,4
31,3
Average low, °C
19,6
20,5
23,2
25,6
26,3
24,7
24,1
24,0
23,8
23,8
22,3
20,6
23,2
Average precipitation mm
0,2
0,1
1,2
11,8
112,7
868,2
994,8
512,7
251,9
124,8
30,9
16,7
2926
The winter (November to February) will be much more pleasant. It will be a lot cooler, the humidity will be low, and there is almost no rain. The sun won't beat down, so you don't have to worry about exposing your skin to UV radiation. A nice and pleasant wind blows in from the sea.
How To Reach Morjim
By Air — The Dabolim international airport is 51 kms from Morjim. Taxis are available for rent at the airport counter. Many flights connect the airport with Europe and the Indian cities throughout the day.
By Rail — The Vasco da Gama railhead is 52 kms from Morjim.
By Road — Panaji is 28.2 kms from Morjim.
Top 6 Reasons For Visiting Morjim
The Beach – A fantastic beach if you prefer peace and solitude. There are fewer people at Morjim even at the peak tourist season, so you will have less noise, less activity all around you, and more privacy. The 3 kilometer sandy beach is a delight. Lots of foreign tourists, mostly Russians. There are swaying palm trees all around. Fishing boats and nets on the beach. Just walk up and see the day's catch. Camel rides are available on the beach. There are beach shacks too, mostly at the northern end, as the southern part is protected.
Olive Ridley Turtles – See these endangered turtles at the southern part of the beach as they swim up to lay their eggs. The nesting grounds are covered in nets to protect the babies. But you can watch the eggs from outside the nets and see the babies as they are born and begin their crawl to the sea.
Chapora River Cruises – This will be a very relaxing and enjoyable trip, especially if you love nature. Choose from 1-hour, 2-hour, a half-day, and even an overnight houseboat cruise on the calm and quiet Chapora. There are sunset cruises as well.
Siolim Fish Market – Very close to the beach, just after the bridge. In the market, you will find a lot of fish, if you are planning to cook during your Goa vacation. Choose from tuna, mackerel, tiger prawns, lobster, white and red snapper, mussels, kingfish, squid, and more. Siolim is a beautiful village with a lot of greenery. So you can spend some time here, even outside the fish market, and perhaps visit a few chapels and old temples nearby.
Bird Watching – The sea coast and the adjoining Chapora River is heaven for bird enthusiasts. There are many avian species to be seen here including kingfisher, cuckoo, sandpipers, bay-backed shrike, and sand plover, among others.
Chapora Fort – This is an old fort on the other side of the river, but is very close to the Morjim beach. For those who like Hindi movies, this is the "Dil Chahta Hai" fort, as a section of the movie was filmed here. You will get an amazing view of the shoreline, the sea and river from the top of the fort. There is a church inside. Visit the fort in late afternoon and watch a gorgeous sunset from here.
Olive Ridley Turtles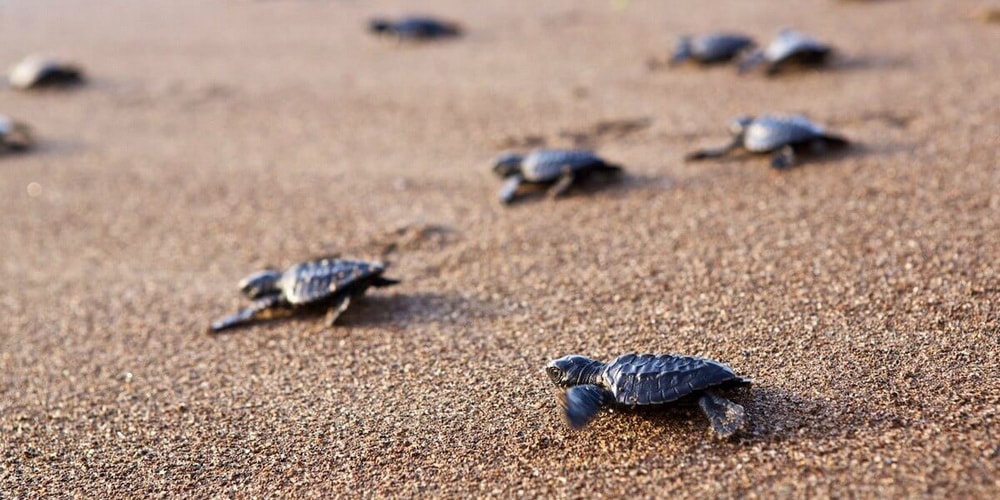 Morjim is one of the three beaches in Goa, which are major nesting grounds of the Olive Ridley sea turtles, an endangered species. The other beaches in Goa where you can see these turtles are Galgibaga and Agonda. At Morjim, the nesting site is at the northern end of the beach, close to where the Chapora River meets the sea. It is just beyond the Coco Resort, and the Paradise Beach Resort. This section of the beach is also sometimes referred to as the "Tortoise Beach".
Turtle nesting at Morjim used to be in the month of September, but over the years, this has got delayed. Now, most of these turtles arrive in January, and the nesting season continues till late March and early April. Some scientists and environmentalists believe that this is because of climate change.
Chapora River Cruises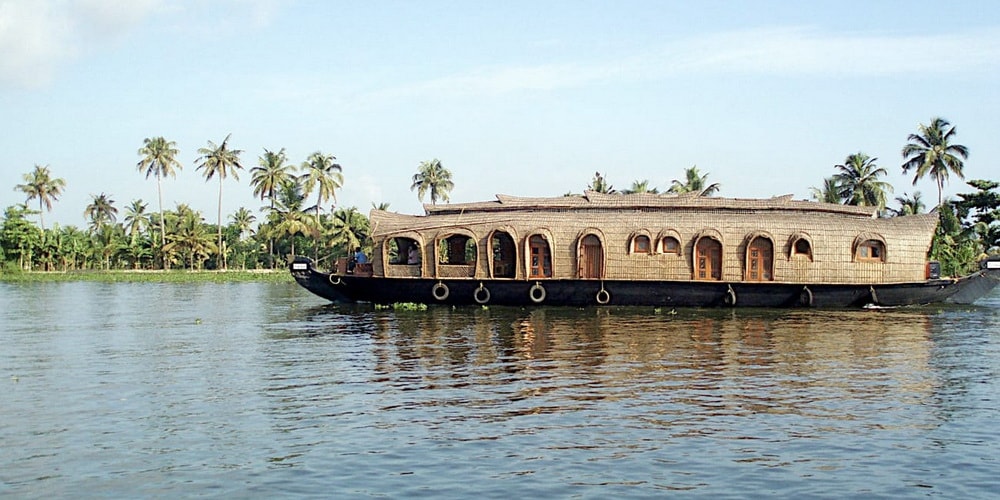 Chapora is a beautiful river in North Goa that flows west and empties itself into the Arabian Sea. There are many cruising options here, from short 1-hour cruises to overnight houseboat cruises. They start from Morjim and take you to many islands on the river – Eagle's Island, Arabo Island, and the Colvale Island. You can also see the Shantadurga Temple at Dhargalim. Lunch or snacks are served on the boat, depending on the duration of your cruise. Soft drinks and beer is also served.
Eagle's is a beautiful wooded island, while Arabo has its name from the Arab boats that used to come here once. There is a palace with stunning octagonal towers to see here. You can see crocodiles in low tide just after Arabo. Colvale is a lush island with tropical vegetation. Many cruises serve lunch here. You can swim as well in the pleasant conditions here. After lunch, visit a small village with ethnic colored houses. There is Seagulls Island as well where you can see plenty of birds.
Top 5 Best Restaurants
La Plage – At the northern end of the beach, La Plage serves continental and French food, and also seafood, including mackerel, sardines, and more. You will have breath taking views of the sea and sunset from here. Try the fried calamari with coconut sauce, lemongrass & papaya relish.
Jardin d'Ulysse – Located close to the Chapora River, it offers Italian, European, Indian, and seafood. Gluten free and vegan food is served as well. Very nice ambience, especially in the evenings.
Divine Gypsies – This is a great place for barbecues and a drink. The menu includes Indian, Asian, international and seafood. Owned by two brothers, they have kept the prices affordable.
Hakuna Matata – This laid-back open-air café is open between October and May. There is a chill-out zone with comfortable pillows and a bar area with views of the sea. Food includes Russian, French, Italian, and Indian preparations. Try their King prawns in butter garlic sauce.
Marbela Beach Restaurant – Located between Morjim and Ashwem beach, this sea-front restaurant is for the fine dining experience. Sit comfortably on the cushy, white sofas and enjoy the yummy food while listening to the lounge music.
Hotels
There are plenty of staying options in Morjim, including hotels, resorts, cottages, and guest houses. Most of the hotels are on the road that runs parallel to the sea, with a few of them located along the river, offering views of the Chapora. You will find both budget and premium properties in Morjim. However, there are no 5-star properties here. The most famous places to stay are:
Sur La Mer Boutique Hotel,
Morjim Club Beach Resort,
Pirache Village,
Rainbow Hotel,
Montego Bay Beach Village,
Marbela Beach Resort.
Villas
There are many good villas to rent in Morjim as well for your Goa vacation. The best villas here are The Riverlands villa, Villa Montain View, Boutique House, Villa Maia Lagoon, Villa Arabella, and the Villa Aria. Some of them are modern luxurious properties, while others are premium apartments or old colonial structures that have been wonderfully refurbished.
Ultra-luxury 5-bedroom villa with private pool. Complete privacy. Maximum comfort.

From 44 000 Rs. per night

Beautiful wooden 3 bedroom villa in Morjim with private swimming pool.

Starts from 20 000 Rs. per night

Large 4 bedroom villa. Close to all "happening spots" still in a quiet area.

Starts from 12 000 Rs. per night
* The price depends on the location, the season, and the duration of your stay. Properties with sea views cost more.
Our luxury properties offer modern amenities and facilities. You will have more space here, compared to the cramped hotel rooms. Plus, there is the garden area with greenery where you can have an outdoor picnic or a barbecue. Many villas have a private swimming pool. The entire property will be yours for the duration of your stay, so you will have more privacy. A villa is always cheaper if you are a large group.
---
Rate this article:
Rated

4.3

/ 5 based on

10

reviews.