Taxi from Dabolim International Airport
Dabolim International Airport is connected to the rest of the state with all forms of transport, but the most preferred and recommended for tourists is the state pre-paid taxi. The safety of the service is undeniable, and also it delivers to local rules and avoids people from having to bargain or having doubts about the price.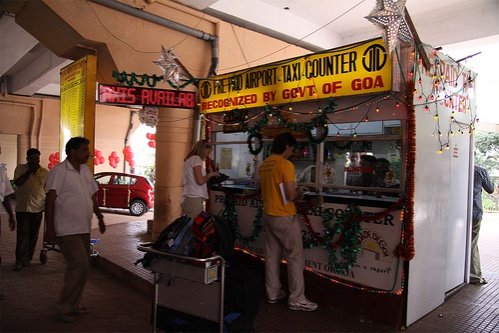 The parking of the public taxis is 30 meters to the left from the exit of the airport. There is a ticket office and next to it is the price list, that shows the distance and rates of daily travel to most of the beaches of Goa.
The photo of the price list is dated May 2012.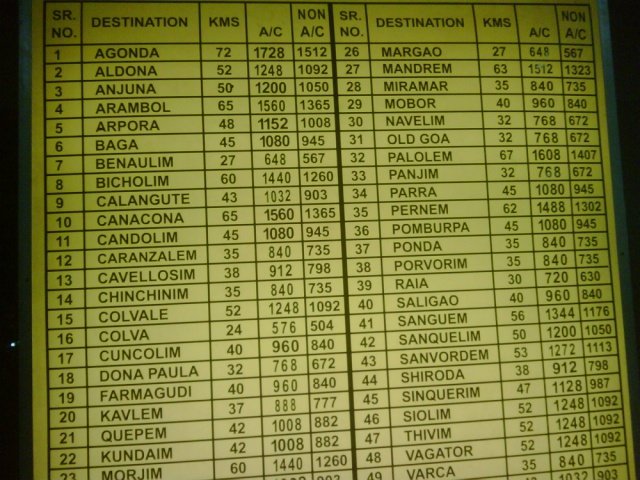 The rates vary depending on the availability of air conditioning in the car. "A/C" in the price means the car with air-conditioning and "NON A/C" means the car without air-conditioning. For example, the distance from Dabolim to Cavelossim is 38 km and travel costs 912 rupees in the air-conditioned car, and 798 rupees in the non-air-conditioned one. The prices are per car, not per passenger. From 23:00 to 5:00 it runs the night tariff which consists of the daily rate increased by 35%. An additional payment per piece of luggage is 10 rupees.
You decide whether you need air-conditioning or not, and pay the required tariff to the cashier. You will be given the receipt, which you pass then to the taxi driver.
The state taxi service accepts only rupees and cash, so you need to stock up in advance at least with a small amount of cash. If you don't have rupees, you can exchange money at the airport. The conversion here is usually very bad, so it is recommended to exchange only small amounts. Another option is to apply personally to someone in the parking lot of the taxi drivers and agree to pay on arrival, having a stop nearby an exchange. Some drivers also take dollars for payment.
The public service pre-paid taxis are like normal cars and minivans that can set up to 6 people with their luggage. The drivers speak English.