Table of contents
Basilica of Bom Jesus is a 16th century Baroque Catholic church in Old Goa. One of the oldest churches in India, it is also amongst the most famous churches and convents in the entire Christian world. A UNESCO World Heritage site, it houses the tomb and mortal remains of Saint Francis Xavier. Basilica of Bom Jesus is very close to the southern bank of the Mandovi River. A major tourist attraction of Goa, it is 12 kilometers from Panaji by the NH748.
The church is 3 storied and has a red laterite stone façade, which looks very impressive from the outside. It has a tiled sloping roof, basalt pillars, and the walls are of made of black granite. You will see Corinthian and Doric influence in the architecture. Basilica of Bom Jesus is Goa's only church that is not plastered, having a laterite outside. See small Latin and Portuguese inscriptions in the pillars and walls of the church.
Basilica of Bom Jesus Map
Gallery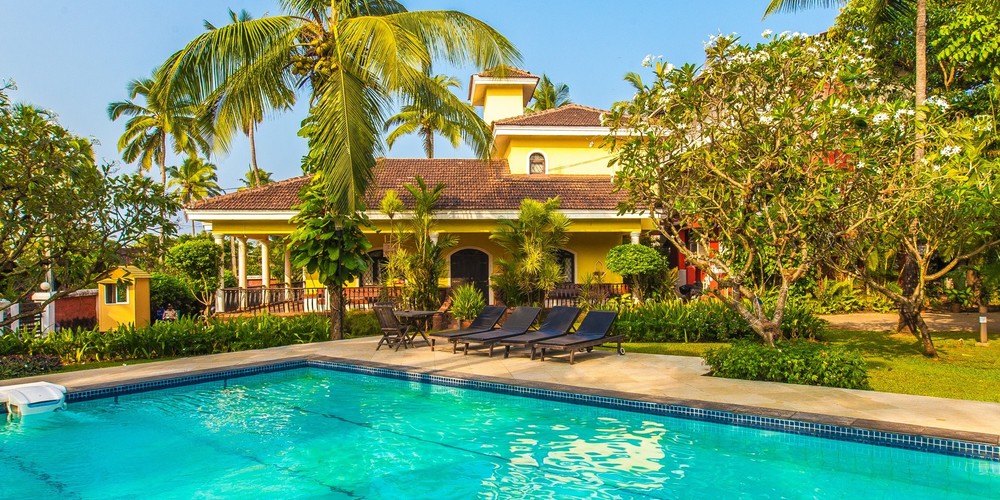 Luxury villa with direct access to the beach. 5* star service. Prime location of North Goa.
Villa for rent from 19 000 Rs. per night
Enquire / Get best deal!
History of Basilica of Bom Jesus
Basilica of Bom Jesus was constructed between 1594 and 1605, making it more than 400 years old. Archbishop, Dom Fr. Aleixo de Menezes consecrated the church a year later in May. The church was given the status of a minor basilica in 1946. The mortal remains of Saint Francis have been kept here since 1554 after his death 2 years before while he was going to China. It attracts a lot of tourists, both Christians and others. It is believed that St. Francis Xavier had miraculous healing powers.
This is Goa's only monument that does not have plaster. But Basilica of Bom Jesus did have plaster before. It was removed by a Portuguese conservationist who thought that by removing the plaster, the carvings on the façade would be better preserved.
Bom Jesus means 'infant Jesus' or 'good Jesus. On top of the façade see the letters, 'HIS', the first 3 letters of Jesus in Greek.
Basilica of Bom Jesus – Quick Facts
What is it?

16th century Baroque Catholic church. One of the oldest churches in the country, and the first minor basilica of India.

Where is it located?

In Old Goa, beside the Mandovi River. 12 kilometers from Panaji by the NH748

Construction

3 storied building made of red laterite stone with sloping roof. Corinthian and Doric architecture.

Year Constructed

Between 1594 and 1605

Consecrated in

1605 May by archbishop, Dom Fr. Aleixo de Menezes.

What to see

Tomb of St. Francis Xavier, Latin and Portuguese inscriptions, carved columns, main altar, statue of St. Francis Xavier, paintings.

When to visit

Monday to Saturday – 9:00 AM – 6:30 PM

Sunday – 10:30 AM – 6:30 PM
1 hour should be enough at the basilica
There is no entry fee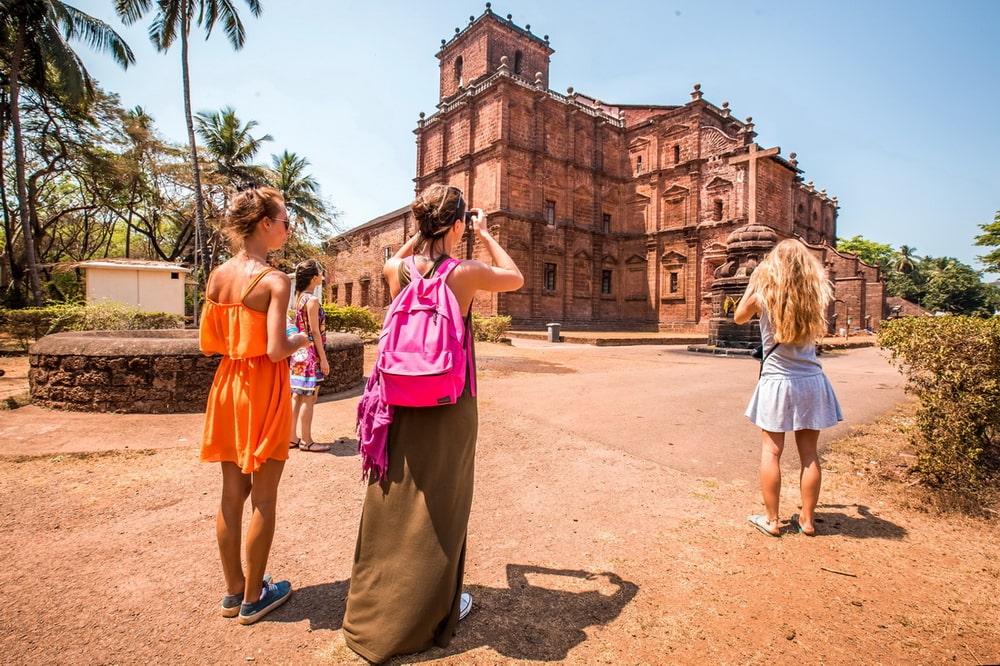 Inside The Church
Inside, there are precious stones in the marbled flooring. Look at the gilded altars, which are elaborate. The interior is quite simple, though. See the big St. Ignatius of Loyola statue. He was one of the main companions of Francis Xavier. In the church, there are also many paintings from the life of St. Francis Xavier.
There is an art gallery at the upper level that houses the work of Dom Martin, the surrealist painter from Goa.
Highlight of the visit is the remains of St Francis Xavier, which you will find at the right of the altar. His body was first taken to Portuguese Malacca, but later shipped to Goa. It was installed within a silver casket with a mausoleum on top. It is believed that the saint's body was as fresh on arrival as the day of his death. The remains attract many tourists, particularly during the public viewings. The last viewing was held in 2014. Viewings are held once every 10 years.
See the Professed House of the Jesuits next to the basilica. This 2 storied building is also made with the same red laterite stone. It is older than the church. A part of this building burned down in 1633. It was rebuilt in 1783.
Feast of Saint Francis Xavier
On December 3 rd feast of Saint Xavier is held at the church every year. Hundreds of pilgrims visit the church on the day for the feast after a devotional novena, which is held over 9 days. There are many festivities and open-air masses at this time.
What To See Near Basilica Of Bom Jesus
Church of St. Francis of Assisi – 17th century Catholic church
Sé Catedral – 16th century Portuguese cathedral
Viceroys Arch – Archway near the Mandovi River
Church of St. Cajetan - One of the best preserved historical sites in Goa. Modeled on the St. Peter's Basilica of Rome.
Archaeological Museum – Showcases pillars, wooden sculptures, stamps, and portraits from pre-historic to the late medieval period of Goa.
The Basilica of Bom Jesus and Old Goa is a good day-trip from Panaji. Make sure to see several attractions on this trip. You can leave after breakfast and return later afternoon.
---
Rate this article:
Rated

5

/ 5 based on

3

reviews.