Power Cut in Goa
What should I do if there is a power cut?
Goa Tourism, the resort, hotel, and villa owners, staff members, and even the locals do everything to ensure the tourists have a great time here. The state's economy is heavily dependent on tourism. Most tourists as a result, return happy, and promise to come back again. However, there is one problem that bothers the locals, everyone in the tourism industry, and the visitors – the power situation in Goa.
A power cut is a period of time when the electricity supply to a particular building or area is stopped, sometimes deliberately.
There are frequent power cuts across the state, even in the resort areas. Usually it comes back quickly, sometimes in just a couple of minutes. But there are occasions, when you may be left without electricity for half an hour, or even an hour. On some days, when the situation is especially bad, there can be power cuts for 2-3 times in a day. Planned power cuts are usually during the daytime when most of the tourists are at the beach or away sightseeing. It becomes a problem if there is a sudden cut in the evening or the night. You will be left without fan, air conditioning, and your charger too won't work.
It is worst in the monsoon because of high winds and occasional thunderstorms. If the palm leaves or trees hit the lines, then it takes a long time to repair, so you may be left without power even for the entire day. There have even been instances when there was no electricity for a couple of days.
What Is The Problem?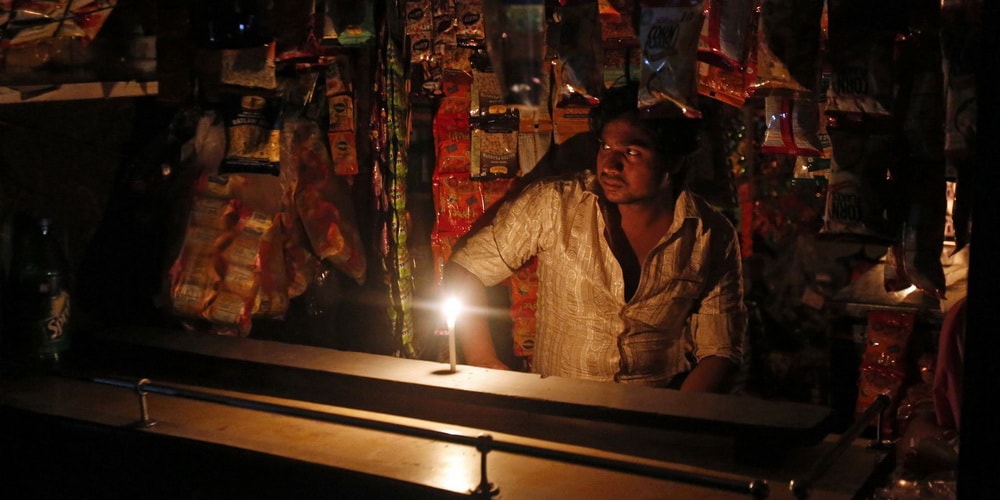 A shopkeeper during a power-cut in Goa
Blame it on the demand-supply gap. There is frankly not enough electricity to meet the demand, as the state does not produce its own electricity. Goa gets power from the National Grid where each state has its own quota. There is never enough for Goa as the country has a whole needs more electricity than what it produces.
Goa has plans, though, of making its own power to solve the electricity crisis, and has already made plans to acquire a coal block. But there are two problems. There is a scarcity of space to set up the plant, and second, the high cost of maintaining a coal plant. Power tariffs were recently hiked, amid protests.
There are also plans of installing solar panels to generate 150 mega watts of power. But it is still in the planning stage.
What To Do
Stay at a villa where there is power back up. Check before making the booking.
Most good hotels, resorts, villas, and luxury apartments have generators that can keep you covered for a few hours. But this will not help if there is no power for the entire day. However, such instances are rare in Goa.
Have a few candles with you in case you need them. You will find them at the local shops and super markets.
Keep your mobile charged so you won't be in trouble if the power goes.
Conserve power whenever you can. Switch off the air conditioning, fan, and light if you are not using them.
Remember, Goa's power comes from coal, fossil fuel, which has a limited supply worldwide. One day, the world will be left without any fuel.
---
Rate this article:
Rated

3

/ 5 based on

2

reviews.