Goa refers to the limited range of exotic destinations, suitable for families with children. As you know, Goa is not like other states of India, where European culture has had a profound impact on the way of life of the local population in all its manifestations. In this "European" state even parents of infants will find suitable conditions for both short stay and the long stay with the child. Many European families with children are carried out, if not a year, then at least the winter months in Goa. The winter weather at Goan coast is warm and sunny, not too hot, the air temperature and the water of the Arabian Sea is almost the same. By all accounts, the South Goa offers more favorable environment for children, because its resorts are quiet and comfortable, wealthy tourists come there. The cleanest and the best beaches are in the area of Mobor, Cavelossim, Varca.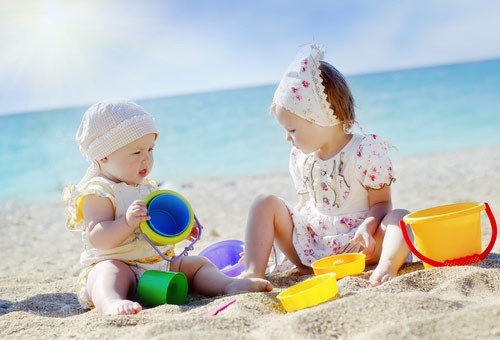 The questions that are most often concerned parents who are going on holiday in Goa with children of the age of 1-3 year; how to feed the baby and how to protect its health.
Definitely baby's food is not a problem in Goa. In chemist's they sell a variety of mixes and cereal with fruit and vegetables, and also is the issue with cosmetics, diapers and other hygiene products for children. The chemist's is available in all cities and resort villages.
Do not expect to find in Goa the same products, that are used in Europe, but the quality is quite satisfactory. In the shops you can buy puree in jars, oat flakes, various cereals (but there is no buckwheat), rice, peas, milk, yogurt with excellent taste. Fresh meat and fish are sold in the markets. The best option for vocation with a child is to rent an independent house with a kitchen, where you could easily make for it the good meal. The restaurant also serves a suitable food, even if it's not on the menu. The staff in Goa is very kind and always tries to serve guests as best as possible. Just ask them to do all of your orders and to "forget" about the spices. By the way, Goan kitchen is not too spicy by Indian standards, and in many places there serves normal and continental food. But the best thing that can get your kid to Goa is an incredible variety of excellent quality fruits: papaya, mango, bananas, watermelons, apples, pineapples, all kinds of citrus fruits and other. Vitamins and sunshine galore, fresh sea air and warm sea will help your child not only to spend good time, but also to improve its health.
In tropical climates there is the risk of intestinal disorders. This problem can be overcome by following some important hygiene and health rules that apply, however, everywhere: Wash hands often, drink only bottled water, do not feed the baby with the sea gifts, do not keep it long under the open sun, drive to the beach in the morning to 11 00 and in the evening from 16:00.
It's recommended to buy health insurance for you and your child before you go. In this way you are guaranteed to have the high-quality medical care at no extra cost, in addition you will always know who to contact in case of need. In the insurance documents there listed doctor's phone who will come to your room.
In Goa medical service is at the good level, there are the network of hospitals, clinics, doctors' offices and dentists. Among the hospitals is often recommend Vintage Hospital in Panaji. The emergency telephone number is 102.
There is no need to do some extra children inoculation.