In Goa, almost all modern technologies to access the Internet. As a supplier to the mobile operators, and there are also providers of DSL and cable Internet.
The easiest way to gain access to the network is to choose for your stay in Goa for a property with installed Internet. Many villas, hotels and guesthouses offer wireless, so you only need to connect your computer. In addition, every day there are a growing number of restaurants, cafes and other public places where Wi-Fi Internet access is available. Sometimes the service is paid separately, but in some cases it is the whole package.
For those who want to travel to Goa, the mobile Internet is ideal. Most vendors are: Idea, Airtel, Vodafone, Reliance, MTS, Tata. Supported standards: GPRS 2G, 2.5G, EDGE, WCDMA (UMTS), CDMA, EVDO 3G. Such as a modem, you can buy a cell phone or a special USB modem, depending on the choice of the type of connection. GPRS technology provides the widest coverage, but the connection speed is barely 30 KB. The advantage is that you get access directly to your mobile, and all modern mobile phones support 2G protocol. The activation is made easy via sms and the operator provides data directly. 3G terminal via a high-speed modem is up to 3.1 Mbit. USB modems are sold in the shops and offices of mobile operators. The modem price is an average of 1,500 rupees. Unlimited minutes of 500 rupees.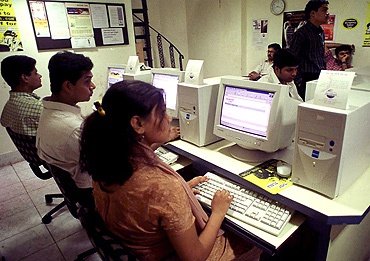 The tourists who travel to Goa for a short time and do not require constant communication are very satisfied with the Internet service clubs and Internet cafes along the coast. In some places, the devices usually are outdated, and just give a slow connection, but are stable, so you can send e-mails or to communicate on Skype. The price is like 40-80 per hour, depending on the area in which you are calling. In some places you can turn your own computer.
For those who travel to Goa for a long time, and for whom it is important to have a constant high-speed connection to the web to have, is the most appropriate option wired Internet. This type of Internet connection is available in most Anesen and villas.
Largest ADSL provider: BNSL and Sify Broadband. Rates are different. For example, by postoplachivaemy BNSL, unlimited, but at a rate of 4 Mbit / s to 8 GB of traffic and 512 kbit / s to 8 GB costs 900 rupees a month. The modem is free under contract. The disadvantage of this option is that the connection with only a few places is limited, and there are long waiting lists. But almost everywhere you can to install Internet by cable operators. Rate models, with easy connections one can get, but usually is paying for the installation of the modem and the Internet around the 6-7 thousand rupees.