Feni
Table of contents
Feni (liquor) is an alcoholic drink of Goa made from cashew or coconut. It is the most popular drink of the state, taken by both the locals and tourists. It is not commercially produced in large quantities, as most of it is hand-made, and is completely natural. About 4000 distillers in Goa make Feni drink, 70% of which is for home consumption. The rest is sold in the market. You will even find a few bars and restaurants that sell Feni. The alcohol content varies between 42.8% and 45% abv. Feni produced in south Goa generally has higher alcohol content (43% to 45% abv).
/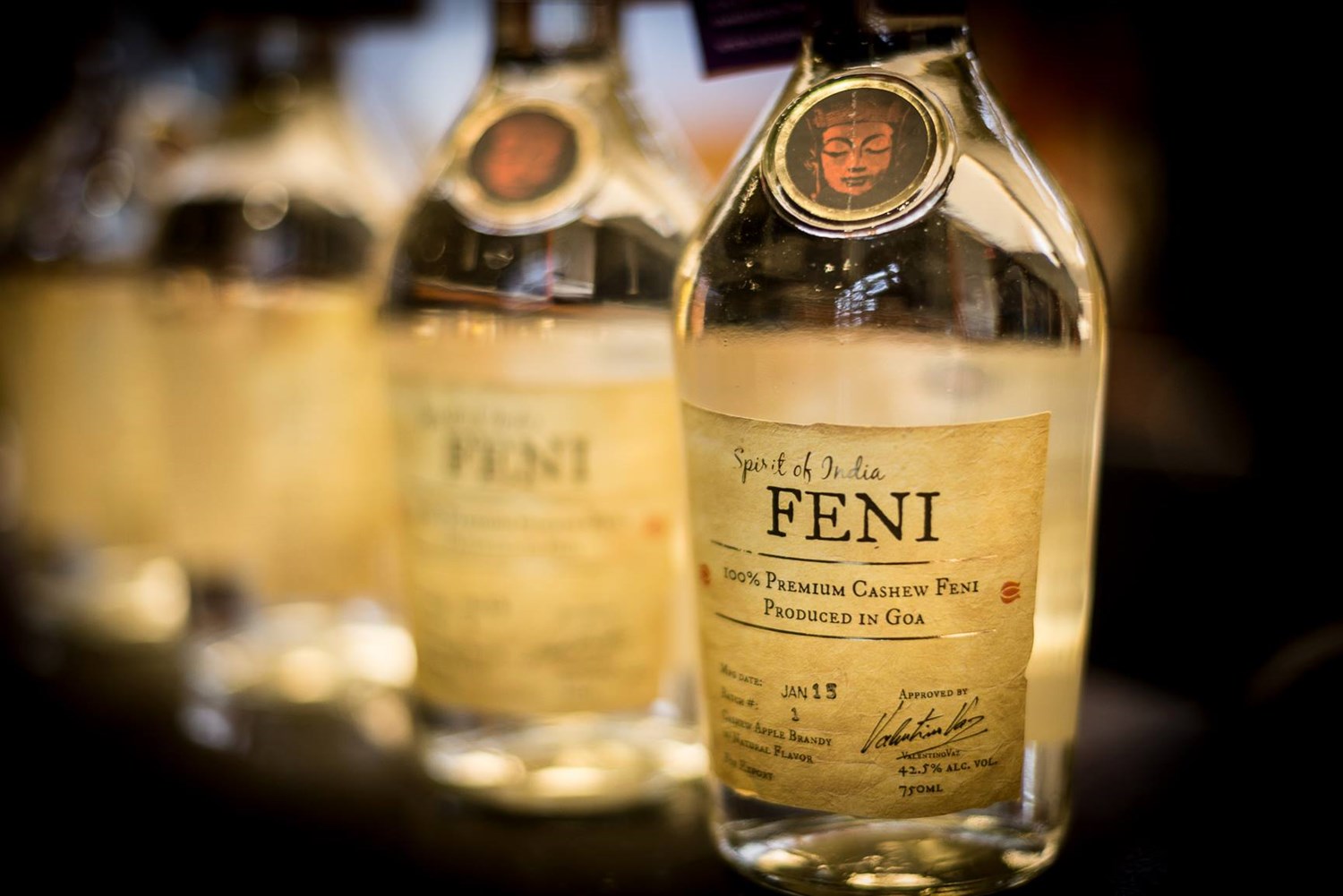 Feni in Goa
History of Feni
People in Goa have been drinking Feni for more than 400 years. Hand-made, this completely natural drink goes back to the days of the Portuguese rule when they arrived in Goa in the 16th century. Like the vindaloo, saanas, sorpotel, and bebinca, Feni too is a legacy of the Portuguese. But according to others, Feni was made in Goa even before the Portuguese arrived. It was mainly coconut Feni, though. Cashew Feni and other varieties developed because of the Portuguese influence.
The name Feni comes from the Sanskrit word phena, which means 'froth', because of the bubbles that form when the liquor is poured or shaken in a bottle.
It is believed that Feni was first made at Satari, a sub-district and densely forested area of north-east Goa, close to the state's capital with Maharashtra. A few villagers used to make the drink from coconut for personal consumption. Goa, a coastal state, always had abundant supply of coconut. Now of course, Feni is made throughout the state. But the variety differs from region to region. Feni made in the south, for instance, has higher alcohol content.
Cashew Feni received Geographical Indication in 2009 so it is protected legally like tequila or champagne. So technically, cashew Feni cannot be made anywhere else, except Goa. It is colorless, but develops a golden brown tint when it is kept in wooden barrels. Coconut Feni is yet to receive G.I. or Geographical Indication.
Goa's Feni – Quick Facts
| | |
| --- | --- |
| Feni is the most popular alcoholic drink of Goa. It has been made in the state for hundreds of years. | There are many varieties of Feni. But the 2 most popular types include Cashew Feni and Coconut Feni. |
| Cashew Feni is made from the flowers of the palm tree. | Coconut Feni is made from ripe apples that fall into the ground naturally. The apples are not plucked from the trees. |
| Coconut Feni is distilled twice. | Cashew Feni is distilled thrice. |
| Coconut Feni goes back to before the arrival of the Portuguese colonists. | Cashew Feni came later. This type and other varieties were influenced by the Portuguese. |
| Feni available in south Goa generally has higher alcohol content. | In south Goa, you will find mostly coconut Feni. The cashew type is rare. |
| Unlike other alcoholic drinks, Feni will not give you a hangover. | Many believe there are health benefits of drinking Feni. It can combat flu, cough, and common cold. The locals believe Feni is more effective than cough syrups in clearing up the respiratory system. |
Top 2 Types Of Feni
Feni was first produced with coconut. But now, there are many types of Feni available in Goa. Having said this, there are mainly 2 types available. They are,
1. Coconut Feni
Coconut Feni is made from the flowers of the palm tree. The juice is first collected from the flowers in a process called 'toddy tapping'. The tapper is called the 'rendier'. This process to collect the toddy has been practiced not just in Goa, but the entire south-east Asia for centuries.
An earthen pot called 'damonem' or 'zamono' is placed at the base of the coconut leaves. Toddy gathers here after tapping with a stick. This toddy is collected twice every day, in the morning and evening.
It then flows into a second container called 'dudhinem' after flowing down the tree. Finally, it is poured into a clay pot.
It is kept in another pot called 'jhallo' or 'monn' for 3 days for fermentation.
The Feni is prepared in a distillery called 'soreachi bhatti'.
Coconut Feni is distilled twice. The first product, which has 15% alcohol content, is known as 'mollop'. It is then mixed with toddy in 4:1 ratio and distilled again.
2. Cashew Feni
Also called 'kaju feni', kaju being the local name for cashew, this is made from ripe cashew apples. However interestingly, only those apples are selected that have fallen to the ground. They are not picked from the trees. They are then de-seeded and kept in a place for stomping, which is called 'colmbi'. Stomping brings out the juice. This has been the traditional processes followed for a long time.
Increasingly now, a pingre cage is now used for the stomping.
The pulp is pattied by hand into small mounds and a weight is kept on the top. This brings out the juice (neero), which can be consumed.
Traditionally, the juice has been transferred into a large pot and buried into the ground for three days for fermentation. But now, plastic drums are being used for storing instead of pots. Many however still use the pot.
It is then boiled in an earthen pot. Copper pots are increasingly replacing these earthen pots used for boiling. They are called 'bhanns'.
Cold water is poured continuously or a coil is immersed in the cold water for condensing the distillate. The distilling process is called 'bhatti'.
No nutrients or artificial yeast is added for speeding up the process.
Cashew Feni is distilled thrice. The first distillate, called 'urrack' has 15% alcohol content. It is then mixed with neero and distilled again to obtain 'cajulo'. Finally, cajulo is distilled again with urrack to obtain Feni.
How To Drink Feni
Feni is pure in its form, ice-cold, hot or in cocktails. However, its taste and smell can be unusually strange to Europeans. The aroma of the drink is very strong. You can be overwhelmed by the boldness of this drink. It can be smelt from a distance. Remember, Feni can be very intoxicating if taken without water. But the drink will not give you a hangover next morning.
The natural way to drink Feni is from coconut shells. There are shops on the beaches that will serve you the drink in this way. You can have it with seafood. Many even add a slice of lemon or sprinkle some salt on their drink. Others drop a slit of green chili. This way, your Feni will have a nice bite and zing.
Feni is now available outside Goa too. In the US for example, it is found in cocktail menus. Proxi in Chicago serves Feni with Manhattan in a drink that is called the Long Layover. In Goa, you will find Feni in many taverns as well, apart from the beach shops. The popular brands include Cashyo, Reals, and Big Boss.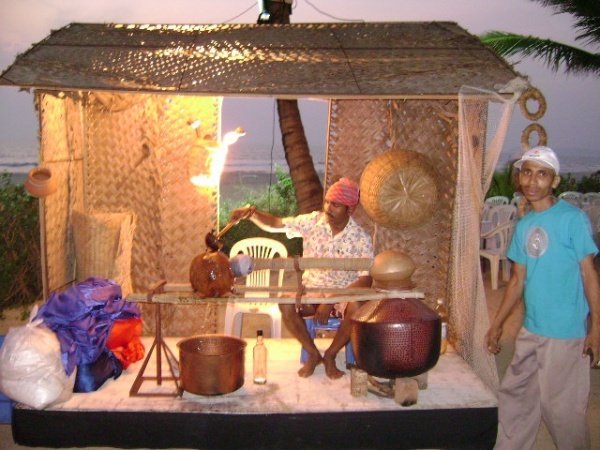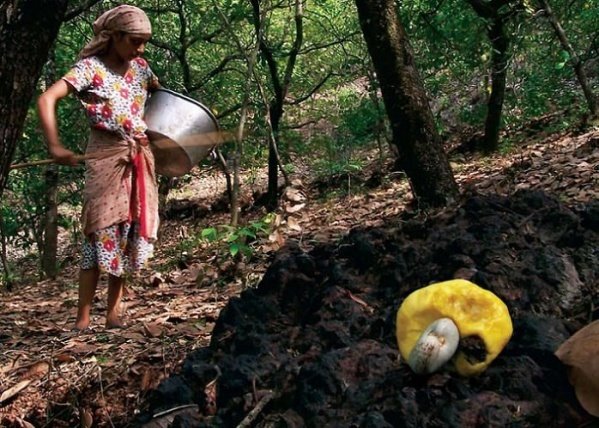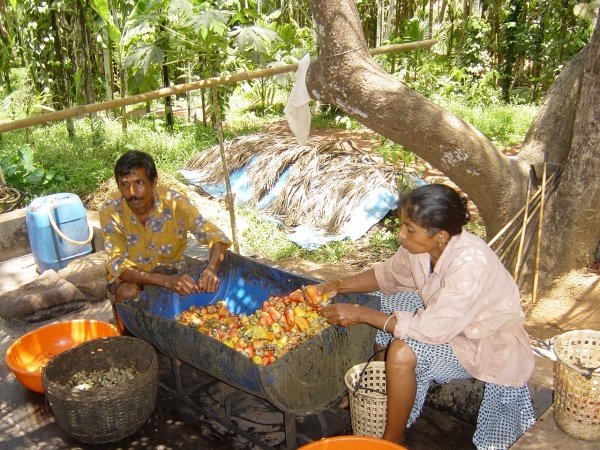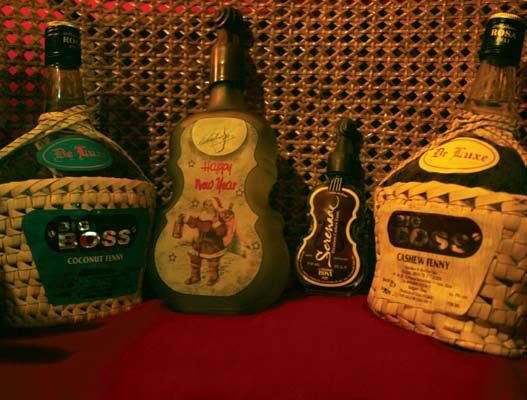 Where to drink Feni in Goa?
Luxury 3-bedroom villa with its own private pool. Great location.

From 18 000 Rs. per night

Ultra-luxury 5-bedroom villa with 5* service. Private Pool. Riverview.

From 50 000 Rs. per night

Large private pool villa in prime location of North Goa.

From 19 000 Rs. per night
---
Rate this article:
Rated

3.73

/ 5 based on

22

reviews.