Dolphins in Goa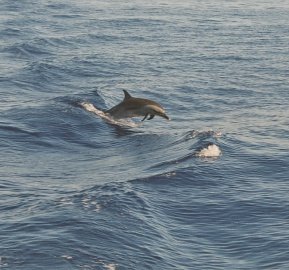 The dolphins that live in coastal waters of Goa are generally from the species of Indo-ocean humped dolphins Sousa. They are characterized by the noticeable hump and the extended back flipper of adult species. The dolphins Sousa reach in growth from 1, 8 to 2, 4 meter and in weight from 100 to 139 kg. They are under law protection as an endangered species.
The humped dolphin meets along the whole coast of the Indian Ocean from South Africa to Australia. He adheres to direct nearness to the coast; therefore it is possible to watch the eyeful of the playing dolphins even from the beach strip, it loads with positive emotions and energy.
However, you may realize that it is not as simple as just to come to the beach and to see the dolphins in front of you. If you want to watch this performance, you need to wake up early in the morning. Besides, when it's the strong wind, dolphins won't come to the surface so it is necessary to choose the suitable weather.
Many local owners of water vessels and also travel agencies offer sea cruises for dolphin trips. Boat trip to habitats of dolphins are very popular among tourists, and children always delighted.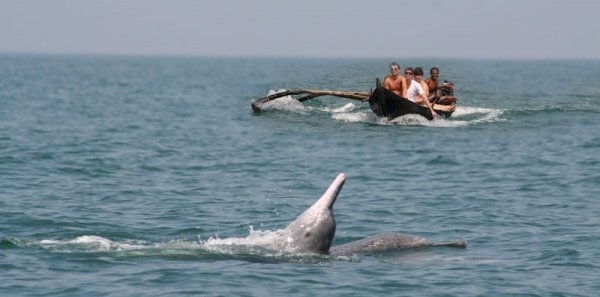 It is recommended to take such trip early in the morning when the living creatures in waters of the Arabian Sea feel quieter. The experienced also advise not to try to swim together with dolphins because skin of humped dolphins is abrasive and your own skin can suffer from this contact. The opportunity to watch them from the coast or from the boat board is exciting and unforgettable experience.