Shopping with and for children
Table of contents
Shopping for children in Goa, is like everything else in diesm relatively "European" state of India and carries the stamp of the interpenetration of the two cultures and his commitment to the development of civilized tourism. Along with colorful markets where you can buy a variety of household items, clothing and toys, but modest in quality and price, there are several modern shopping malls and stores with brands for European tourists. In general, the prices are 20-30 percent lower than in the UK.
BIG G
BIG G — shopping centers for families shopping in Margao and Panaji. After the unanimous opinions of tourists that is bigger and better in Margao. BIG G — Margao is very proud of the fact that the American film superstar Julia Roberts there bought gifts for the family during your stay in Goa.
Both multi-storey wholesale markets sell women's, men's, children's and baby clothes, toys, cosmetics, fragrances, jewelry, home furnishings and more. Here you will find products such as U.S. Polo, Adidas, Wrangler, Levi, Van Heusen, Louis Philippe. The shop also sells ethnic products in Margao and the top floor has a great family restaurant.
Address:
Isidore Baptista Road, Margao (shopping street begins at the Church of Our Lady Of Grace)
Dr. Dada Vaidya Road, Panaji (near the Mahalaxmi temple, near the Chinese restaurant)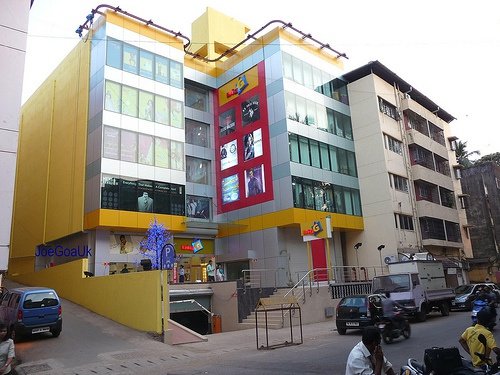 Poshak
The hypermarket POSHAK sold clothing and accessories for all ages and genders. Offices in Panaji and Mapusa. Very large departments for children and infants, the clothes and products (European style) for sale for the care of the child. Branded products (Allen Solly, Euro, Fisher Price, Jockey, etc.) and mass. Opening times from 9.30 bis 20.30 clock. Credit cards accepted as payment
Address:
Trinora complex environment Navtara from the hotel, opposite the Municipal Market, Panjim.
Cosmos Darshan, near Bardez Bazaar Morod, Mapusa
Lilliput
Lilliput Baby shops in Margao and Panaji offer a good selection of clothing and shoes for children from birth to 10 years, as well as products for child care, toys, baby furniture, strollers, walkers, sports equipment, accessories and more, sold his own brand. Good reviews on the quality of his shoes. Prices are moderate. Opening times: 10:00 - 21:00 clock.
Address:
Shop No. 5, Guru Sai Plaza, Pajifond, Isidora Baptista Road, Margao (shopping street begins at the Church of Our Lady Of Grace)
MG Road, Panjim (the main shopping street of Mahatma Gandhi, to Cafe Coffee Day)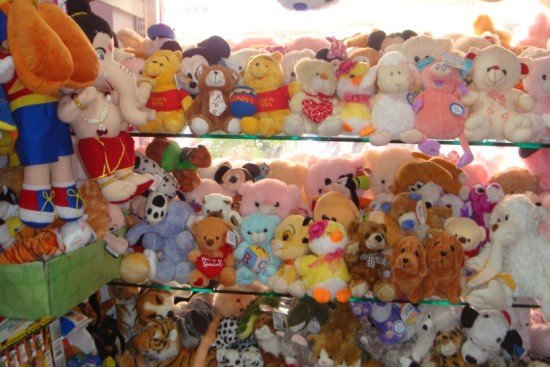 Walk Over Totally Toys
'Walkover Totally Toys' is located in Panaji, in the urban market, besides Poshak. This is probably the largest toy store in Goa. He sells toys, dolls, books, educational games, puzzles. There is a good selection of products for child care, clothing for babies, nets and accessories, cribs, strollers, car seats, children's tent, inflatable pools, slides, swings, bikes. Sold as branded products (eg, Fisher Price, Play School), and mass. Opening times: 9:30 - 20:00 clock.
Address:
Trio Nora Apartments, Muncipal Market Area (opposite the police station)
Weekender Kids
Weekender Kids children's shop in Panaji, one of the pioneers of retailing in India, offers its own brand of clothing. The products are intended for children 2 to 12 years and for teenagers from 20 to 30 years.
Address:
Ground Floor, Alfran Plaza, MG Road, Panaji
Karmally's Gifts Shop
'Karmally's Gift Shop' in Panjim has a good selection of children's toys, creative kits, books, games, products for babies on the second floor of the building. Provides delivery of a catalog.
Address:
F-1, Karmali Glass Tower, Opp.traffic Cell, Panaji
Nearby is a business with products and brands Fisher Price, where you can buy toys from a range of products, as well as a catalog.
Gini & Jony baby clothing is sold at Gjffl in Margao. Opening times: 10:30 - 21:00 clock. Brands: Gini & Jony Happy StlE, GJ Baby, GJ UNLTD jeans, Gini & Jony Palm Tree. Address: S1, Dattagiri, Varde Valaulikar Road, Margao (opposite the Beauty VLCC)
With your shopping trips, you should not ignore the traditional markets of Goa. Sometimes one finds in this jungle of very decent quality merchandise at low prices.