The Shri Mallikarjuna Temple in Canacona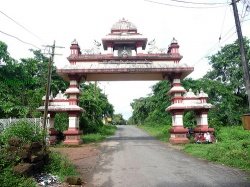 The Shri Mallikarjuna Temple is one of the most famous Hindu temples in Canacona region in particular and in the South Goa in general. This great historical construction and amazing cultural monument is dedicated to Mallikarjun God, who was, according to legends and believes, a reincarnation of Shiva – a major Hindu deity, and the Destroyer or Transformer among the Trimurti, the Hindu Trinity of the primary aspects of the divine. The Shri Mallikarjuna Temple is situated near the village of Sristhal, just 3 km to the south-east from Chaudi municipal center.
According to the legend this place became a holly one after the Great Battle when Shiva defeated Malla Demon and saved one of Pandava's Brothers - Anjuna (the greatest warrior, the son of the king of gods and an ambidextrous master archer).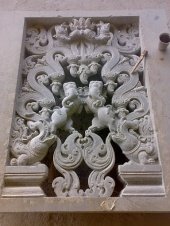 The Temple was built in the 16th century and was reconstructed few centuries later. The Shri Mallikarjuna Temple has more than 60 Hindu Gods' idols placed here. The architecture of the structure differs from other temples with its impressive wooden carved columns decorated with silver. One of these columns was used as an Oracle, which tells fortunes by flowers petals.
The Shri Mallikarjuna Temple, which is located in a very much beautiful green valley and surrounded by hills, is the place for many important for local citizens festivals and traditional holidays such as Jatra, Veeramel, Avatar Purush and others conducting.
To get to the Temple is not a difficult task to do. You should drive NH66 Highway into the Chaudi-Karwar direction, and on the first crossroad turn right. Also you can take a taxi to reach this magical historic-cultural place.