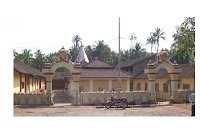 The Parashuram Temple is located in Poinguinim Village in Canacona region (Canacona taluk), South Goa. This Temple is dedicated to Parusharam – the sixth reincarnation of Vishnu God, who, according to believes, has created the western sea coast line of Karnataka state. Local citizens have gave the Temple one more name – the Parashurama Sristi.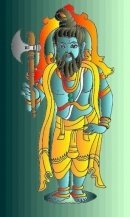 According to the legend, Parashuram has got this land from the God of Sea, who promised to give him as much land as he could take by an ax throwing. Thus Parashuram has got Konkan, Kerala and Kanara regions. The legend also tells that Parashuram has really wanted to throw the ax as far away from him as possible, because he killed his native mother with this ax usage. Although he did such an awful action following the behest of his father, who later returned his wife back to life. But even after this the conscience continued to torment Parashuram — the son-killer.
The Parashuram Temple is placed amidst the quiet of the surrounding deep heavy woods. The architecture is a traditional one for this region: carved wooden columns which process mandala (the building at the entrance) and shikara (a circle above the main chamber of the temple) of classic pyramid shape. Kshetrapala God (Hindu God of agriculture) sculptures can be seen in the yard of the Temple.
Poinguinim Village, where the Parashuram Temple is located, is situated 10 km south-east from Chaudi municipal center. To reach the Temple you need to drive NH66 - NH17 Highways (Kanyakumari – Panavel road) into the Karwar city direction.
All passing-by buses also stops in Poinguinim Village.