WestEnd Nightclub in Saligao Resort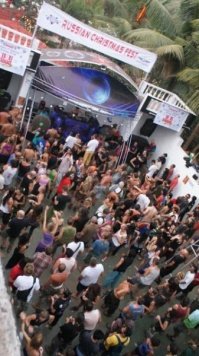 WestEnd Nightclub — is well known as one of those places of entertainment and fun, where large-scale parties, some of which can last up to three days, are taking place. The club is hidden deep in jungles in the eastern part of Saligao resort (North Goa) but heavy loud sounds of trance music, which are heard in surroundings, correctly indicate its location.
The WestEnd nightclub attracts lots of fans and adherents of psychedelic music direction from all over the world as well as just curious people who simply want to hang out in a "real Goa" style. That's why almost always the club is overcrowded and sometimes you won't find even a meter of free space to take a sit and dance in here. The nightclub slowly gets empty only in early morning hours, when people start to break up.
The WestEnd nightclub has both open-aired and covered spaces, huge three-leveled dance floor, few exquisite chill-outs and VIP areas, three bars and amazing restaurant with a tasty varied cuisine. The place is famous for its quality equipment, famous DJ's shows and small rooftop pool, from which you can watch a spectacular view onto fantastically beautiful Indian jungles.
The party season lasts in the WestEnd nightclub from early December till May. The music season in the club is a continuous stream of electronic music of various genres: psi, Foulon, deep house, tech house, techno and etc.
The club actively distributes flyers with information about all coming soon events mainly in Juice center in Chapora city (Chapora Juice Centre) and at Arpora and Anjuna cities' markets (Arpora Night Market and Anjuna Flea Market).
Entrance fee: 800 rupees. Free entrance for ladies every Friday. On Sundays a special flyer gives the right for 50% of discount onto the entrance fee.
Address: Chogm Road, Mollem Bhat, Near St. Alex Church, Saligao, Goa, India
Phone numbers: 9823920987; 9371194502; 9370697969.