Mambo's Night Club in Baga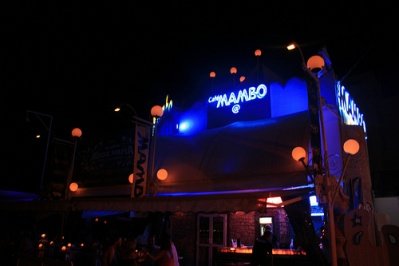 Except the Restaurant, round-the-clock cafe and boutique the famous Tito's Club is owning one of the most popular among all presented here TOP-pubs Mambo's Nightclub (or as it is also called – Café Mambo's). It is located very close to Tito's, 100 meters from the seashore on the same with famous nightclub street in Baga resort. In the evening Mambo's Club café is a nice place to meet and chat. The nightclub has its own huge roofed-in dance floor, outdoor terrace with plenty places to sit at. Food and drinks here are just amazing and very delicious!
The entertainment program in Mambo's Club café is very much interesting and attracts crowds of people of all nations to visit this nice place. The music played here is mostly of pop and house style, but sometimes you can visit different parties of some exact music style like hip-hop, techno and retro. On such parties famous DJ's are playing their tracks and music. If you are fond of singing in Mambo's Nightclub you will easily find what you need for a nice evening spending: during special karaoke parties you will have a chance to sing and show your abilities and talents of a singer.
Amazingly huge variety of hookahs and places for relaxing and comfortable rest having are adding some special luster and suave to the atmosphere of the nightclub. Mambo's Club also suggests its visitors and guests a pool table and a mechanical bull.
Mambo's Nightclub address: Titos, Titos Lane, Baga, Calangute Road, Goa
Phone number: (832)2275028; (832)2276154