Maroon Age — Luxury villa for rent in Candolim
Overview
Candolim
Candolim is among the most-developed neighborhoods in Goa. One of the most popular beaches in the North, Candolim can also be called the tourist capital of North Goa. There are plenty of things to see all around, and many attractions. The beach itself is nice with many water sports. There are sun decks on the beach and beachside shops. Enjoy a meal at one of the shacks on the beach. There are supermarkets, spas, and natural healing centers. You will also find many tattoo shops, travel agencies, car and bike rentals, and boutiques.
Candolim is close to the other popular beaches of the North – Baga, and Calangute. You can also go to Fort Aguada, Panjim, and the LPK Waterfront for a fun evening.
Look more for villas for rent in Candolim.
Tucked away at a corner of Candolim, this luxury villa is Goa's best kept secret. Designed by French architects, this villa in Candolim was constructed in 1830. It has been beautifully renovated and restored to provide an authentic feel. Nature all around welcomes you here. A shaded path under the tall trees leads to the wide verandah and classical porch that overlooks a mosaic tiled, inviting 20-meter private pool. There are very few better villas to rent in Goa than this one.
It's big and private, an exclusive property with a private swimming pool in North Goa. You will have a rare sense of calm, peace, and serenity here. There are 3 en-suite bedrooms, a fully equipped kitchen, and a very comfortable and luxurious living room. This villa is a slice of contemporary design and western chic.
European style luxury villa designed by French architects, dates back to 1830.
Wonderfully restored and modernized.
Slick villa in a tropical garden. There are cashew, guava trees, lime and coconut palms all around. Flowering plants.
Wonderful open spaces.
Wide verandah. Spacious porch.
Private swimming pool with water purification system.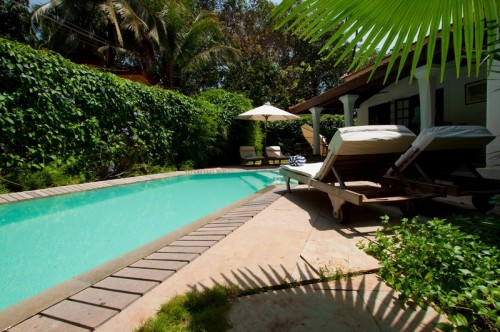 3 en-suite bedrooms with stylish furniture.
All rooms are air conditioned.
Ceiling fan.
DVD player. Satellite TV Tata Sky.
Soft white walls.
Dark wood frames of the doors and windows.
Terracotta-tiled flooring.
Open plan design.
Power backup/Inverter.
Internet access.
24 hours security.
Wheelchair access.
Yoga lessons on request. 2 massage rooms.
A perfect place to stay in Goa with your family or friends.
Good for 3-6 people.
Accommodation:
Enjoy your modern-style Portuguese living in the heart of Goa. Just a few meters from the sea, you will always have easy access. There are 3 en-suite bedrooms in this luxury villa, all air conditioned and tastefully decorated. The furniture is modern, but with a rustic touch. Large king size beds, clean walls and paintings add a classic touch. High ceilings allow natural ventilation, making the rooms airy. The bathrooms are big with separate shower areas. Modern faucets!
All the bedrooms have individual access to the garden and private swimming pool.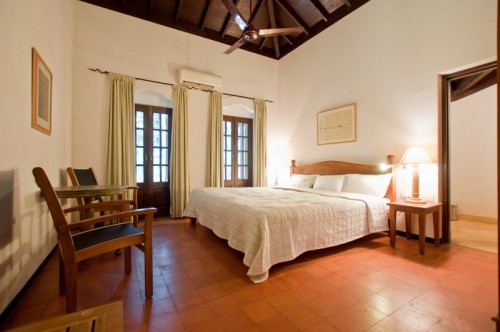 3 private en-suite bedrooms.
Fully air conditioned.
Ceiling fans.
High ceilings provide natural ventilation.
The bedrooms are fully furnished.
Large, king size beds.
Sitting area.
Modern bathroom with separate shower area.
Modern faucets.
Hot water.
Toiletries.
Daily housekeeping.
Linen is changed every second day.
Laundry complementary. Dry cleaning is chargeable.
Wi-Fi Internet.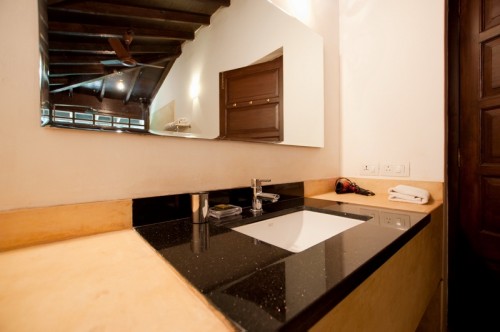 Restrictions:
Fixed arrival and departure times: 2PM check-in, and 10AM check-out.
The full balance is due 10 weeks prior to the booked date of your holiday.
Welcome service, airport both-way transfers provided by property staff.
Living and Dining Area:
A very nice, comfortable, and cozy living and dining area! There are adequate sitting arrangements for 3-6 people with a wooden center table in the middle. Long white drapes, ambivalent lighting and clean white walls add the perfect ambience for a nice evening. Just grab a cushion and get comfortable. A 10m x 10m open plan design with the kitchen and dining area in one corner.
10m x 10m open plan design living and dining area.
Sofa with center table.
Paintings. Curios. Decorations.
Flower arrangements.
Plasma television.
Dining area sitting for 6 people.
Fully equipped modular kitchen.
Microwave.
Coffee maker.
Toaster.
Water Purifier.
Utensils and tableware.
Breakfast complimentary.
Lunch and dinner on request. Chargeable.
Children below 12 complimentary.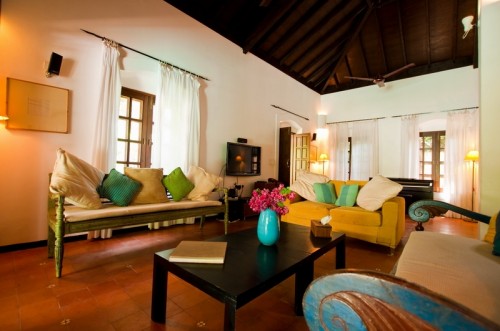 Location:
This Candolim villa for rent is located in the perfect neighborhood. It is close to the most happening places of Candolim, but is still away from the crowds and noise. The Candolim beach is just a 5 minute walk away. There are supermarkets, ATMs, gift shops, travel agencies, car/bike rentals within 300 meters. For massage and yoga, ask the manager at your villa. There are other massage and yoga centers in the area too.
The villa is located in a very quiet and secluded place.
Thick and lush plants and palm trees on the property.
Just 5 minutes walking to the Candolim beach.
Bars, pubs, cafes, and beach shacks are all close from the villa.
Very close to the famous nightlife of Candolim.
Anjuna market — 15 minutes.
Close to the Aguada Fort, Salim Ali Bird Sancutary and Panjim.
Just a few minutes to the LPK Waterfront, a famous nightclub in Goa.
Holiday rentals
Goa Villa offer a wide variety of different types of properties for rent in Goa: luxury villas with private pool, holiday homes, large apartments, penthouses and beach houses.
If you are looking to rent holiday home, please contact us to get special offer.
To confirm the reservation we ask for a 30% deposit only and the balance can be paid on arrival. For peak dates we can ask 100% payment for confirmation.
Additional services and facilities
We can offer you additional services like car rental with driver service, taxi, local tours arrangements, private chef and catering services at affordable prices. Feel free to contact us to discuss your holiday needs.
---
Goa Villa Review:
Rated

4.4

/ 5 based on

5

reviews.
Enquire / Get best deal!
Photo Gallery
Tariff
Prices are based on 3-4 night's stay. For longer periods and final rate please contact us.
#
From
To
Price per night
Mimimum stay
Villa (3 BR)
1st May
30th September
$313
3 Nights
Villa (3 BR)
1st October
30th April
$574
3 Nights
Villa (3 BR)
20th December
6th January
$798
5 Nights

Taxes not included. Luxury tax and Service tax applicable.
General FAQ
Are GST and service charges included?
Please add GST of 18% for bank transfer. No additional service charges.
Is booking through GoaVilla safe?
GoaVilla is as safe to use as any other booking website that allows you to book a stay at someone's dwelling. In fact, it is perhaps safer than other websites due to we have only limited, hand-picked and verified villas in our catalog with 100% owner verification data.
How many villas in Goa are available for booking at GoaVilla?
There are total more than 500 private villas available in South and North Goa for booking. Most of them are hidden due to owner privacy and not visible on website. Please contact us for hidden gems.
How I will do the payment?
We will take one-night confirmation to our bank account as an advance and balance in cash on arrival. For peak dates we can ask up to 100% payment.
What is a luxury villa?
Luxury villas are luxury houses of the elite and rich people usually built as a second home. A luxury villa will not be complete without the dedicated staff to serve its tenants and guests.
What is the best villa in Candolim?
Garden Groove: ultra-luxury beachfront villa. Large private pool. 5* service. Housekeeping. Breakfast. Wi-Fi. Prime location near all SPA, shops. Property right on the beach. Villa available here.
What are Check-In and Check-Out timings?
Regular Check-in time is 2PM and Check-out time is 11AM. In case you come early morning, the owner can ask for a half-night payment.
Is cleaning and electricity charges are included?
Yes, our prices are included housekeeping and electricity charges.
Facilities
Air Conditioning

Satellite television

DVD, music player

Internet access

Bed linen

Housekeeping

Microwave

Near supermarket

Toaster

Ceiling Fan

24/7 security

Utensils and tableware

Furnished rooms

Parking

Private swimming pool

Hot water

Garden

Cupboard

Kitchen

Quiet location

Shower

Private territory

Coastline

Breakfast (included)

Romantic place

Power backup

Yoga

Veranda

Laundry service
Map
You might like these similar holiday rentals
Guide for Villa Rentals
Looking to rent villa in Candolim? You're in the right place! The detailed information regarding Villa Maroon Age for rent in Candolim, Goa is just the beginning. In addition to viewing the floor plans and amenities available, check out the bedroom and bathroom options. Villa Maroon Age offers up to 3 bedroom along with additional amenities. Located in Goa, North Goa, Candolim, Villa Maroon Age can be your next home. Decide if the villa is the perfect fit by checking the additional information such as prices, photos, videos, pet policies, property details and contact with the property manager today!