Villa Caesar — Luxury villa for rent in Arpora
Overview
Arpora
Arpora is less developed than some other areas of Goa, and is thus a more serene and quieter place. There is a lot more greenery, as the neighborhood still largely retains its former village status. The pace of life is slow here, just perfect for an easy-going relaxed vacation. There are many beaches around Arpora, like Anjuna, Ozran, and Vagator. The popular Baga and Calangute beaches of North Goa are close too.
Stay at a nice villa in Arpora and visit the many nearby attractions. Don't miss the famous Anjuna market and the Saturday Night market. You will find fresh fish and a lot of other stuff here. Fishermen sell their daily catch of tiger prawns, oysters, crabs, and other fish. If you visit in January, then don't miss the St. Sebastian feast at the chapel and also the Dhalo celebrations. Try some local delicacies at the many restaurants and beach shacks. Get a tattoo or a relaxing massage.
A tropical-style Luxury Goa Villa that offers pure indulgence! Pure bliss! Welcome to this 3 en-suite bedroom luxury goa villa at Arpora in North Goa to experience Goan hospitality, modern living draped in complete luxury, amid complete peace and serenity. All your needs are taken care of when you rent this amazing villa. A private swimming pool with recliners and a Balinese gazebo! Pool side party area and bar! Exquisite bedrooms that offers a delightful experience! A living room where you sit cozily with your friends or family! The finest silverware in the kitchen drawer!
There are very few modern vacation homes in Goa that offers more. This Goa villa on rent is a great choice for a group of 4-6 people who like privacy and want to stay in a modern villa that offers all the comforts. Relax, enjoy the sea, the sightseeing of Goa, party in the North, and come back to this stunning villa, your home in Goa. A Goa vacation cannot be more luxurious or comfortable.
Located in an upscale neighborhood of Arpora in North Goa.
Modern 1-storey tropical-style villa with nature all around.
Large trees and potted plants.
Gated community, fenced property, security.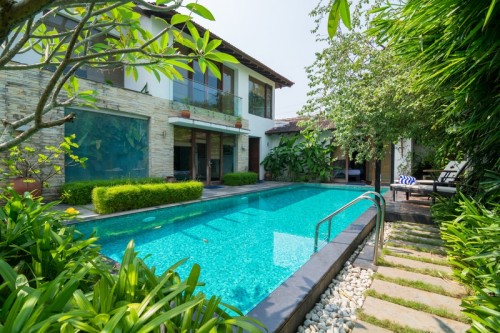 Private 10 sq/m swimming pool with water filtration system.
Recliners and a Balinese gazebo beside the swimming pool.
Pool side party area and bar.
3 spacious 50 sq/m en-suite bedrooms with stunning interiors.
Large king size beds, modern fittings, and amenities.
Large lounge area with sitting, center table, art and sculptures.
Dining area for 6 people.
Contemporary state of the art kitchen.
Patio.
Internet access.
DVD player.
Parking.
Beautifully landscaped garden.
Satellite television.
Separate servant's room.
Yoga lessons on request.
Massage on request.
Personal driver (on request).
A great choice for a group of 4-6 people.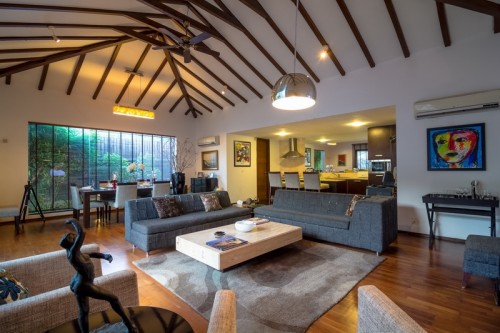 Accommodation:
The bedrooms at this villa in Arpora are fully furnished, air conditioned and extremely luxurious. They are your personal spaces where you can relax. High roofing provides natural lighting. Large windows and doors bring in sunlight and air. The use of timber, stone, and glass add a touch of sophistication. Refined furniture! There are objects of arts and decorations. Open-air international baths or glass covered showers! There are bath tubs too and modern, stylish faucets from leading brands.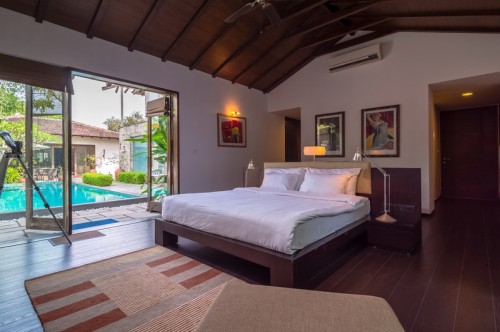 3 en-suite fully furnished bedrooms.
Fully air conditioned. Ceiling fans.
Bedrooms #1 and #2 on ground floor with direct access to the swimming pool.
Bedroom #3 on the first floor.
All rooms are big and spacious with large king size beds.
Air conditioned. Ceiling fans. Fully furnished.
Satellite television.
Wide windows giving you a panoramic view of the garden and the pool.
Timber, stone, and glass add sophistication.
Paintings on the wall, modern lighting, rugs.
Sitting area.
Combination lock.
Big bathroom with separate shower area. Bath tub.
Bedroom #1 has an open-air bath as well with hanging trees.
Hairdryer, continental quilts, bathrobes, towels.
Telescope in bedroom #1.
Modern bathroom accessories.
Hot water.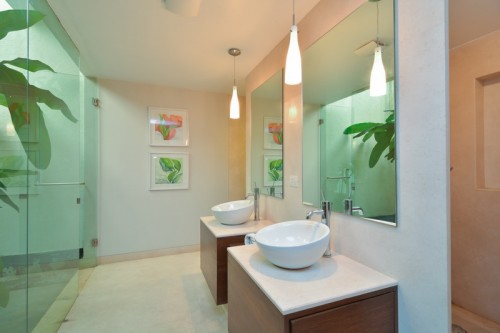 Services
On your request, the chambermaid will do the whole range of services for you, including cleaning, doing the laundry, ironing, changing the bed sheets, washing the dishes etc. Housekeeping is done daily. The gardener keeps the garden clean and tidy all the year round. There is a separate servant's room, and a phone to call the servants.
Daily housekeeping. Linen and towels changed.
Personal light laundry.
Washing and ironing (on request).
Gardener.
Security.
The swimming pool is cleaned and filtered.
Staff on call for you at any time.
Kitchen and Living Room
There is an elegant and very comfortable lounge on the ground floor facing the swimming pool. Sitting area for 6-10 people with a center table and a large rug! Just pull down the blinds in the afternoon to get shade. There is a separate dining area and a fully-equipped kitchen. The dining area is just beside large trees for a touch of greenery.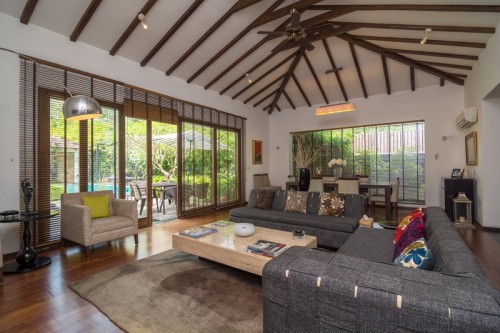 Lounge on the ground floor, next to the swimming pool.
High ceiling, large windows and door that leads to the pool.
Sofa with center table in the lounge.
Air conditioned. Ceiling fan.
Paintings. Sculptures. Flower arrangements.
Modern lighting.
Flat-screen television.
Separate dining area for 6 people.
Fully equipped modular kitchen.
Chimney.
Refrigerator.
Oven.
Barbeque.
Microwave.
Toaster.
Blender.
Tea-set, electric tea-pot.
Utensils and tableware.
Breakfast included (coffee and fresh made juice, toasts with jam, fruits).
Outdoor grill ideal for seafood.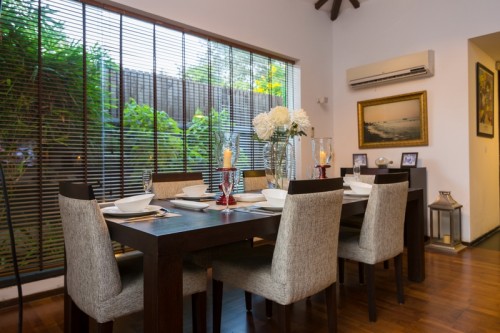 Location:
This luxury villa for rent is located at Arpora in North Goa, in a quiet fenced community far from major roads. It is very close to the Anjuna-Mapusa Road, so you can get to the Anjuna beach easily, one of the most popular beaches in Goa. In fact, the Anjuna beach is just 10 minutes away. The Vagator beach is also close. You may also visit the Chapora Fort, just beside Vagator.
Located in a nice and quiet corner of Arpora in North Goa.
Away from the crowds and major roads.
Anjuna beach is just 10 minutes away.
The Vagator beach is next to Anjuna.
The Baga and Calangute beaches are also close.
Close to the Anjuna market and the Saturday Night market.
Visit the St. Michael's Church, St. Sebastian's Chapel, and the Chapora Fort.
Restaurants, bars, supermarkets, shops, health clubs, tattoo parlors, ATMs, and beach shacks are within easy walking distance.
Car/bike rentals.
Holiday rentals
Goa Villa offer a wide variety of different types of properties for rent in Goa: luxury villas with private pool, holiday homes, large apartments, penthouses and beach houses.
If you are looking to rent holiday home, please contact us to get special offer.
To confirm the reservation we ask for a 30% deposit only and the balance can be paid on arrival. For peak dates we can ask 100% payment for confirmation.
Additional services and facilities
We can offer you additional services like car rental with driver service, taxi, local tours arrangements, private chef and catering services at affordable prices. Feel free to contact us to discuss your holiday needs.
Enquire / Get best deal!
Photo Gallery
Tariff
The price for holiday stay will depend on the length of your stay, the time of year you visit and number of peoples. Please contact us to get actual information and discounts.
#
From
To
Price per night
Mimimum stay
Villa (3 BR)
1st December
31st January
$695
4 Nights
Villa (3 BR)
1st February
31st May
$556
3 Nights
Villa (3 BR)
1st June
31st August
$417
3 Nights
Villa (3 BR)
1st September
30th November
$556
3 Nights

Taxes not included. Luxury tax and Service tax applicable.
Facilities
Patio

Air Conditioning

Satellite television

DVD, music player

Internet access

Refrigerator

Oven

Barbecue area

Bed linen

Housekeeping

Microwave

Phone

Toaster

Blender

Ceiling Fan

24/7 security

Utensils and tableware

Furnished rooms

Parking

Private swimming pool

Water filter

Hot water

Garden

Cupboard

Kitchen

Quiet location

Safe

Bathtub

Shower

Private territory

Breakfast (included)
Map
You might like these similar holiday rentals
Guide for Villa Rentals
Looking to rent villa in Arpora? You're in the right place! The detailed information regarding Villa Caesar for rent in Arpora, Goa is just the beginning. In addition to viewing the floor plans and amenities available, check out the bedroom and bathroom options. Villa Caesar offers up to 3 bedroom along with additional amenities. Located in Goa, North, Arpora, Villa Caesar can be your next home. Decide if the villa is the perfect fit by checking the additional information such as prices, photos, videos, pet policies, property details and contact with the property manager today!