Baga River Villa 5 — Luxury villa for rent in Anjuna
Overview
Anjuna
The most contrasting village in Goa: colorful markets, enchanting shows on the beach and, at the same time, going a little bit deeper into the village and turning onto the country road, you can easily get into some very quiet and peaceful places.
Here you will find the nightlife, beach trance parties and the largest flea market which is working on Wednesdays. The service: restaurants, souvenir and jewelry shops, tourist offices, supermarket.
Baga River Villa is a 5-bedroom exclusive property at Anjuna in North Goa available on rent for guests who want exclusivity and luxury. Spread over 7500 square feet, the villa has a modern façade, lavish interiors, private swimming pool with sun loungers, open terrace, landscaped gardens, outdoor wooden patio, kitchen, and a living room. The en-suite bedrooms are fully furnished. This is a very good comfort villa for 7-10 guests.
It is just 1.8 kilometers from the famous Anjuna beach. Baga River, which is a small creek here, is very close. Baga River Villa is in a quiet and serene neighborhood overlooking paddy fields and tall trees. It is away from the touristy areas, perfect for guests who want to spend a relaxing vacation, but it is still close to many popular tourist attractions of North Goa.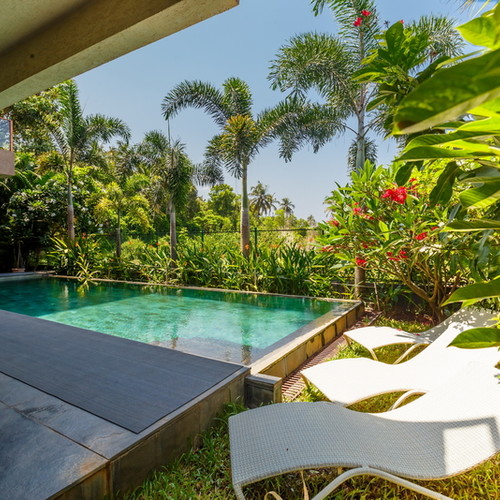 Villa Description
Baga River Villa is a luxury home for rent in Anjuna with 5 bedrooms, all en-suite and air-conditioned. There is an additional guest room. The villa has a huge terrace with seating offering hill views. Plenty of greenery all around. Swimming pool with sun loungers and landscaped garden.
Modern façade
2 storied villa
5 en-suite bedrooms
Guest room
Private swimming pool
Landscaped garden
Huge 1st floor terrace with seating
Power back-up
Total area – 7500 square feet
Bedrooms – 5 en-suite bedrooms for a large group. All bedrooms are air-conditioned. Modern furniture with large comfortable beds, linen, mattress, wardrobe, television, side table, and lamp shade. An entire wall has glass windows with greenery outside. The guest room on the ground floor is like a suite with a comfortable sofa and center table. It is also air-conditioned, but does not have an attached bathroom. 2 bedrooms and the guest room are on the ground floor. The other 3 are on the 1st floor.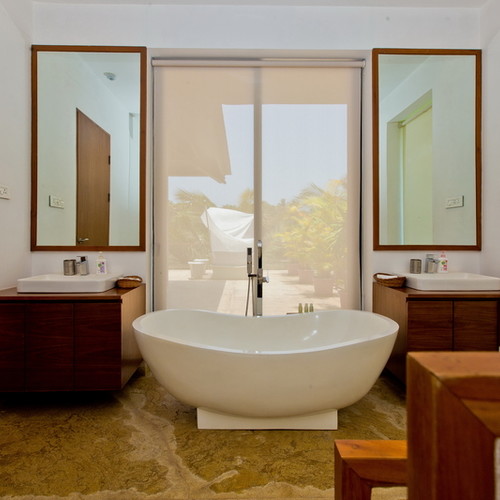 Bathrooms – The bathrooms are large with a separate shower cubicle. There is a hand shower, large mirror, modern sink, towel rack, wardrobe, and toiletries.
Living Room – Ground floor living room with a large French door that opens to the private swimming pool and garden. Blinds can be rolled down for shade. There is air-conditioning too. Large comfortable sofa with extra cushions. Music system. Potted plants.
Kitchen, Dining – The villa has a fully equipped kitchen with cooking station, chimney, tea/coffee maker, large refrigerator, and microwave. Utensils are provided.
Swimming Pool – The private swimming pool is just outside the living area. There is a small landscaped garden with sun loungers on one side. Hill views. Tall trees all around. There is a wooden patio beside the garden with comfortable cane chairs and a table where guests can sit after a dip to relax or have some snacks.
Terrace – Baga River Villa has a huge first floor terrace with greenery all around and views of the small hill. Glass railings offer clear views. Separate sitting areas for relaxation and to enjoy the view.
Services, Amenities
5 + 1 bedrooms
Air-conditioning
Private swimming pool with sun loungers
Landscaped garden
Outdoor wooden patio
Terrace
Air-conditioned living room
Fully equipped kitchen
Dining area with seating for 10
Microwave
Refrigerator
Kettle
Cooking station
Parking
Security
Internet access
Power backup/Inverter
Housekeeping
DVD player
Chef services
Neighborhood
The villa is a located in a quiet and serene neighborhood of North Goa. Very few houses nearby, offering privacy to the guests. There is a small hill next to the holiday home. Tall trees and paddy fields. The meandering Baga River passes from one side. Shops, restaurants, bars, and banks are all close. Anjuna beach is only 5-7 minutes by road.
Good For
Families
Honeymooners and romantic couples
Beach lovers who want to stay close to Anjuna, Baga, and Vagator, but want to avoid touristy areas
Nature lovers
Guests who want luxury and an exclusive home in Goa
Holiday rentals
Goa Villa offer a wide variety of different types of properties for rent in Goa: luxury villas with private pool, holiday homes, large apartments, penthouses and beach houses.
If you are looking to rent holiday home, please contact us to get special offer.
To confirm the reservation we ask for a 30% deposit only and the balance can be paid on arrival. For peak dates we can ask 100% payment for confirmation.
Additional services and facilities
We can offer you additional services like car rental with driver service, taxi, local tours arrangements, private chef and catering services at affordable prices. Feel free to contact us to discuss your holiday needs.
Enquire / Get best deal!
Photo Gallery
Tariff
Prices are based on 3-4 night's stay. For longer periods and final rate please contact us.
#
From
To
Price per night
Mimimum stay
Villa (5 BR)
1st May
31st August
$866
2 Nights
Villa (5 BR)
1st September
30th April
$1,066
2 Nights
Villa (5 BR)
20th December
5th January
$2,000
2 Nights

Taxes not included. Luxury tax and Service tax applicable.
General FAQ
Are GST and service charges included?
Please add GST of 18% for bank transfer. No additional service charges.
What is a luxury villa?
Luxury villas are luxury houses of the elite and rich people usually built as a second home. A luxury villa will not be complete without the dedicated staff to serve its tenants and guests.
Is booking through GoaVilla safe?
GoaVilla is as safe to use as any other booking website that allows you to book a stay at someone's dwelling. In fact, it is perhaps safer than other websites due to we have only limited, hand-picked and verified villas in our catalog with 100% owner verification data.
How many villas in Goa are available for booking at GoaVilla?
There are total more than 500 private villas available in South and North Goa for booking. Most of them are hidden due to owner privacy and not visible on website. Please contact us for hidden gems.
How I will do the payment?
We will take one-night confirmation to our bank account as an advance and balance in cash on arrival. For peak dates we can ask up to 100% payment.
What are Check-In and Check-Out timings?
Regular Check-in time is 2PM and Check-out time is 11AM. In case you come early morning, the owner can ask for a half-night payment.
Is cleaning and electricity charges are included?
Yes, our prices are included housekeeping and electricity charges.
Facilities
Air Conditioning

Satellite television

DVD, music player

Internet access

Washing machine

Refrigerator

Oven

Bed linen

Housekeeping

Microwave

Ceiling Fan

Balcony

Utensils and tableware

Furnished rooms

Parking

Private swimming pool

Hot water

Garden

Cupboard

Kitchen

Quiet location

Open roof / Chill-out

View on rice fields

Romantic place

Power backup

Breakfast (chargeable)

River View

Veranda

Chef services

Family/Kid Friendly

Night time security

Kettle
Map
You might like these similar holiday rentals
Guide for Villa Rentals
Looking to rent villa in Anjuna? You're in the right place! The detailed information regarding Baga River Villa 5 for rent in Anjuna, Goa is just the beginning. In addition to viewing the floor plans and amenities available, check out the bedroom and bathroom options. Baga River Villa 5 offers up to 5 bedroom along with additional amenities. Located in Goa, North Goa, Anjuna, Baga River Villa 5 can be your next home. Decide if the villa is the perfect fit by checking the additional information such as prices, photos, videos, pet policies, property details and contact with the property manager today!