Villa Candolim — Luxury villa for rent in Candolim
Overview
Candolim
Candolim is among the most-developed neighborhoods in Goa. One of the most popular beaches in the North, Candolim can also be called the tourist capital of North Goa. There are plenty of things to see all around, and many attractions. The beach itself is nice with many water sports. There are sun decks on the beach and beachside shops. Enjoy a meal at one of the shacks on the beach. There are supermarkets, spas, and natural healing centers. You will also find many tattoo shops, travel agencies, car and bike rentals, and boutiques.
Candolim is close to the other popular beaches of the North – Baga, and Calangute. You can also go to Fort Aguada, Panjim, and the LPK Waterfront for a fun evening.
Look more for villas for rent in Candolim.
A private and exclusive Candolim villa in prime location! This is a Portuguese villa with old Victorian furniture that has been wonderfully restored with all facilities and amenities for a modern traveler. Rent this luxury villa in Goa. It's a classy and sophisticated property in the heart of Goa. A landscaped garden with flowering and fruit trees and an outdoor, pool-facing dining area! A beautiful heritage patio for you to sit and relax! A swimming pool surrounded by tall trees and the garden and loungers beside.
There are 6 bedrooms in this Candolim villa for rent. Separate dining area, kitchen, and living room. Each room has been tastefully decorated with furnishings and art works that are all personally handpicked by the villa owner. There is parking, nighttime security, daily housekeeping, and free Wi-Fi.
The villa comprises of two buildings – the family house Fasenda and the guest house Blooming Garden.
This is a great villa to rent for 2-12 people. Direct access to the Candolim beach!
Stunning beachside villa in Candolim with direct beach access.
Quiet and solitary place in the midst of old Portuguese villas and gardens.
Portuguese design with European comforts.
7-meter high ceilings, natural and very comfortable ventilation system.
Beautiful garden, trees all around.
16 by 8 meters private swimming pool with loungers.
Outdoor sitting area and dining.
2 residential houses with 6 en-suite bedrooms, all individually decorated.
200 m from restaurants and supermarkets.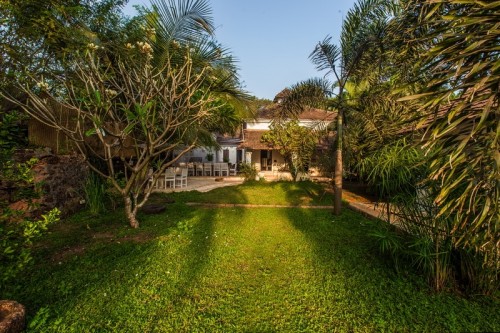 Accommodation:
Among the finest Candolim rentals you will get, you can choose from two houses here. There are a total of 6 bedrooms in these two houses, all en-suite. All the bedrooms are individually decorated and unique in their own ways, so no two stays will be the same if you come back to stay in this villa on a second visit.
"Fasenda" – Family 4- Bedroom House, 350 Sq / M
4 en-suite bedrooms.
Family room – 32 sq/m, terrace, double bed (1.8 m), 20 sq/m bathroom.
Blue room – 28 sq/m, access to the open terrace, double bed (2m), 20 sq/m bathroom.
Green room – double bed (1.7 m), bathroom.
Middle room – 2 single beds with own bathroom.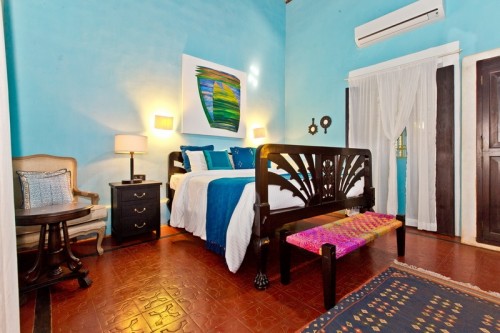 "Blooming Garden" – Cozy Cottage With a Garden, 2 Bedrooms, 75 Sq / M
2 en-suite bedrooms.
East room – double bed (1.6 m), 20 sq/m bathroom.
Beach room – small room with a bathroom and access to the beach.
Each bedroom has a high quality European latex mattress, 4 pillows and superior ventilation system.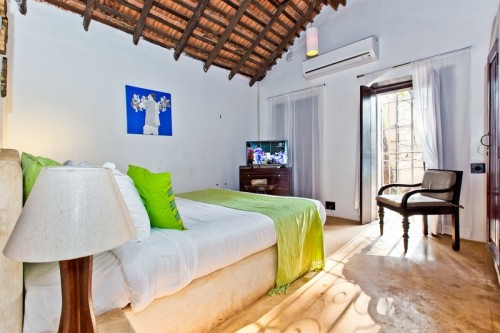 Bedroom Features:
Furnished rooms
Family friendly
Air conditioning
Internet access
Bed linen
Housekeeping
Ceiling fan
Smoking areas
Satellite television
En-suite bathroom with shower
Bathtub
Hair dryer
Cupboard
Safe
Iron
Servants room
Kitchen, Living and Dining Area:
There is a very nice, fully-equipped kitchen in this Candolim villa for rent.
Fully-equipped kitchen – oven, microwave, dishwasher, refrigerator, water filter, toaster, juicer, stove, and kettle.
Period furniture that gives an ethnic feel.
Tiled flooring.
Large paintings on the wall.
Beautiful lampshades. Sculptures.
Walls have attractive colors.
Large sitting area.
In the first week of your stay the owner will cook a delicious breakfast for you (fresh Goan fruits, Indian tea, newly drawn milk).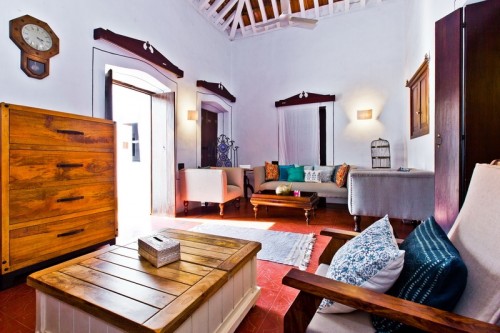 Services:
Experience the famous Goan hospitality when you stay in this villa. The trained staff will make you feel at home from the moment you step in. You will be looked after like a member of the family, and all your requirements will be met.
The villa has a permanent resident staff. There is a housemaid (7 days a week), a housemaid aid, a gardener, and a night guard. Daily housecleaning.
The garden, rooms, and the common areas are kept clean.
The swimming pool is cleaned and chlorinated.
The staff of the villa will render all the necessary services, including doing the laundry, cook diner, and help you order food from the store etc (extra charges).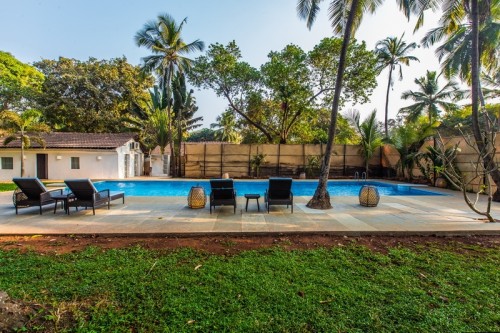 Important: Required security deposit Rs 10 000/-
Location:
It's a perfect location in Candolim. It is just 50 meters from a beach, and is very close to some of the major attractions in the area, nightclubs, restaurants, bars, pubs, cafes, supermarkets, ATMs, and beach shacks. But it's still located in a nice, cozy, and quiet corner, away from the crowd and noise. Your peace and privacy is guaranteed.
The villa is located in a non-touristy old Portuguese community in the well-developed Candolim (North Goa) district.
There are no hotels in the immediate neighborhood, so you won't hear the noise coming from night-clubs or restaurants.
It's a quiet and solitary place for rest, relaxation and meditation.
The villa is surrounded with palm trees and other plants. There are gardens on the territory of the estate.
It has an access to the palm-tree grove, and if you walk through it about 200 meters you will find yourself on the beach.
The estate itself, as well as the beach access, is far away from noisy highways and roads.
Holiday rentals
Goa Villa offer a wide variety of different types of properties for rent in Goa: luxury villas with private pool, holiday homes, large apartments, penthouses and beach houses.
If you are looking to rent holiday home, please contact us to get special offer.
To confirm the reservation we ask for a 30% deposit only and the balance can be paid on arrival. For peak dates we can ask 100% payment for confirmation.
Additional services and facilities
We can offer you additional services like car rental with driver service, taxi, local tours arrangements, private chef and catering services at affordable prices. Feel free to contact us to discuss your holiday needs.
---
Goa Villa Review:
Rated

5

/ 5 based on

1

reviews.
Enquire / Get best deal!
Photo Gallery
Tariff
Prices are based on 3-4 night's stay. For longer periods and final rate please contact us.
#
From
To
Price per night
Mimimum stay
Villa (6 BR)
13th October
27th October
$806
3 Nights
Villa (6 BR)
19th August
22nd August
$733
2 Nights
Villa (6 BR)
1st June
8th August
$667
3 Nights
Villa (6 BR)
20th December
26th December
$1,190
3 Nights
Villa (6 BR)
23rd August
26th August
$733
3 Nights
Villa (6 BR)
27th August
26th September
$773
3 Nights
Villa (6 BR)
27th December
5th January
$2,039
4 Nights
Villa (6 BR)
27th September
12th October
$884
4 Nights
Villa (6 BR)
28th October
3rd November
$1,000
4 Nights
Villa (6 BR)
4th November
19th December
$820
3 Nights
Villa (6 BR)
6th January
1st March
$800
3 Nights
Villa (6 BR)
8th August
18th August
$866
4 Nights

Taxes not included. Luxury tax and Service tax applicable.
General FAQ
Are GST and service charges included?
Please add GST of 18% for bank transfer. No additional service charges.
Is booking through GoaVilla safe?
GoaVilla is as safe to use as any other booking website that allows you to book a stay at someone's dwelling. In fact, it is perhaps safer than other websites due to we have only limited, hand-picked and verified villas in our catalog with 100% owner verification data.
How many villas in Goa are available for booking at GoaVilla?
There are total more than 500 private villas available in South and North Goa for booking. Most of them are hidden due to owner privacy and not visible on website. Please contact us for hidden gems.
How I will do the payment?
We will take one-night confirmation to our bank account as an advance and balance in cash on arrival. For peak dates we can ask up to 100% payment.
What is a luxury villa?
Luxury villas are luxury houses of the elite and rich people usually built as a second home. A luxury villa will not be complete without the dedicated staff to serve its tenants and guests.
What is the best villa in Candolim?
Garden Groove: ultra-luxury beachfront villa. Large private pool. 5* service. Housekeeping. Breakfast. Wi-Fi. Prime location near all SPA, shops. Property right on the beach. Villa available here.
What are Check-In and Check-Out timings?
Regular Check-in time is 2PM and Check-out time is 11AM. In case you come early morning, the owner can ask for a half-night payment.
Is cleaning and electricity charges are included?
Yes, our prices are included housekeeping and electricity charges.
Facilities
Patio

Air Conditioning

Satellite television

DVD, music player

Internet access

Washing machine

Refrigerator

Bed linen

Housekeeping

Microwave

Near supermarket

Toaster

Ceiling Fan

Iron

24/7 security

Utensils and tableware

Furnished rooms

Parking

Private swimming pool

Water filter

Hot water

Garden

Cupboard

Kitchen

Quiet location

Safe

Bathtub

Shower

Private territory

Coastline

Romantic place

Hair dryer

Power backup

Breakfast (chargeable)

Veranda

Laundry service

Chef services

Delivery food service

Family/Kid Friendly

Night time security

Juicer

Kettle

Stove
Map
You might like these similar holiday rentals
Guide for Villa Rentals
Looking to rent villa in Candolim? You're in the right place! The detailed information regarding Villa Candolim for rent in Candolim, Goa is just the beginning. In addition to viewing the floor plans and amenities available, check out the bedroom and bathroom options. Villa Candolim offers up to 6 bedroom along with additional amenities. Located in Goa, North Goa, Candolim, Villa Candolim can be your next home. Decide if the villa is the perfect fit by checking the additional information such as prices, photos, videos, pet policies, property details and contact with the property manager today!