Avonlea — Luxury villa for rent in Calangute
Overview
Goa, North Goa, Calangute
Calangute
Calangute, a party destination, is among the three most popular beaches of Goa, along with Candolim and Baga. By the day, it is busy with people heading to the beach, the many restaurants, bars, shops and beach shacks. By the evening, the nightclubs are full with revelers. There is water sports too – speed boats, banana boats, bumper boats, body or knee boarding, wake boarding, paddle boarding, and parasailing. You will also find many clothing and jewelry stores, and boutiques here.
There is a lot to see as well like the Our Lady Of Piety, St. Alex Church, and the Kerkar Art Complex. Old Goa is also not far from Calangute. You may also visit the Saturday Bazar or the Tibetan Market. Just relax on the beach or get busy here.
Calangute is popular among both Indians and the Europeans.
Stay in the party capital of Goa, close to where all the action is and the beach. Rent this luxury villa, set within the picturesque settings of Calangute. This wonderful villa was constructed in the 1930s and has been wonderfully renovated and modernized, without compromising on any of its rustic charm. It will give you a feel of the "Old Goa" of the Portuguese. The air conditioned bedrooms, terrace, living areas, fully equipped kitchen, and private swimming pool will make you feel comfortable. There is so much greenery all around that the compound feels like a Goan village.
Calangute is amongst the busiest neighborhoods in Goa. But this villa is located in one of the smaller lanes, in a quieter corner, so you can relax in peace. The beach is close. There are shops, shopping malls, an art gallery, restaurants, bars, beach shacks, and massage parlors all within an easy walking distance.
Located in a quieter corner of Calangute.
Lots of trees, greenery.
Old Portuguese villa constructed in the 1930s, renovated and modernized.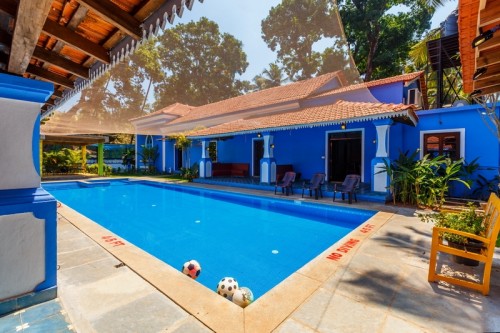 45 by 15 feet private swimming pool.
Sun loungers, pool deck chairs.
Jacuzzi.
Newly constructed playground for kids and play zone.
7 en-suite bedrooms.
Modern bathrooms with showers.
Veranda.
Cozy and comfortable living room.
Modular kitchen, fully equipped.
Air conditioning. Ceiling fans.
Internet access.
Parking.
Satellite TV Tata Sky.
Music system.
Power backup/Inverter.
Parking.
Wheelchair accessible.
Important: Required security deposit Rs 10 000/-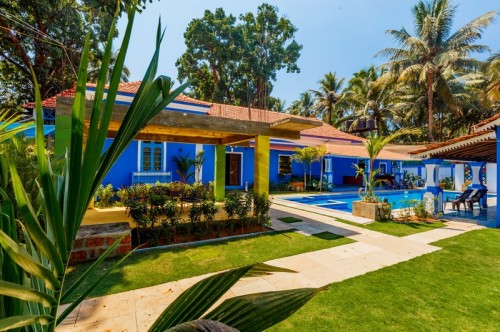 Accommodation:
This Calangute villa has 7 en-suite bedrooms, all air conditioned and wonderfully furnished to make you feel comfortable. Large king size beds, side tables, lamp shades, cushions, headboard, paintings on the wall, and modern bathrooms with shower! Shampoo and shower gel provided. There is also a safety box in the master bedroom. Just head out from the bedroom and you will be at the private swimming pool and beautiful green garden.
7 en-suite bedrooms in the villa.
Bedrooms 1, 2, 3, and 4 offers view of the private swimming pool.
All the bedrooms are air conditioned.
Ceiling fans.
High ceilings provide natural ventilation.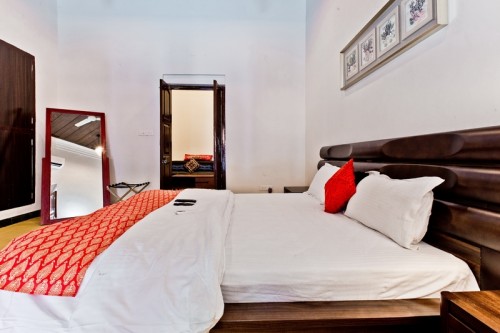 Bedroom #1 is 250 sq ft and offers pool view. 8 inches, spring mattress on the king size bed for comfortable sleeping. 2-door wardrobes. AC – 2 ton. 40-inch flat screen television with Tata Sky.
Bedroom #2 is 250 sq ft and offers pool view too. Same features as bedroom #1.
Bedroom #3 is the master bedroom. It is 400 sq feet in size, bigger than the other bedrooms. Premium linen on the king size bed.
Bedroom #4 is a bit smaller. It is 210 sq feet and has a 1.5 ton AC machine. 1-door wardrobe. Premium linen on the king size bed.
Bedroom #5 offers views of the garden. This too is 210 sq feet in size. All other features the same as bedroom #4.
All bedrooms have attached bathrooms with showers.
Shampoo and shower gel provided.
Modern faucets.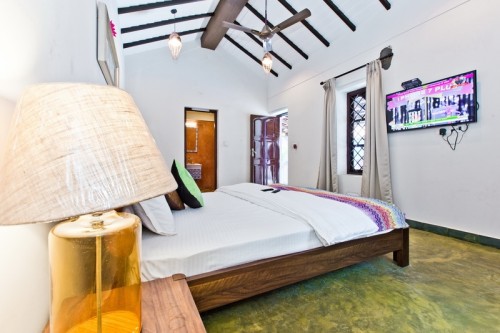 Services
Many people choose villas because of the better quality of service they receive than hotels. It is a fact that even the best hotels cannot customize their services to suit the unique needs of their guests. That's because, hotels will host a large number of guests at any time. In a villa, however, it is just you and your group. So everything is customized. At this villa for rent in Calangute, you will receive personal attention. All the finest details will be looked after carefully.
For instance, you can get home cooked home or in just the way you want, completely customized. This is perfect to your preferences, or if you are traveling with kids or people with health issues. Just tell the cooking maid what you want and how you want it. Of course, you can prepare the food yourself too at the kitchen.
Receive round the clock service.
The caretaker stays at the property.
Daily maid service.
Housekeeping.
Bed linen changed.
Airport pick up and drop (chargeable).
Barbeque (chargeable).
Cooking maid service (chargeable).
Rent a car with a driver (chargeable).
Delivery food service.
BBQ (chargeable).
24/7 security.
Kitchen and Living Room
There is a fully equipped kitchen in this villa for all your needs and a very cozy living room. There is outdoor sitting too with 14 chairs and one table.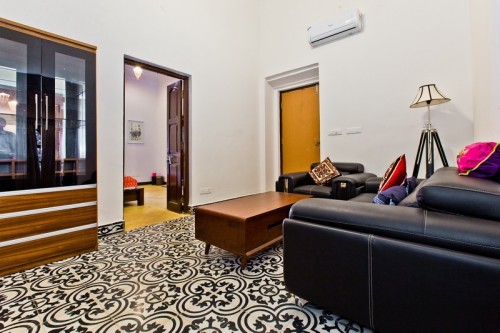 Veranda.
480 sq ft living area.
2-ton AC machine.
Very comfortable sofa with low center table. Cushions.
Tiled flooring.
Glass cabinet.
Dining area for 12 people.
Fully equipped kitchen.
Microwave.
Toaster.
Blender.
Utensils and tableware.
Water filter.
Kettle.
Stove.
Breakfast (chargeable).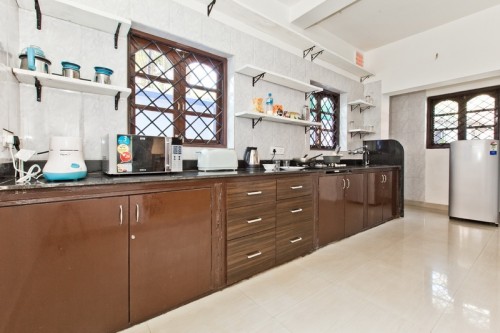 Location:
This luxury villa is located in a very nice and quiet corner of Calangute. You can easily walk to the famous nightclubs, bars, and restaurants of the neighborhood. There are many shops and the famous Saturday Night Market in the area too. You can also visit the many attractions of North Goa. It's a perfect location for a fun Goa vacation.
Calangute beach — 9 minutes walking, 3 minutes drive.
Candolim beach – 20 minutes walking, 7 minutes drive.
Tito's Club – 2.5 km.
St. Alex Church – 400 m
Britto's – 3.2 km.
Saturday Night Market – 4.3 km.
Anjuna Flea Market – 4.7 km.
Fort Aguada – 5.2 km.
Many banks, ATMs, shops, restaurants and bars are close.
Holiday rentals
Goa Villa offer a wide variety of different types of properties for rent in Goa: luxury villas with private pool, holiday homes, large apartments, penthouses and beach houses.
If you are looking to rent holiday home, please contact us to get special offer.
To confirm the reservation we ask for a 30% deposit only and the balance can be paid on arrival. For peak dates we can ask 100% payment for confirmation.
Additional services and facilities
We can offer you additional services like car rental with driver service, taxi, local tours arrangements, private chef and catering services at affordable prices. Feel free to contact us to discuss your holiday needs.
---
Goa Villa Review:
Rated

4.57

/ 5 based on

7

reviews.
Enquire / Get best deal!
Photo Gallery
Tariff
This property is temporarily unlisted. Please contact the sales team for details.
Enquire / Get best deal!
General FAQ
Are GST and service charges included?
Please add GST of 18% for bank transfer. No additional service charges.
What is a luxury villa?
Luxury villas are luxury houses of the elite and rich people usually built as a second home. A luxury villa will not be complete without the dedicated staff to serve its tenants and guests.
Is booking through GoaVilla safe?
GoaVilla is as safe to use as any other booking website that allows you to book a stay at someone's dwelling. In fact, it is perhaps safer than other websites due to we have only limited, hand-picked and verified villas in our catalog with 100% owner verification data.
How many villas in Goa are available for booking at GoaVilla?
There are total more than 500 private villas available in South and North Goa for booking. Most of them are hidden due to owner privacy and not visible on website. Please contact us for hidden gems.
How I will do the payment?
We will take one-night confirmation to our bank account as an advance and balance in cash on arrival. For peak dates we can ask up to 100% payment.
What are the top attractions to visit in Calangute?
The top attractions to visit in Calangute are: biggest fish market in Goa, Tibetan market, Dolphin Spotting Boat Trip, club Titos in Baga.
Best place for a party?
Tourists from across the world visit the nightclubs to experience the wild parties and the trance music of Goa. Check Club Titos in Baga, Hilltop in Anjuna, LPK Waterfront in Nerul, Marbela in Morjim.
What are Check-In and Check-Out timings?
Regular Check-in time is 2PM and Check-out time is 11AM. In case you come early morning, the owner can ask for a half-night payment.
Is cleaning and electricity charges are included?
Yes, our prices are included housekeeping and electricity charges.
Facilities
Air Conditioning

Satellite television

Internet access

Washing machine

Refrigerator

Barbecue area

Bed linen

Microwave

Toaster

Blender

Iron

24/7 security

Balcony

Utensils and tableware

Furnished rooms

Parking

Private swimming pool

Water filter

Hot water

Cupboard

Kitchen

Quiet location

Safe

Shower

Romantic place

Power backup

Breakfast (chargeable)

Veranda

Chef services

Delivery food service

Family/Kid Friendly

Kettle

Stove

Jacuzzi
Map
You might like these similar holiday rentals
Guide for Villa Rentals
Looking to rent villa in Calangute? You're in the right place! The detailed information regarding Villa Avonlea for rent in Calangute, Goa is just the beginning. In addition to viewing the floor plans and amenities available, check out the bedroom and bathroom options. Villa Avonlea offers up to 7 bedroom along with additional amenities. Located in Goa, North Goa, Calangute, Villa Avonlea can be your next home. Decide if the villa is the perfect fit by checking the additional information such as prices, photos, videos, pet policies, property details and contact with the property manager today!