Table of contents
Stay aware of the latest information on the COVID-19 in Goa (India), available on the Goa Villa website. Most people who become infected experience mild illness and recover, but it can be more severe for others. Take care of your health and protect others.
Latest News
| Date | Information |
| --- | --- |
| 22 March 2020 — 29 March 2020 | India bans all international passenger flights from 22 to 29 March. Read more about additional Travel Advisory for Novel Coronavirus Disease. |
| 22 March 2020 | Janta Curfew to beat Coronavirus: PM Modi calls upon all to be home on 22 March (Sunday). |
| 18 March 2020 | Season ends in Goa. Last Wednesday Anjuna Flea Market in this season. Empty beaches and roads. |
| 18 March 2020 | "We are yet to confirm the first positive case for novel coronavirus infection in Goa," said Goa Health Minister Vishwajit Rane. |
| 14 March 2020 | The Goa government on March 14 announced closure of educational institutes and public places including casinos, swimming pools and pubs in the wake of the coronavirus outbreak in the country till March 31. |
| 13 March 2020 | Huge losses for all tourism industry. All tourists cancelling their plans to come to Goa. |
| 13 March 2020 | For all Foreign nationals India suspends tourist visas from March 13 until April 15. |
| 9 March 2020 | Dabolim Airport authorities said, "For expedite screening of international pax, counters increased to three from two, with separate lanes for different flights. 3 doctors and 3 paramedics in night and same number in day on Saturday/Sunday put in place with the help of Goa government". |
Coronavirus Tracking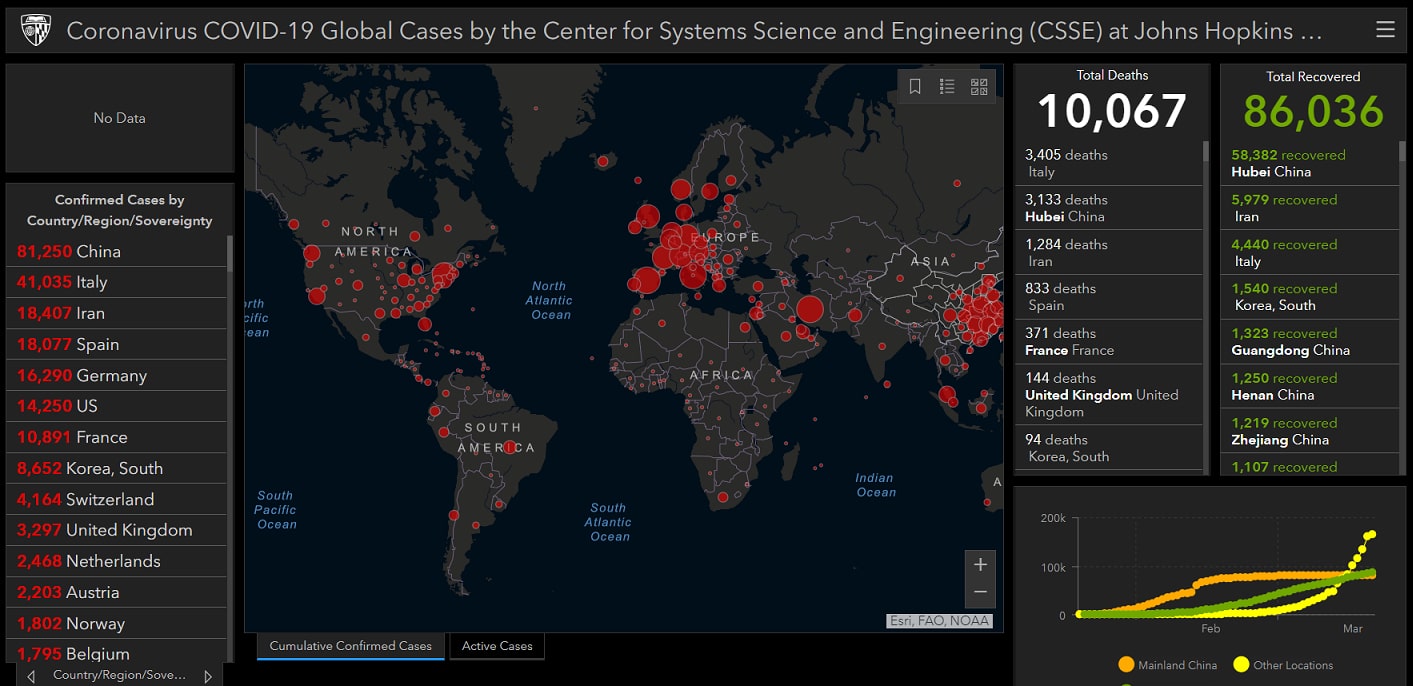 Actual tracking status here.
Goa Status
| | |
| --- | --- |
| Confirmed Cases in Goa | 0 |
| Domestic Airlines | Working |
| International Airlines | 22-29 March bounced |
| Transport borders of Goa | Open |
| Hotels | Till 31 March bounced |
| Villas | Open |
| Beaches | Open |
| Supermarkets | Open |
| Banks | Open |
| Taxi | Working |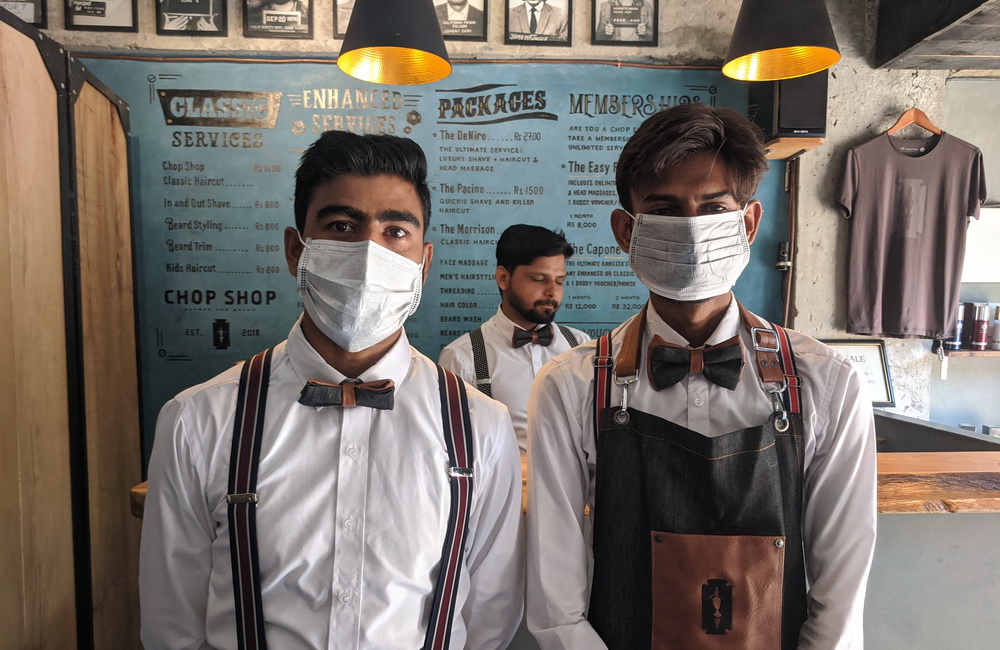 Barbershop Chop Shop in Vagator, Goa
Coronavirus and Flu
Covid-19, as the disease caused by the new coronavirus is known, is spreading rapidly around the planet. Many individuals who get coronavirus will experience nothing worse than seasonal flu symptoms. However, flu vaccine won't protect people from developing COVID-19.
| USA Statistics [source] | Seasonal Flu in 2018 | Coronavirus in 2020 |
| --- | --- | --- |
| Deaths in USA | 61 099 | 218 |
| Cases in USA | 44 802 629 | 14 549 |
Seasonal flu kills 1 in a thousand people (0.1%) who get sick from it — the death toll last season was more than 34,000. Worldwide, an estimated 300,000 to 650,000 people die from flu each year.

By contrast, COVID-19 is currently estimated to kill at least 10 people per thousand infected (1%). "It's about ten times more lethal than the seasonal flu," said Dr. Anthony Fauci, director of the National Institutes of Allergy and Infectious Disease, in congressional testimony on March 11. [source]
Basic Protective
Wash your hands frequently

Regularly and thoroughly clean your hands with an alcohol-based hand rub or wash them with soap and water.

Why? Washing your hands with soap and water or using alcohol-based hand rub kills viruses that may be on your hands.

Maintain social distancing

Maintain at least 1 metre (3 feet) distance between yourself and anyone who is coughing or sneezing.

Why? When someone coughs or sneezes they spray small liquid droplets from their nose or mouth which may contain virus. If you are too close, you can breathe in the droplets, including the COVID-19 virus if the person coughing has the disease.

Avoid touching eyes, nose and mouth

Why? Hands touch many surfaces and can pick up viruses. Once contaminated, hands can transfer the virus to your eyes, nose or mouth. From there, the virus can enter your body and can make you sick.

Practice respiratory hygiene

Make sure you, and the people around you, follow good respiratory hygiene. This means covering your mouth and nose with your bent elbow or tissue when you cough or sneeze. Then dispose of the used tissue immediately.

Why? Droplets spread virus. By following good respiratory hygiene you protect the people around you from viruses such as cold, flu and COVID-19.

If you have fever, cough and difficulty breathing, seek medical care early

Stay home if you feel unwell. If you have a fever, cough and difficulty breathing, seek medical attention and call in advance. Follow the directions of your local health authority.

Why? National and local authorities will have the most up to date information on the situation in your area. Calling in advance will allow your health care provider to quickly direct you to the right health facility. This will also protect you and help prevent spread of viruses and other infections.

Stay informed and follow advice given by your healthcare provider

Stay informed on the latest developments about COVID-19. Follow advice given by your healthcare provider, your national and local public health authority or your employer on how to protect yourself and others from COVID-19.

Why? National and local authorities will have the most up to date information on whether COVID-19 is spreading in your area. They are best placed to advise on what people in your area should be doing to protect themselves.
---
Rate this article:
Rated

3.5

/ 5 based on

4

reviews.